In the complex world of Baldur's Gate 3, where there are many challenges and secrets to uncover, the idea of using cheats has become quite appealing. This helpful guide is here to help you explore the tricky path of using cheats in Baldur's Gate 3. It will show you how these shortcuts can make the game easier, help you discover new things, and give an unexpected turn to your exciting journey.
As we move forward, we'll show you how cheats can affect Baldur's Gate 3, giving new players and experienced adventurers a clear understanding of how to use these tools to do well. So, let's dive in and find out more.
Word of Warning: Cheating is not allowed in the game and may also hinder your progress throughout the game. Moreover, cheating is not worth the ideal playthrough of the game, and thus, we don't encourage it. But if you still want to cheat in the game, you can do it at your own risk.
---
Key Takeaways
Baldur's Gate 3 does not offer official cheats or console commands for players.
Players can use community-built third-party mods and trainers to enhance their gameplay experience.
Players have two methods for altering the game to suit their preferences and needs.
The availability of three different types of trainers provides players with flexibility in how they choose to modify their gameplay.
Players can also choose from various mods to improve their gameplay experience.
---
If you're searching for Baldur's Gate 3 Cheats, you've landed in the right spot. Much like any other RPG game, this one also demands significant exploration and grinding. Consequently, many players find shortcuts, such as infinite health or unlimited money, to enhance their gaming experience.
Since this game is a new release, it lacks official console commands. Modders have yet to find a developer console essential for using console commands.
Nevertheless, the positive aspect is that previous games from Larian Studios featured developer consoles that enabled players to utilize console commands. Hence, it's reasonable to anticipate that a developer console for Baldur's Gate 3 may be introduced in the future through an update.
However, this doesn't mean no cheats are available for the game. Numerous alternative methods for cheating can be used for the game. Third-party trainers or mods offer various avenues for cheating your way through the game.
Since it's a single-player game, there's no built-in anti-cheat system, allowing players to apply various mods and trainers for various enhancements. In the following discussion, we will explore all the methods you can use to cheat in this game, making your gameplay experience much more accessible.
Cheat Engine
You can use Cheat Engine to perform specific tweaks to make your gameplay easier. Since it's an advanced tool, a basic understanding of its usage is necessary. Fortunately, there are some cheat tables designed for Baldur's Gate 3. To simplify the process, here's a straightforward method to install the cheat engine and apply a cheat table to modify your game:
Firstly, download and install the cheat engine.
Download the cheat table from this forum.
Run Baldur's Gate 3 on your computer and load it into your game.
Open Cheat Engine.
Click on the "Open Process" button.
Select the Baldur's Gate 3 application file (bg3.exe).
Click on the "Open Folder" icon.
Locate the cheat table that you have downloaded and open it.
Activate the trainer options by checking boxes or setting values from 0 to 1.
This specific cheat table provides you with the capability to perform various tweaks. To elaborate, here's a list of console commands accessible through this cheat table:
Rest Anywhere
Add Gold
Add Experience
Respec Character
Max Ability Stats
Extra Max Health
Extra Armor
Add All Resistance
Immune to Status Effects
Super Jump
Unlimited Movement
Unlimited Action Points
Unlimited Spell Slots
Unlimited Warlock Spell Slots
Unlimited Sorcery Points
Increase Carry Capacity
Add Permanent Tags to Player: Pet Pal, Comprehend Languages, Detect Thoughts, Hermit, Urchin
Add Spells
Dark Vision
Toggle Fog of War
Object Spawner (equipment, items, scenery, walls, etc.)
Companion Attitude
Companion Approval
Furthermore, you can also use other cheat tables through Cheat Engine to perform tweaks to your game.
Nexus Mods
Various mods and trainers are available on Nexus Mods, offering the opportunity to alter your game drastically. By utilizing these mods, you can unlock special items early in the game, enhance your combat abilities, gain access to new spells, and improve your stats, among many other things.
Consequently, this allows you to lower your game's overall difficulty effectively. Each mod comes with installation instructions and detailed explanations of their effects. However, it's essential to ensure that the mod is compatible with the latest version of the game before downloading the mod.
This can be confirmed by going through the comments or reviews associated with the mod. To enhance your gameplay experience, here are some of the mods at your disposal:
Fling Trainer
Fling Trainer is another source that offers trainers for many games. You can download the Fling Trainer designed for Baldur's Gate 3 from here. With this trainer, you can tweak the game to improve your gameplay.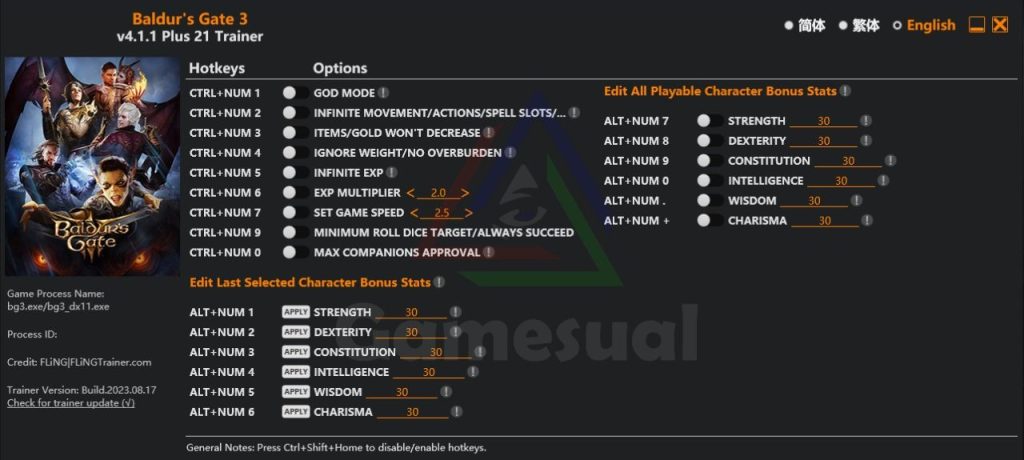 Wemod
Wemod is another easy-to-use external trainer for Baldur's Gate 3. It includes many options to drastically change your game, including god mode, unlimited XP, unlimited movement, and much more. It is compatible with both the Steam and GOG versions of the game. The process is straightforward: launch the application and select from a wide array of tweaks.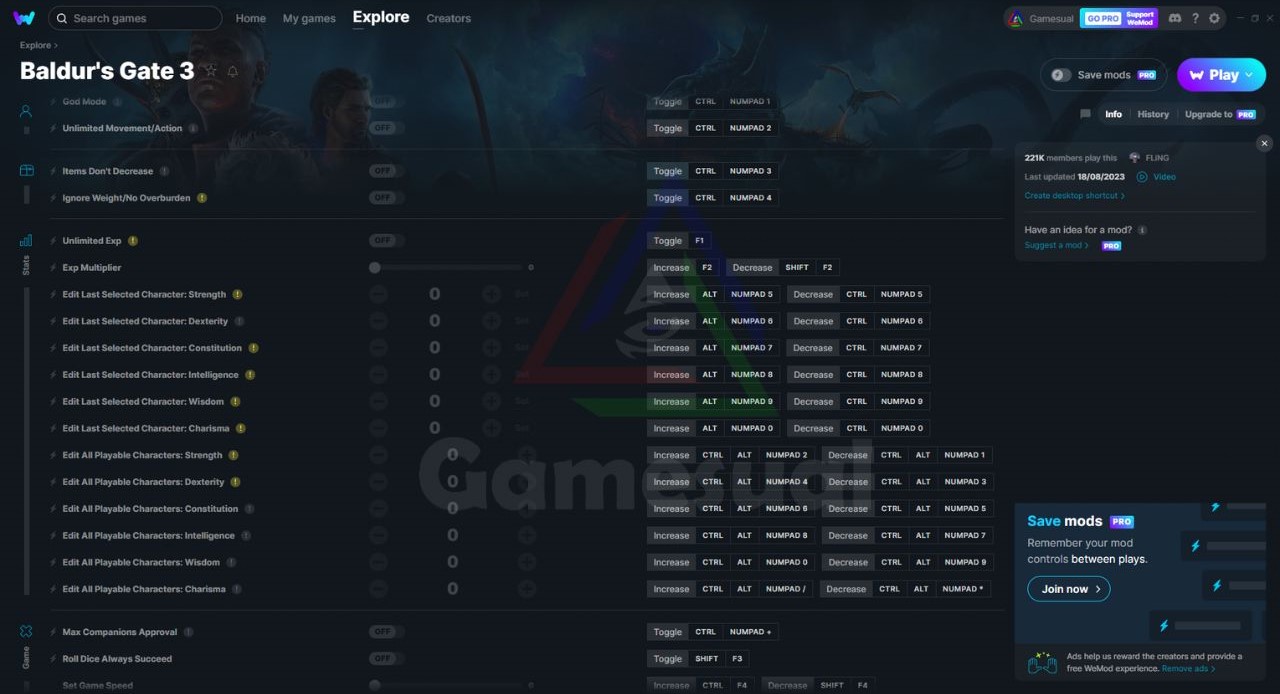 To conclude, exploring the complex world of Baldur's Gate 3 becomes much easier with these cheats. This guide has provided all the possible ways of using cheats within the game. Using these cheats, you can overcome challenges and discover hidden treasures and new aspects of your adventure.
If you liked this guide, here are some more Baldur's Gate 3 guides:
Good job! Please give your positive feedback ☺️
How could we improve this post? Please Help us. 🤔