Ever since the digital era, people have been reluctant to pre-order games. This is because it can't be 'sold out' on launch day as it used to. However, Square Enix gave away a couple of accessories for those who pre-ordered the game. One is Cait Sith Charm, a valuable accessory in Final Fantasy 16.
---
Key Takeaways
Firstly, you must input the 12-digit code to redeem the pre-order bonuses. This can be done in the PlayStation Store.
After that, you'll have to complete the game until 'A Chance Encounter' before redeeming the bonus items.
Once you have completed the quest, you can open the menu and navigate to the 'Redeemable items' tab in the Systems Collect the three items.
You can now redeem Cait Sith Charm. Which is an accessory that will give you a 25% boost in gil earned.
Moreover, Scholar's Spectacles is another accessory you can claim, giving you a 10% Exp boost.
The final item is Braveheart. This is a weapon with 130 ATK and 130 STG. The design is from Warrior of Light's Weapon from the first Final Fantasy.
---
How To Claim Pre-Order Bonuses?
The developers or the marketing team decided to add pre-order bonuses to the game. And if you pre-ordered the game, you will not regret it because the Caith Sith Charm and other bonuses make it worth it.
There are a couple of straightforward steps to input the code to redeem the accessories and bonus weapon:
First, locate the Final Fantasy 16 game in PlayStation Store.
Click on the three dots on the top.
Navigate down to Redeem Code.
A window will pop up asking you to enter the 12-digit code with the game. This will be given to you through email or on a piece of paper with the game.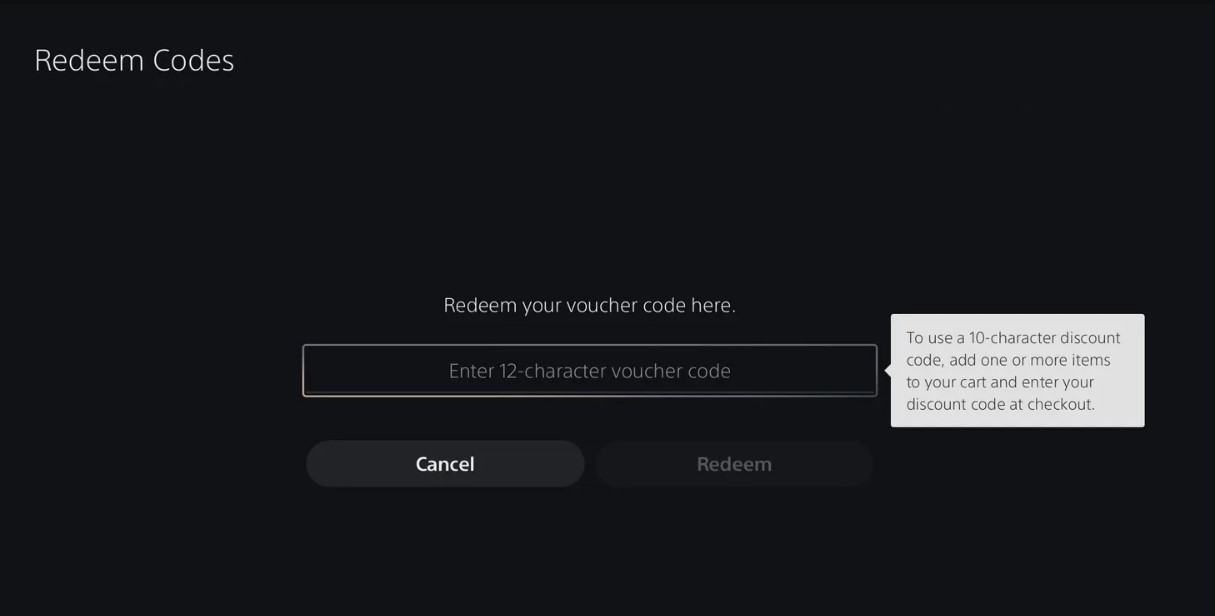 After you have done this and started the game, you will get a pop-up message. This will let you know that you can only claim these bonus items after you have completed "A Chance Encounter."
However, nothing to worry about because you must play for almost 2.5 hours before completing this stage. Once completed, follow the steps below to claim Caith Sith Charm in Final Fantasy 16.
Open up the main menu.
Navigate to system settings using R2 or L2.
Once reached, locate the 'Redeemable Items' tab by pressing R1 or L1.
Now you will be on the screen shown below, and you can press on each item to claim it.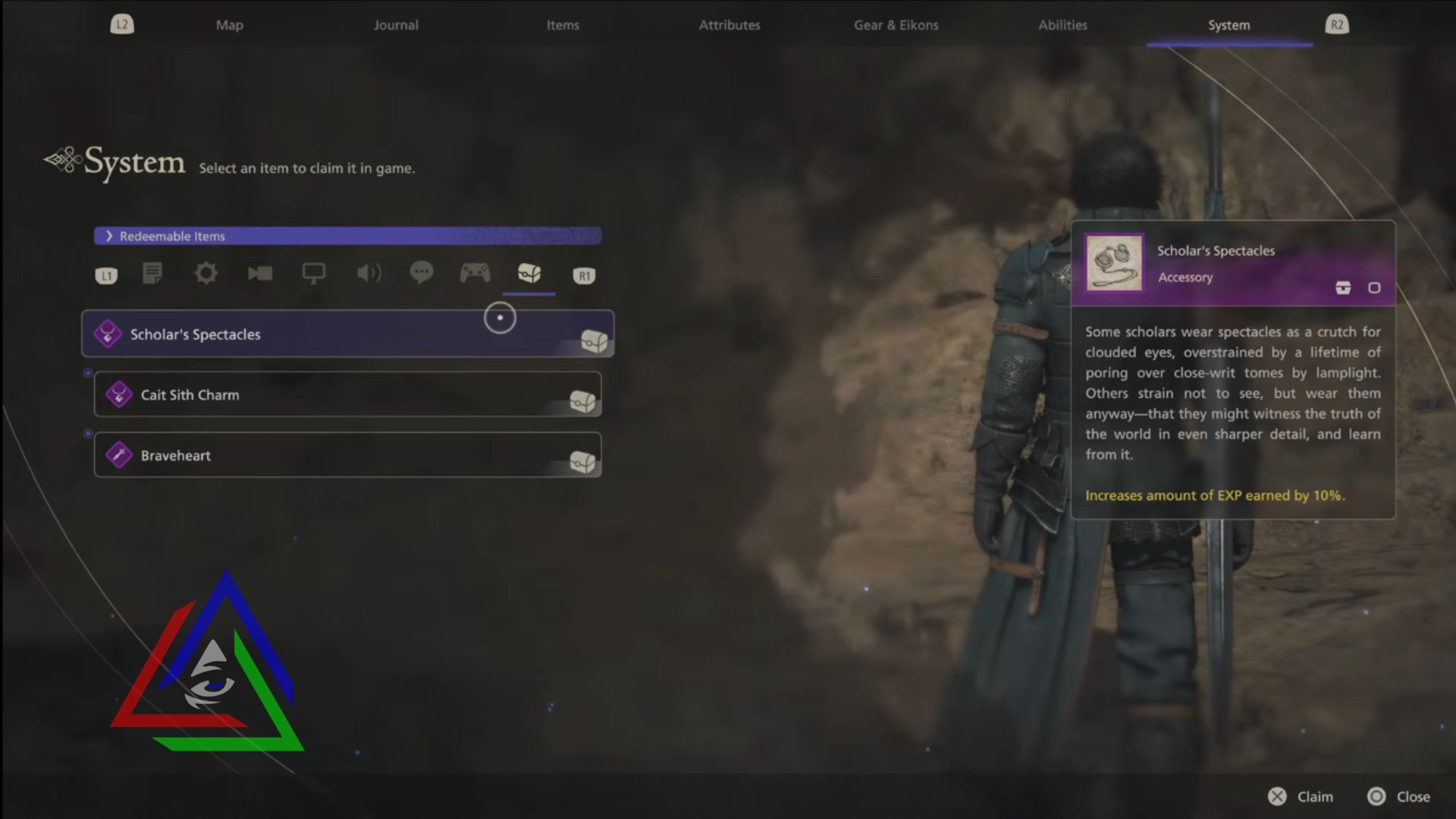 In addition to Cait Sith Charm, you will get a hold of Scholar's Spectacles accessory and Braveheart weapon. We will now discuss what each bonus does and how it can improve your gameplay.
Caith Sith Charm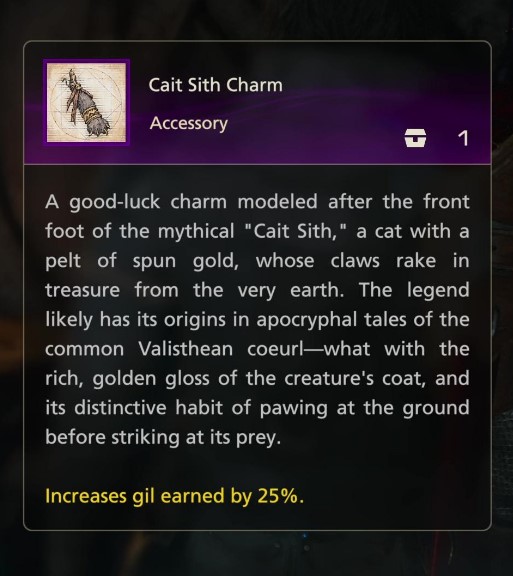 | | |
| --- | --- |
| Accessory | Caith Sith Charm |
| Description | "A good-luck charm" |
| Ability | 25% more gil earned. |
This accessory is amazing in the long run because it increases the amount of gil you earn after killing an enemy by a staggering 25%. You cannot buy this in-game; the only way is if you pre-ordered the game.
In addition to that, you cannot sell the item in the game. To put it into perspective, if you wanted to save up to 15,500 gil to buy Wages of Warcraft, you will only need to earn 12,400 gil. So, this feature will allow you to get better accessories much quicker.
Scholar's Spectacles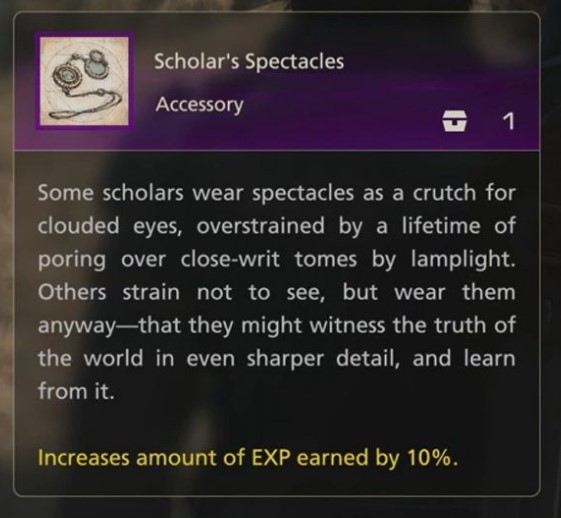 | | |
| --- | --- |
| Accessory | Scholar's Spectacles |
| Description | "Witness the truth of the world with even sharper detail." |
| Ability | 10% more XP earned. |
Another bonus item that can be redeemed is Scholar's Spectacles. This is another fantastic accessory that will definitely help in the long run. It grants you 10% extra Experience points for every battle, side quest, or activity.
This, too cannot be bought in-game, nor can it be sold. Equipping this and following the best grinding spots in the Final Fantasy 16 guide, you can farm Exp at a much higher rate and level up quicker.
Braveheart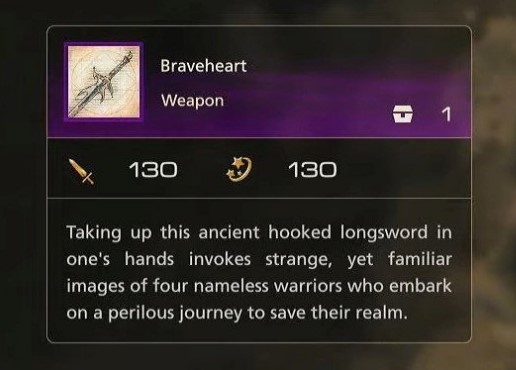 | | |
| --- | --- |
| Weapon | Braveheart |
| Description | Inspired from Warrior of Light's Weapon from the first Final Fantasy. |
| Attack Damage | 130 |
| Staggering Damage | 130 |
Square Enix got the inspiration for this weapon from the Warrior of Light's Weapon, all the way back from the first edition of Final Fantasy. This makes this weapon even more commendable and iconic for die-hard fans.
In addition to its beautiful design, the attack, and staggering damage are amazing. This amazing weapon has 130 ATK and 130 STG, which is amazing for the game's early stages. However, it cannot be upgraded and will soon be overpowered by much more potent weapons.
Nevertheless, this weapon makes the initial stages of the game much more accessible and is worth claiming. Moreover, if you are interested in strong weapons, you should check out the top 10 weapons in Final Fantasy 16.
So, if you didn't pre-order Final Fantasy 16, I'm afraid you cannot get Cait Sith Charm. However, don't worry because there are also other unique accessories that you can equip instead!
This is all that there is to know about Cait Sith Charm and other Pre-order bonuses in Final Fantasy 16. If you want to improve your gameplay, read more:
Good job! Please give your positive feedback ☺️
How could we improve this post? Please Help us. 🤔