Diablo 4, provided by Blizzard's Entertainment, an RPG game, comes with tons of in-game effects, like characters being able to upgrade their weapons. Edgemasters is Diablo 4's exalted Aspect that falls under the Offensive category of aspects. It will give players various powerful weapon effects, such as extra damage to their opponents. Players can make their opponents more fearsome while using Diablo 4 Edgemasters Aspect.
Hence, Edgemasters Aspect is an invaluable tool to help players stay ahead of their enemies and dominate Diablo IV. Compared with other aspects of Diablo IV, it's not difficult to control once you understand it. Moreover, it requires accuracy and practice to use it successfully, making it an invaluable skill for any player.
---
Key Takeaways
Players must reach the minimum level for the Scosglen Region in Diablo IV to add the Edgemasters Aspects to their inventory.
Players can convert rare weapons into legendary ones by using Edgemasters Aspect.
However, Edgemasters Aspect is among the 114 aspects available in Diablo 4, which falls under the Offensive category.
If this Aspect possesses a higher primary resource, then players will receive a boost in output damage.
Players can use Edgemasters Aspect on any class to improve their gameplay experience.
Using this Aspect can increase the damage to enemies by up to 20 points. Therefore, the Edgemasters Aspect can be very beneficial in combat, as it boosts any player's offensive capabilities.
Due to some malfunctions, Edgemasters Aspects has been disabled, which caused some severe consequences for players in the game.
---
Aspects In Diablo IV
Diablo IV comes with 114 Aspects, and the Edgemasters Aspect is one of them, belonging to the Offensive family of Aspects. It is imperative to know that Aspects have the potential to increase character stability by making rare items legendary ones. But the problem is that players cannot equip those Aspects at the beginning of the game.
Players must complete some side missions to get their hands on Codex of power, an essential factor in accumulating different Aspects of Diablo 4. Aspects are the most valuable part of Diablo 4 because they can increase any weapon's strength and effectiveness. Players can find those Aspects by defeating demons in dungeons and purchasing legendary items. Aspects that players might find can already be attached to any other weapon, so they have to destroy that weapon to possess that Aspect.
As said earlier, Aspects can be found in dungeons, which is not difficult, but wielding them with weapons is tricky. Therefore, Diablo 4 has introduced some wizards who are specialized in enchantments and wielding Aspects with builds. But there is one of them all with special forging abilities that will enhance your builds and weapons. He is the Grand Smith, and his skills in crafting weapons will give your builds an unmatched edge.
This wizard is known as Occulist and can be found anywhere in the cities and villages. Therefore, when players interact with him, they will be shown a menu from which they can choose which weapon to upgrade using their Aspect. The Aspects have been divided into five categories for players to understand better.
Defense
Utility
Resource
Offense
Mobility
Edgemasters Aspect In Diablo 4
Edgemasters Aspect is especially the most powerful of all 114 Aspects, providing players with a unique set of Offensive capabilities in Diablo IV. Once players have Edgemasters Aspect in their inventory, they can upgrade it through the wizard to double its output damage. But another important thing to upgrade Aspect is to equip themselves with more Primary Resources.
Each class in Diablo 4 has Primary Resources that they use for their skills.
| | |
| --- | --- |
| Class | Primary Resource |
| Rouge | Energy |
| Sorcerer | Mana |
| Barbarian | Fury |
| Druid | Spirit |
| Necromancer | Essence and Corpses |
Players can build their primary resources while fighting in the game, which means they can accumulate more as they play quickly. Furthermore, Edgemaster's Aspect can act as a shield to protect players from more damage. In Diablo 4, players can equip Edgemaster's Aspect only on certain items, like Gloves, Rings, and Amulets. Edgemasters Aspect will provide players with an extra 20% output damage so that players can easily defend themselves against enemies.
Ways To Find Edgemasters Aspect
Oldstones Dungeon
To find the Oldstones dungeon, players must reach Scoslgen in the downs area of the map and then go to Fractured Peaks north of Kyovashad. Edgemasters Aspect can be found by exploring the southeast of Cerrigar. Defeat the main boss and return the Stone Carving to the pedestal:1. Players can complete the oldstones dungeon and be rewarded with 30 Renown and Edgemasters Aspects in Codex of Power.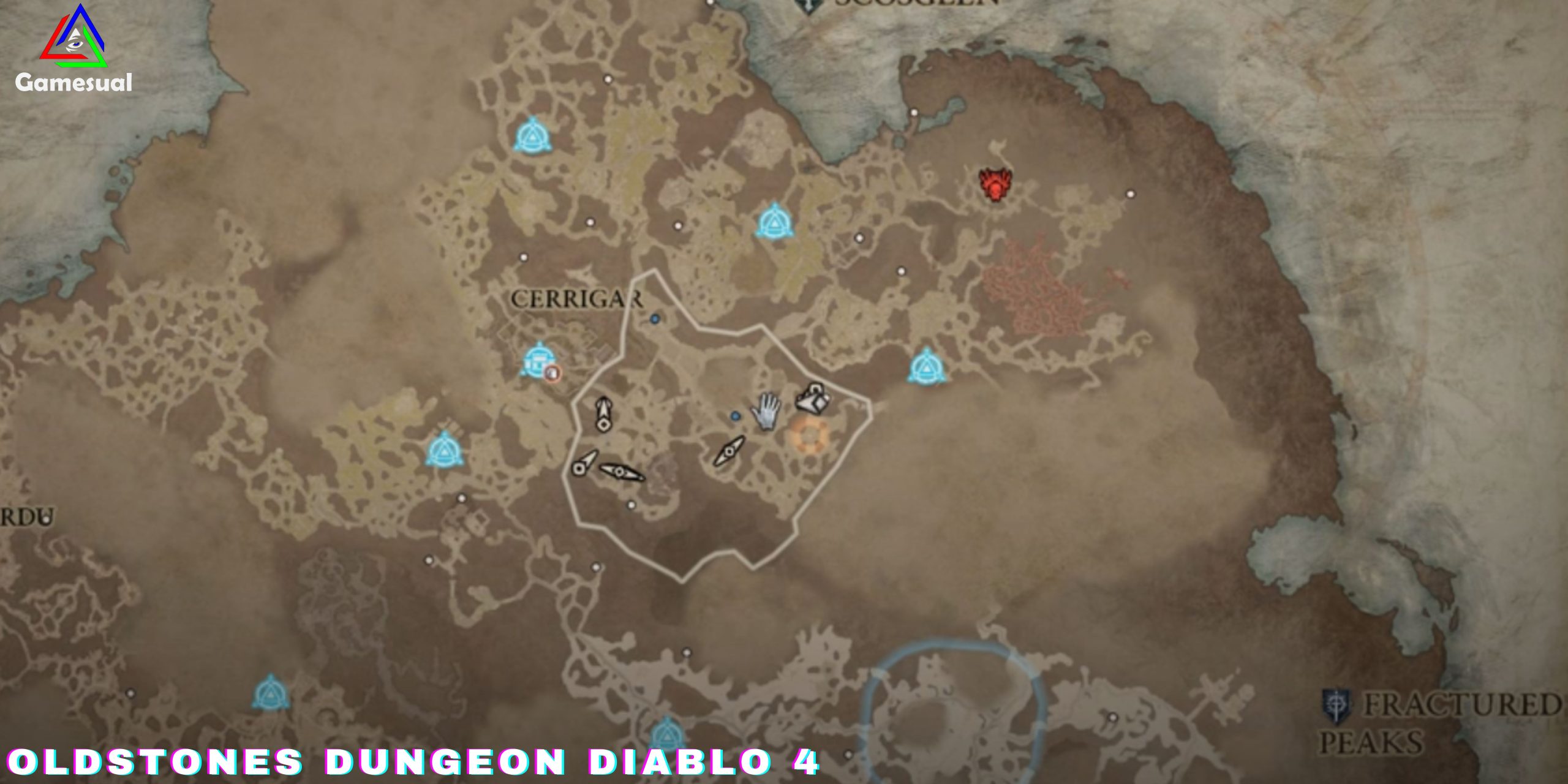 Which will provide a buff to the character's strength. Players must remember one thing when Legendary Aspects are used in the Codex of Power. They will provide their lowest value compared to its specified range.
Legendary Items
Diablo IV players had the great opportunity to find Edgemasters Aspect from the legendary items. Players can buy these items from Purveyor of Curiosities. But to imprint Edgemasters Aspect on the Codex of Power, players must sell some of their valuable items. This process can only be done once on legendary items, so finding Edgemasters Aspect is unreliable. Therefore, the odds of finding an Aspect through legendary items are very low.
Note: Another method of finding Edgemaster's Aspect is to fight against World bosses during the World events, but the possibility of finding Edgemasters Aspect through this method is also very low.
Effects Of Edgemasters Aspect
In Diablo 4, the Edgemasters Aspect has a significant amount of Primary Resources, which will help to maximize the enemy damage. To further emphasize the power of Edgemasters Aspect, it can boost damage outputs by up to 20%, resulting in devastating attacks on enemies. The Aspect will offer full damage when primary resources have reached their total capacity.
An important thing to note for players is that Edgemasters Aspect belongs to the Offensive category. Therefore, equipping Edgemasters Aspect will give players a significant advantage in combat, providing them with the perfect weapon to take down their opponents quickly. With these Aspects, characters become more distinct and powerful, which allows players to achieve their full potential in the game.
Blizzard Entertainment has disabled Edgemasters Aspect in Diablo 4 because of some game malfunction. This Aspect started dealing extra damage to Barbarians. While items associated with this Aspect are still functional, they cannot be used until enabled. Disabling the Edgemasters Aspect can have serious consequences. According to some players, their builds have been lost, and some reported that their offensive power had been diminished.
Furthermore, some players explained this problem that Edgemasters Aspect doesn't contain any bugs or malfunctioning. Still, it is designed so that if Barbarians use unspecified combos, they will deal extra damage. Players will have to try other skills and Aspects to survive in Diablo 4 without being able to rely on Edgemasters Aspect.
To conclude, Edgemaster Aspects can be used with every class in Diablo 4. It has the capability of making rare items legendary. Sadly it has been disabled in the game due to some technical issues, but players will still be able to unlock it from the Oldstone dungeons. There are some other guides of Diablo 4 which you can access to understand the gameplay better.
Good job! Please give your positive feedback ☺️
How could we improve this post? Please Help us. 🤔