Players can take on the role of those characters to embark on a journey to explore the captivating world of Final Fantasy 16. Characters have distinctive personalities influenced by their past, which motivate them to fight their opponents. Moreover, players can follow their chosen Character's story arc and see how their decisions impact the World of FF 16.
---
Key Takeaways
Final Fantasy 16 Characters have unique abilities that can help players succeed in the game.
These characters have been driven by their backstories. As a result, players can become emotionally attached to these characters as the game progress.
Some of these are the main characters of Final Fantasy 16, and some are Eikon Dominators.
Eikons are the monsters in Final Fantasy 16 with unique qualities and strengths, which can be dangerous for Characters.
Some characters can harness the powers of Eikons and use them to kill their opponents.
In Final Fantasy 16, characters like Jill, Clive, Joshua, and Benedikta, Hugo Kupka are linked with each other.
In Final Fantasy 16, professional actors record all these Characters' voices.
---
Players can meet and play with many various Characters in Final Fantasy 16. Each Character has a unique past from which they can get the motivation to fight. Some main Characters are listed below.
Characters Name
Back Story
Specialty
English Voice Artists
Clive Rosefield
Clive is the firstborn son of Archduke of Rosaria.
He is the main protagonist of Final Fantasy 16, also known as the master of Blade.
Ben Starr was the voice actor of Clive Rosefield, a well-known personality in the Film Industry.
Torgal
Belongs to the Landscapes of Northern Territories.
Another main character is Pet Torgal and also a loyal companion of Clive Rosefield.
Null
Jill Warrick

(Child)

Also, Bron in Northern Territories
A notable Female Character from the Rolay Family.
Charlotte McBurney was the voice artist for the younger version of Jill Warrick.
Jill Warrick

(Adult)

He was taken from her house at a younger age.
Rosefeild's family brought her up. After that, she became a skilled swordfighter known as the Dominant of Shiva.
Susannah Feilding was the voice artist of the Adult Version of Jill Warrick.
| | | | |
| --- | --- | --- | --- |
| Cidolfus Telamon | He has a mysterious past and was the Soldier of the Royal Waloedar Army. | He has Ligthining abilities and is a powerful ally of Clive Rosefield. | Ralph Ineson, a notable figure in the industry, worked as the voice artist of Cidolfus Telamon. |
Clive Rosefield
Clive Rosefeild is the firstborn son of the Archduke of Rosaria and the Lead Character of Final Fantasy 16. He has a unique ability to use any sword to harness and utilize the destructive powers of Eikons (monsters with immense powers). Due to this, he possesses strength and knowledge so that he can fight bravely to gain experience and wisdom from his adversaries. As a result, he has an edge over other warriors.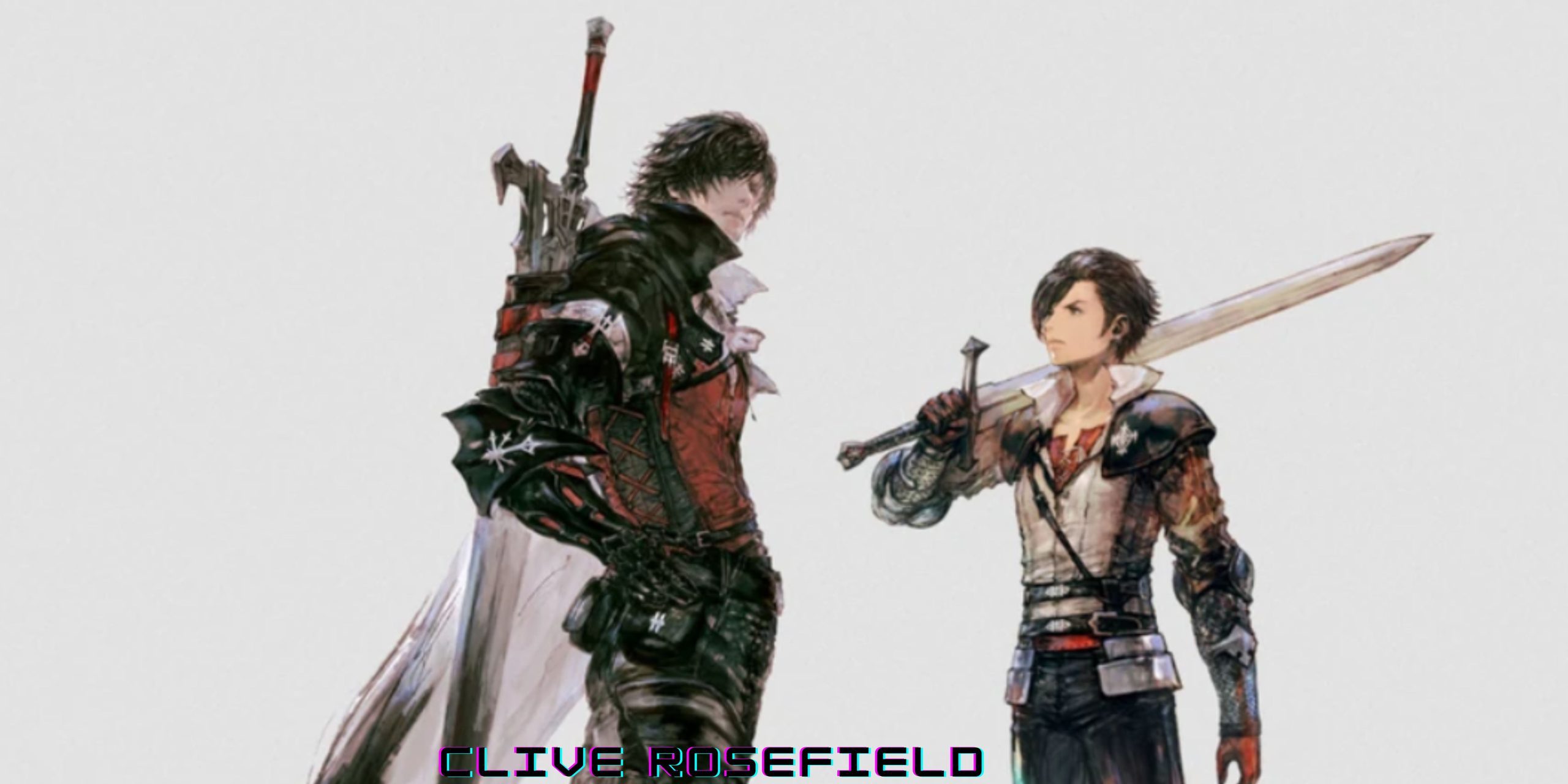 Clive Rosefeild has a younger brother named Joshua, who was chosen to become "Dominant of Phoenix" by their Father. Therefore, Clive has been given a duty to protect his brother and Phonenix and was also awarded the title of First Sheild of Rosaria when he won the ducal tournament at just fifteen years of age. But all expected him to become Phoenix, but he was destined to protect his brother.
He was also called Wyvren because, at a young age, his family was attacked by the Imperial Army. So two Fire Ekions and all Defenders of Roasria were dead. All of this happened due to a conspiracy by Clive's mother against his Father. After the attack, Imperial Army took enslaved Clive, so the commander gave him a new name Wyvren.
Clive's Character is driven by revenge, duty, and love. He set out on a quest for vengeance due to an Eikon Irfit. During his dangerous journey, he encounters many allies, companions, and enemies with the powers of Eikons. During his journey, he will harness different powers and unique abilities from Eikons while fighting, as mentioned above.
Here is a list of some abilities that he wields while having an encounter with Eikons.
| | |
| --- | --- |
| Eikons | Clive's Learned Abilities |
| Shiva | Clive learns how to control Blizzards, mesmerizing, and Cold Snaps. |
| Titan | He learns Titanic Block, Ranging Fists, Upheaval |
| Odin | Clive learns about Heaven's Cloud, Sheathe, and Gungir from Odin. |
In Final Fantasy 16, Clive Rosefield's voice artist was Ben Starr, a renowned actor in Hollywood who has also appeared in TV series like You and Me.
Torgal
Torgal is a fierce Wolf who is also the main character in Final Fantasy 16 and an essential Character for players because he will become Clive's loyal companion during his quest for vengeance across Valisthea.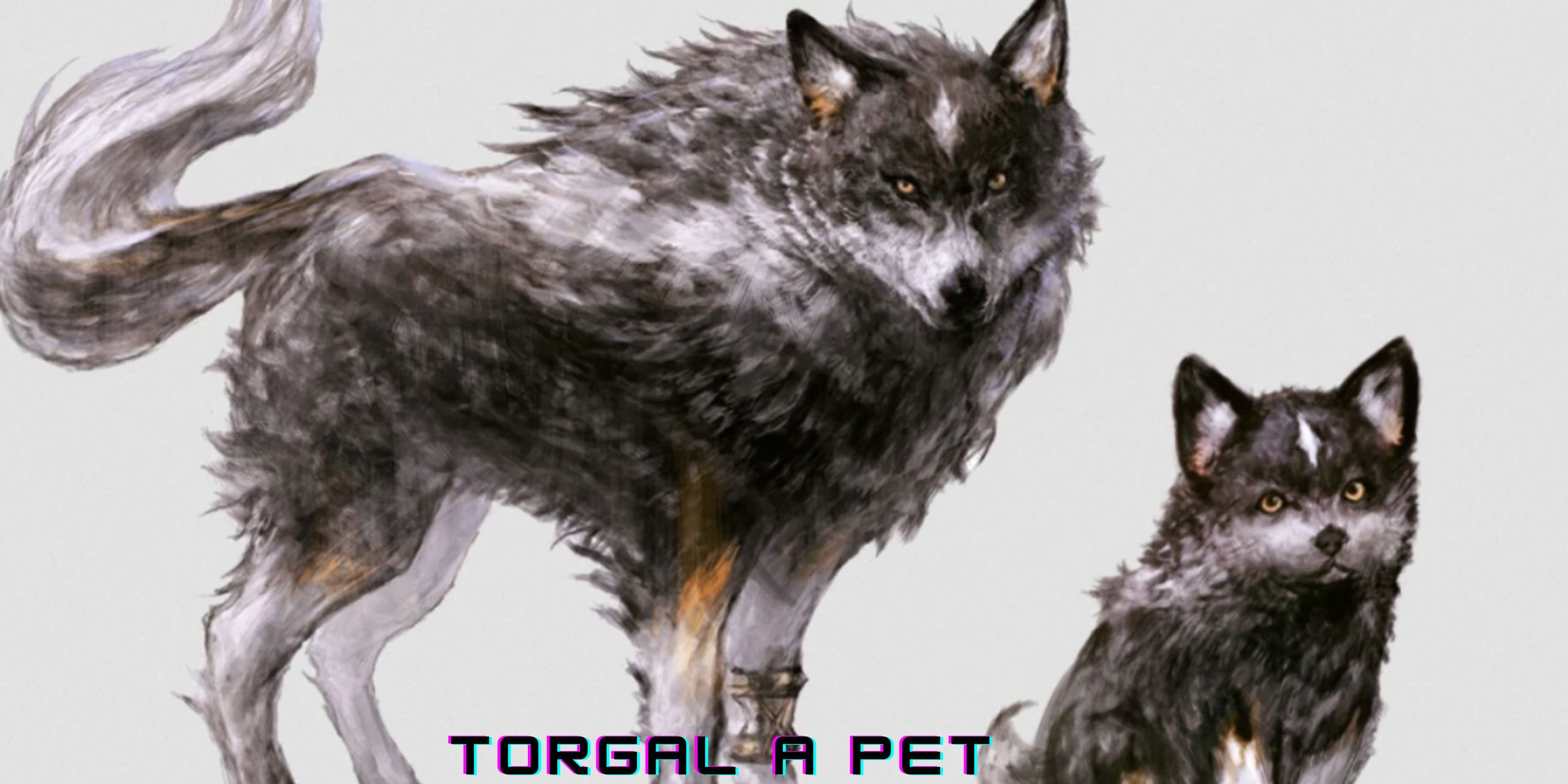 Originally this Character is from Northern Territories. Archduke of Rosaria captured Torgal as a young pup from his homeland and gifted him to his sons. Before Imperials almost killed everyone from the Rosefields family, he was very attached to Clive. But after the killing, he somehow survives, and as fate was written, he meets again with Clive during his expedition. So he confesses to being with Clive as his ally and companion.
Final Fantasy 16 designed this Character to be a helpful companion and offer assistance throughout Clive's adventure. Therefore, by combining their abilities, players can create powerful strategies to help dominate their enemies. In Final Fantasy 16, no one has done this Character's voice-over.
Jill Warrick
The female lead Character of Final Fantasy 16, Jill Warrick, is a princess who belongs to the landscapes of the Northern Territories. As she was a skilled swordfighter and Dominant of Eikon Shiva, she can be very helpful to players to succeed in Final Fantasy 16. Jill can use the powers of monsters to summon Eikons, which makes her very handy in Final Fantasy 16.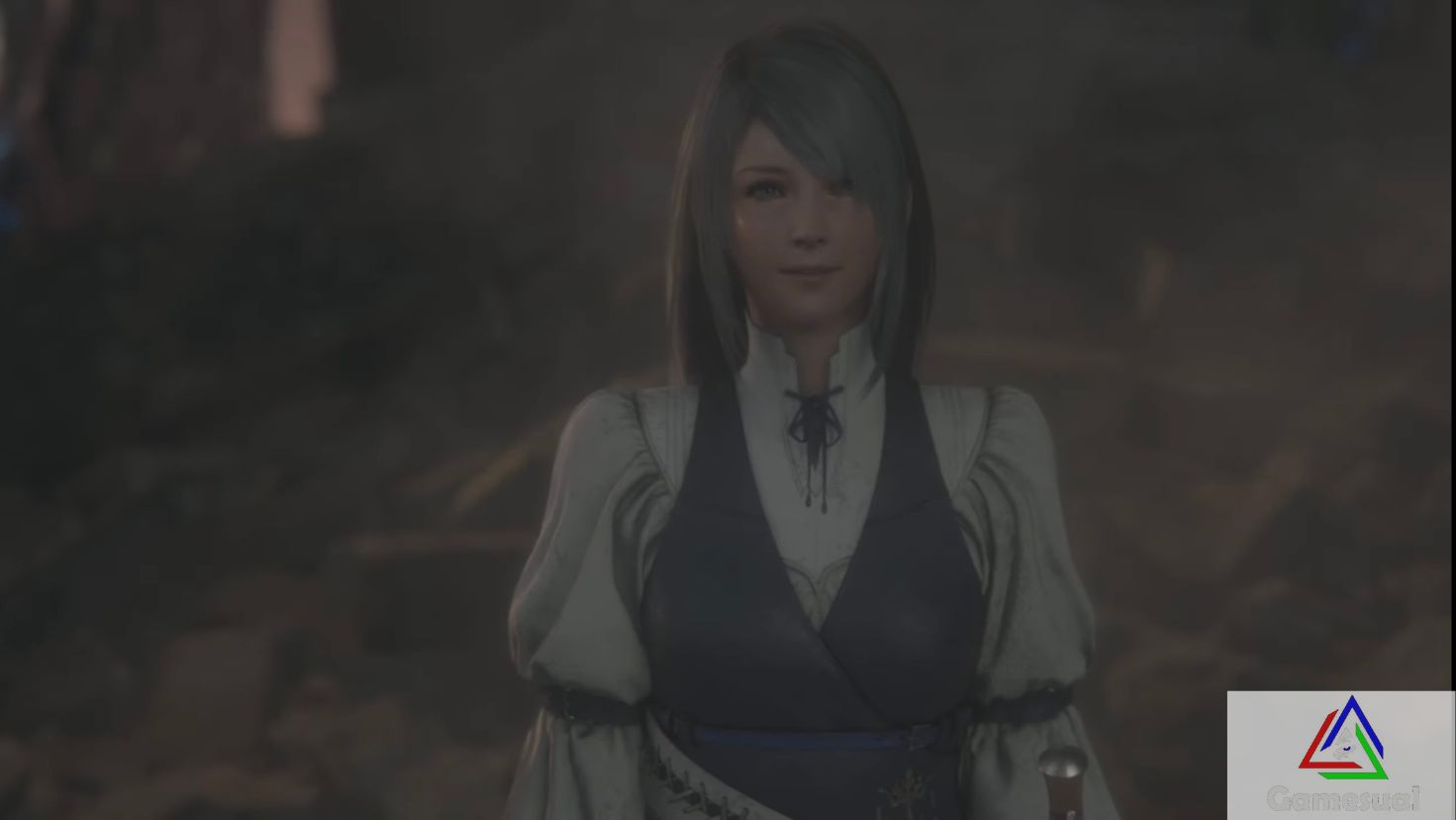 In Final Fantasy 16, there were six powerful regions, but the Northern Territories were independent and not under the control of those regions. Jill was taken as a political hostage from her homeland to maintain peace between the six areas by Archduke at a very young age. She was destined to become a ward of Rosaria. Therefore, the Archduke of Rosaria treated her as his daughter and decided she would be brought up alongside his sons like a family member.
Due to this, she developed trust and a powerful bond with Rosefeild's brothers. When Jill reappears in Final Fantasy 16, she has masters in both Sword and Ice and becomes the most potent swordfighter. In Final Fantasy 16, players will witness Jill Fighting with Odin (Eikon) and also helping Clive fight monsters. As the Eikon of Ice, she is a crucial figure in Clive Rosefield's life.
Jill Warrick also serves as the protector of the Iron Kingdom. Therefore, a conflict developed between her and Clive during the battle of Nysa. However, Clive shows mercy to her due to the bond they both shared during their childhood.
There are two voice artists used for Jill Warrick's voice-over. During her childhood, Charlotte McBurney worked as Jill's voice artist. She played very prominent roles in her acting career. She appears as Lucinda Hopkins in Daddy's Note.
Young Jill's voice artist was Susannah Feilding, famous for her roles in TV series. Her performance captures the essence of Jill perfectly, allowing players to develop a deeper connection with the Character. She is famous for her role in Horizon 5 as Amy Simpson. She has also played the Character of Ruth in the famous movie The Batsman and the Ballerina.
Cidolfus Telamon
Cidolfus Telamon, another main Character in Final Fantasy 16, also known as Cid and for players, is the most crucial Character in the game. Cid is usually depicted as a genius who creates advanced gadgets to help players in the Final Fantasy universe. Cid started his journey as a soldier in the Royal Waloedar Army.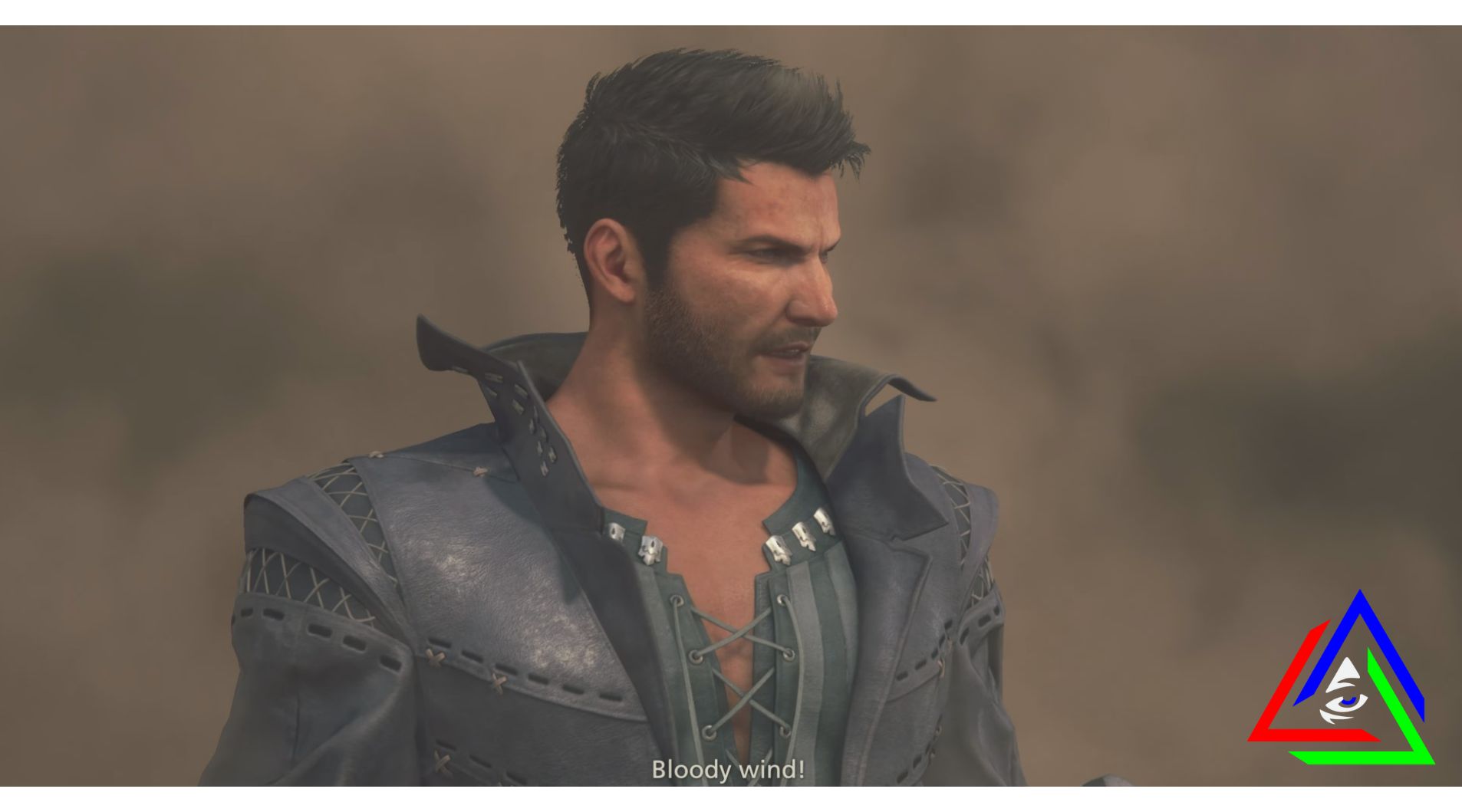 But after a while, he left the Army and worked to create a sanctuary for persecuted peoples, regardless of their background or abilities, to make them acceptable in society.
Cid has a mysterious past because, at first, he was a soldier in the Royal Army, through which he learned his combat techniques. Then Cidolfus Telamon left Army and endowed his life for the sake of the homeless and less privileged people. He is often called Dominant of Eikon Ramuh and has the power and abilities of Ramuh, so this factor can be convenient for players of Final Fantasy 16. He also possesses the ability to use magic.
As a scientist, Cid developed potent gadgets that can significantly help refugees. Clive Rosefield, the protagonist of Final Fantasy 16, had a strong bond with Cidolfus. He mentors Clive and tells him about the place for exploited Dominants hidden in the Fallen constructs in Central Storm Deadlands.
Ralph Ineson works as the voice artist for Cid's Character. Ralph is also famous for his appearance in Harry Potter Movies.
A list of Eikon's Dominant Characters is given below;
| | | | |
| --- | --- | --- | --- |
| Characters Name | Back Story | Specialty | English Voice Artists |
| Dion Lesage | Prince of the Holy Empire of Sanbreque and also can control Eikons. He is the Dominant of Bahamut. | As a King of Dragons, Dion is loved and respected by his people and troops. | Stewart Clarke was the voice artist of Dion. |
| Hugo Kupka | He is the antagonist of Final Fantasy 16 and a Soldier without fame. | He is known as the Dominant of Earth Eikon. He was a soldier in Dhalmekian Republic Army. | A British TV actor Alex Lanipekun was Hugo's voice actor. |
| Benedikta Harman | A blonde hair female named Benedikta was from Waleod Kingdom. | She serves as Royal Attache in the Waleod Kingdom. She had a golden sword, and also she was a spy and a warrior in FF16. | Her voice artist was Nina Yndis, who appeared in Peaky Blinders. |
| Joshua Rosefield | Clive Rosefield's younger brother Joshua. He was awarded the title of Dominant of Phoenix. | Second son of Archduke of Rosario and also Eikon of Fire. | Harrison Dickinson was the voice artist of Joshua. |
| Barnabus Tharmr | Barnabus does not belong to any royal family. Instead, he is a self-made person. | Barnabus can control Eikon of Odin and have extraordinary combat skills. | David Menkin was the voice artist of Barnabus. |
Dion Lesage
In Final Fantasy 16, Dion's Character is the Dominant of Eikon, who has been descended from royalty. Dion is also the Dominant Eikon of Bahamut and the Dominant King of Dragons. Dion Lesage, also known as "The Wise," was the Prince of the Holy Empire of Sanbreque. He is Dragoon Knights' commander, and his soldiers and his enemies widely respect his bold and decisive leadership.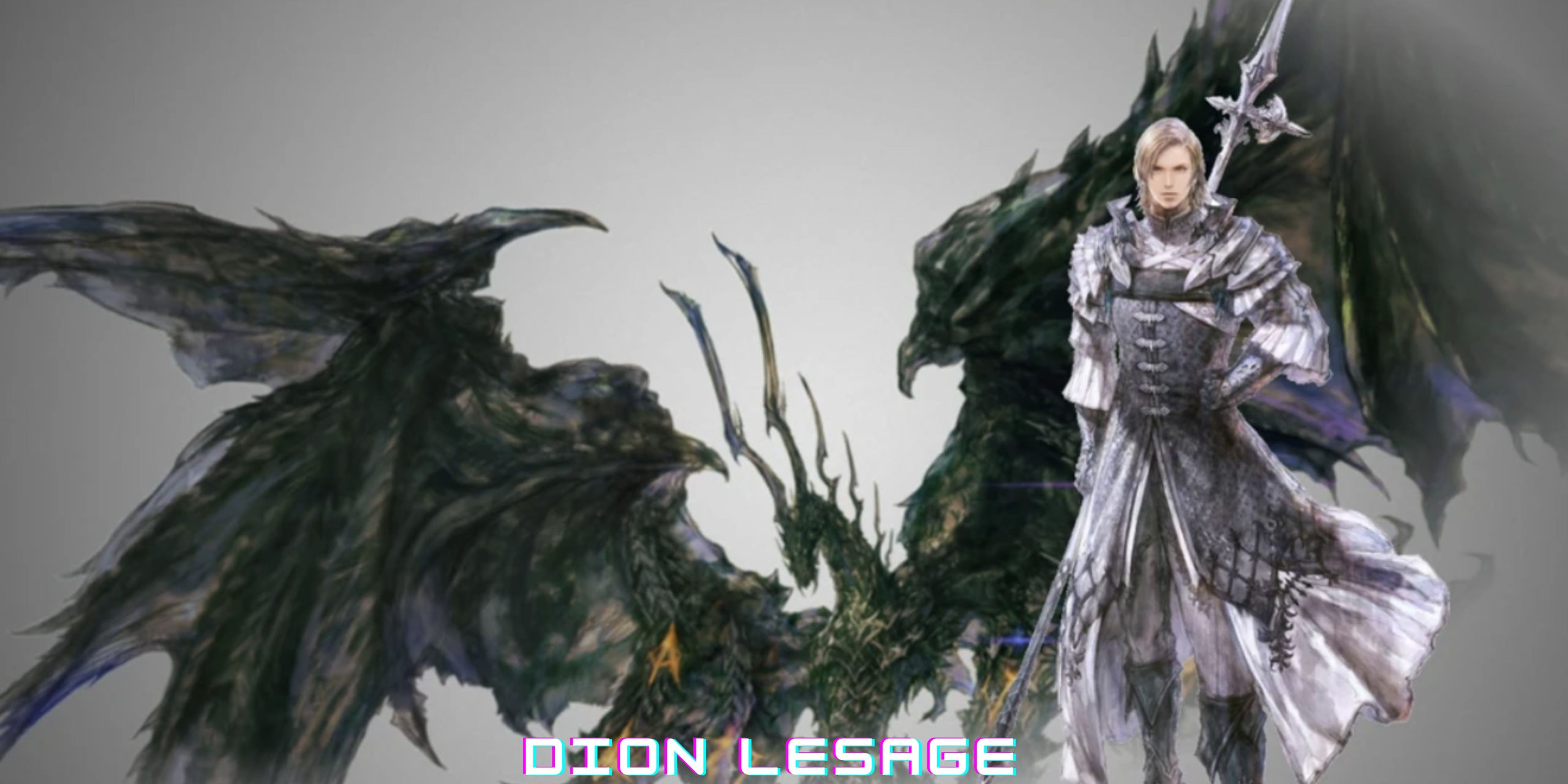 Another noble character in Final Fantasy 16 belongs to Sanbreque's Royal Family, the Commander of Dragoon Troops. His Character has the edge over others because Dion is Dominant of Eikon and a Royal descendent. Dion possesses leadership attributes and is a great warrior, which is why he has won many battles for the benefit of his Kingdom.
Throughout his military career, he has demonstrated proficiency in strategy and tactics so that players can equip his Character to get success in Final Fantasy 16. However, he appears to be struggling to keep his secrets hidden, but his stress is impossible to ignore and reveals a much more complex story behind his noble blood.
But his life would turn upside down when a tragedy happened to him when his family members spread rumors that he would turn his back due to the Dominant of Bahamut. In the Victorian age, people would sing songs to glorify their heroes, which also happened in Final Fantasy 16 for Dion.
Dion Lesage's Character voice artist Stewart Clarke provided a strong and natural performance that brought the character to life. He is famous for his role in Valkyrie Elysium.
Hugo Kupka
A soldier in Republican Army becomes the Dominant o Eikon Titan. He is an antagonist in Final Fantasy 16 without any fame or respect. After that, he suddenly arose as a Permanent Economic Advisor. Hugo uses his position to become a powerful man in Dhalmekian to influence his army and policy making. He also had a relationship with Benedikta Harman, who taught him that money and power aren't everything.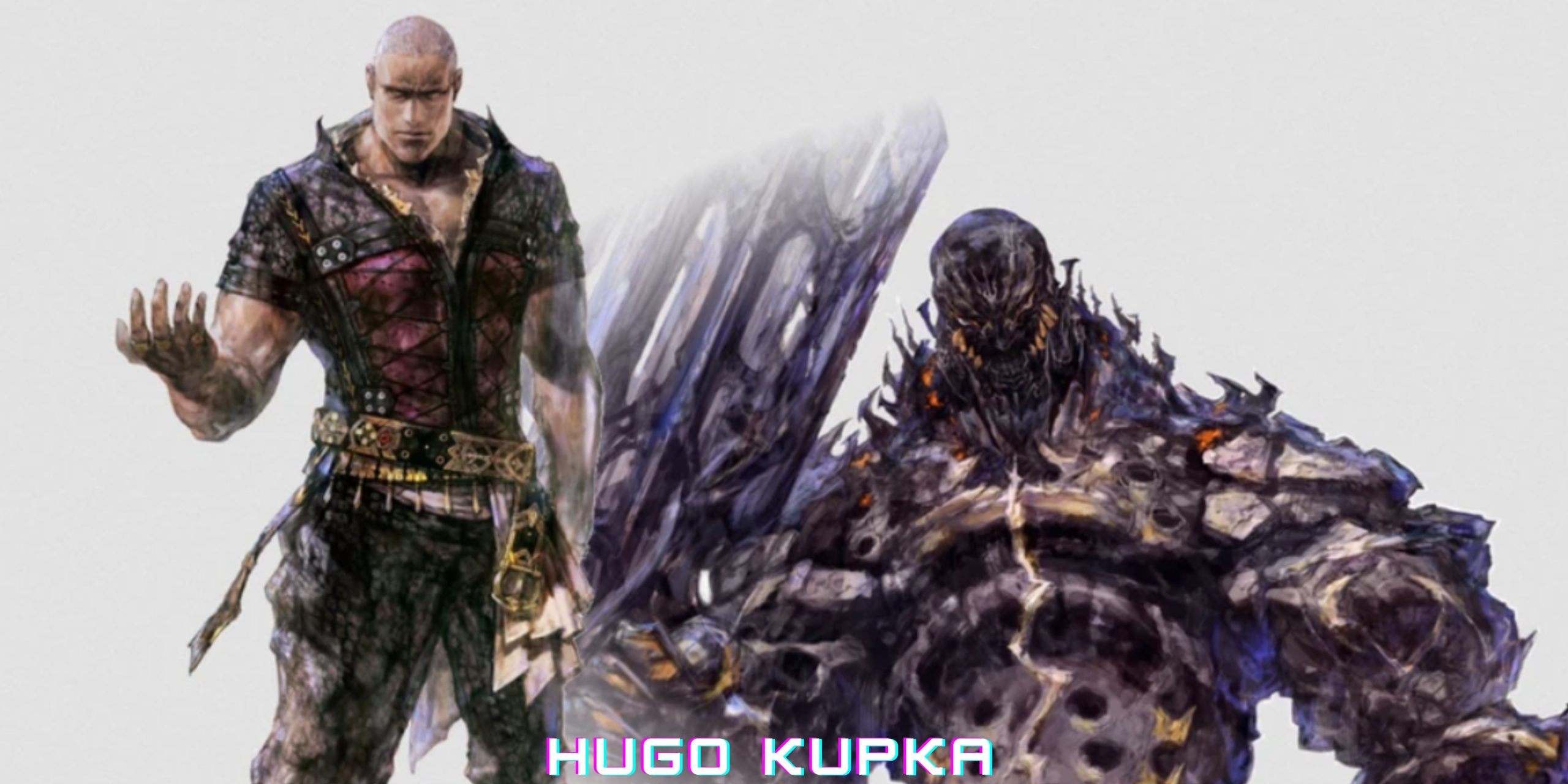 He was born in poverty and started his life simply as a Soldier in Dhalmekian Army without fame or recognition. After that, he became powerful as he was given the title Dominant of the Earth, Eikon. As his fate was, his life took a turn, and he became the Economic Advisor of Dhalmekian. As his personality progresses as a political person, he tries to influence the national Army and the country's policies.
His efforts pay off, establishing him as a self-made success and an inspiration to others. His actions thus far have been driven by a desire to win, yet his behavior also shows a deep empathy for those around him.
In Final Fantasy 16's English version, British TV actor Alex Lanipekun provided his voice for Hugo Kupka to bring his character to life.
Benedikta Harman
A mysterious blonde female Character in Final Fantasy 16. In the game, she is presented as a spy and a warrior. Benedikta Harman is the Dominant of Garuda. She is an exceptional officer under the command of King Barnabas, and as the game progress, she appears and disappears from the spotlight. As the Warden of the Wind, she has extraordinary sword skills and has a signature sword with a Golden handle.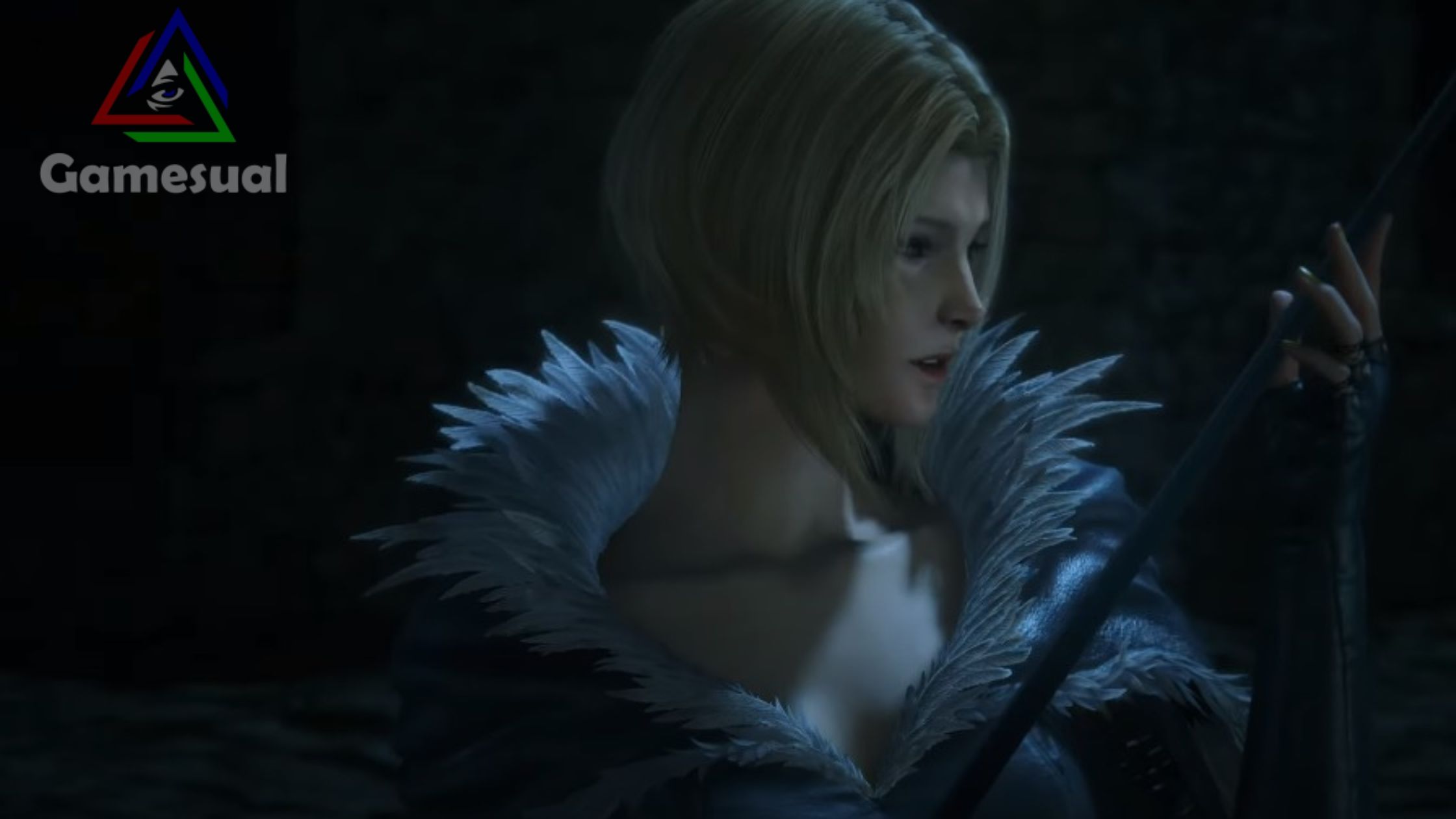 As the game progress, Benedikta appears as a coldhearted and hostile female mastered in sword fighting. She serves as Royal Attache in the Waloed Kingdom. At the start of the game, she is a deadly enemy who commands Waleod's elite intelligencers. She is the Dominant of Eikon Garuda, serves as Warden of the Wind, and can summon wind, but this isn't the famous summons in the Final Fantasy series.
Therefore, Benedikta has a designed costume with a feathered jacket that connects her to a beast-like bird. She interacted with Clive Rosefield, who will become her buddy in the finale, during a quest to find Infernal Eikon Irifit. Golden Sword and Role of the Dominant of Garuda represent her as a fearless warrior and an influential leader.
Nina Yndis provided her voice for Benedikta's Character. Nina has also worked with Square Enix in the past, as she was the voice artist for Uimett in Final Fantasy 14.
Joshua Rosefield
Younger Brother of Clive Rosefeild and second son of Archduke of Rosaria. At a very young age, his Father gave Joshua Rosefeild the role of Dominant of Phoneix. He has a soft corner for the people of Rosario. He also has affection and love for Jill Warrick and his family. In Joshua's opinion, his older brother Clive who he admires greatly would have given the role of the Dominant of Phoneix.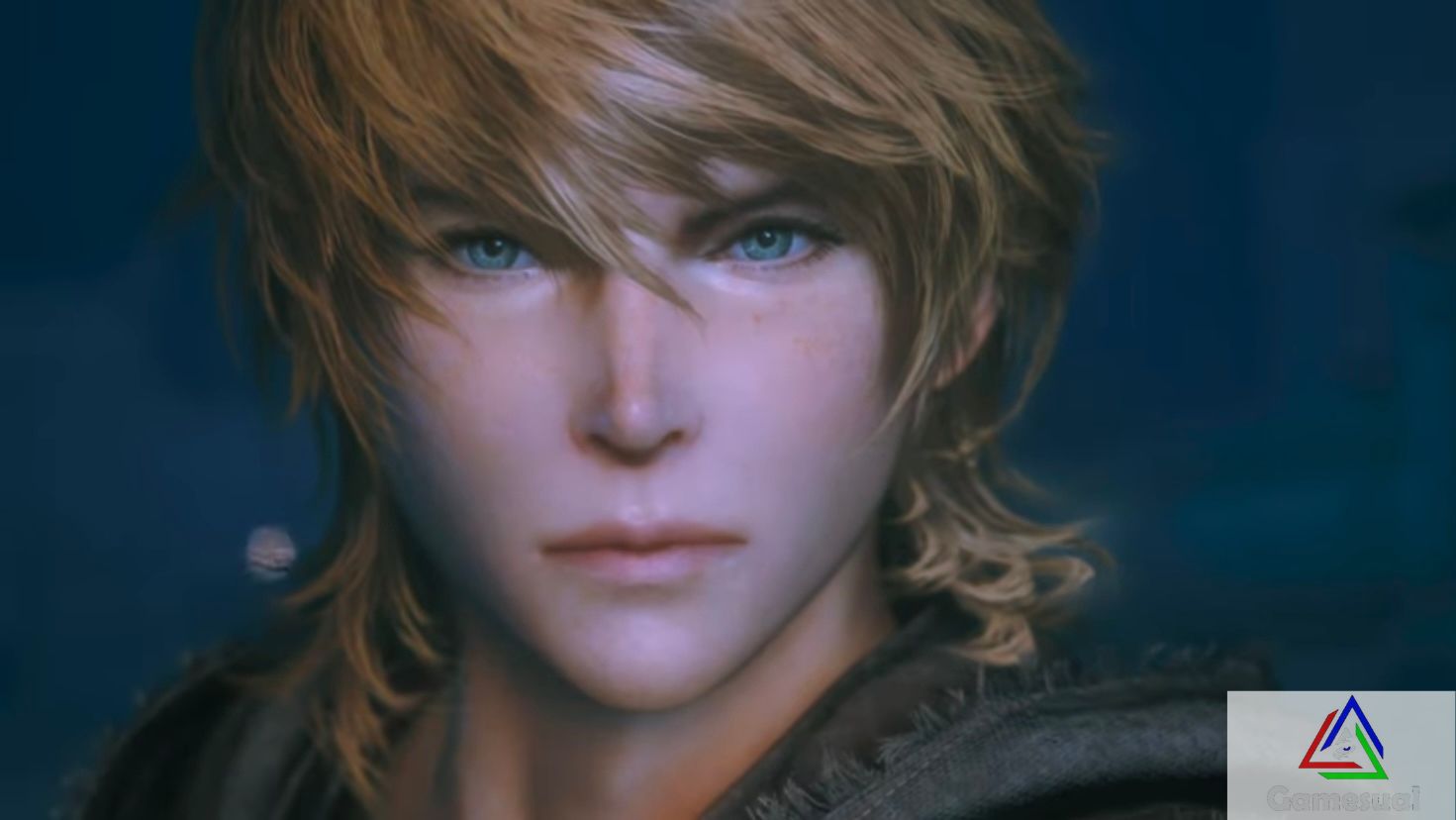 Joshua Rosefield was born in the house of Archduke Rosario as his second son and was destined to become Dominant of Phoneix, which changed his life completely. He spends his childhood with his younger brother Clive and Warden Jill Warrick. He has a caring personality and a warm heart for Rosario. However, he also has the Dominant of Eikon Fire, making him a formidable fighter in Valisthea.
As a younger brother, Joshua takes on a very significant role in affecting Clive's life. He brings a new level of complexity to the story, which makes Final Fantasy more captivating.
Harrison Dickinson was the voice artist for Joshua in Final Fantasy 16, and his talent developed an emotional connection with the Character.
Branabus Tharmr
In Final Fantasy 16, Barnabus Tharmr is the main antagonist, the Dominant of Odin. Barnabus is known for his extraordinary strength and could easily defeat many enemies. He also has the power of Odin, the Norse God of War and wisdom, which gives him an edge over his opponents. Therefore, he defeated all the rival warlords in the east and unified the region to establish his rule over the conquered territories.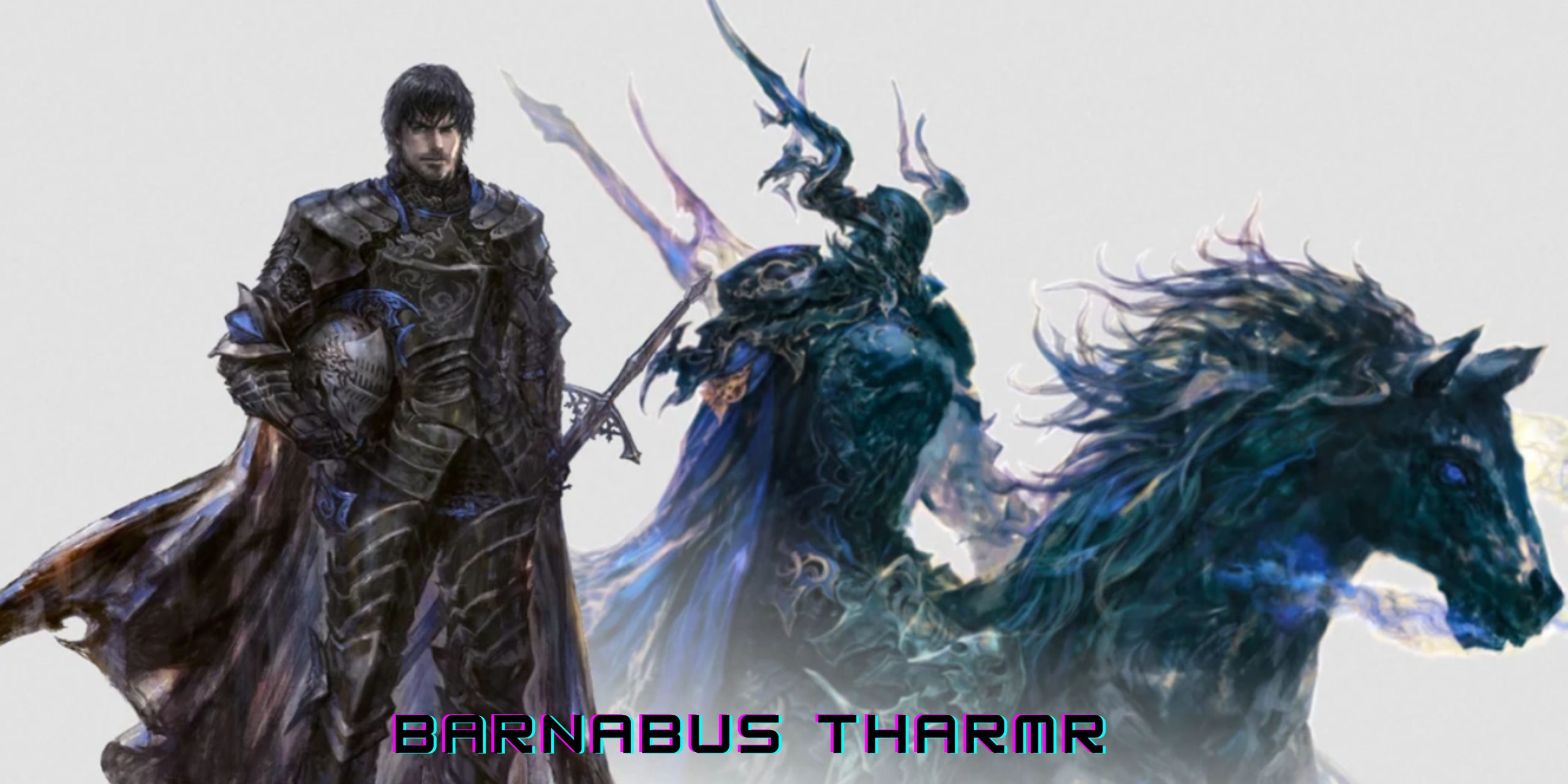 Barnabus didn't belong to any Royal family. Instead, he was a self-made person. After becoming the King of Waloed, he set out on the journey toward the cost of Ash, but due to his skills, he won that Kingdom through bloodshed by summoning the power of Odin. Barnabus has a Black Blade made of a rare material that can absorb the powers of his enemies. He is the Warden of Darkness and so powerful that he can kill enemies with a single blow.
In Final Fantasy 16, Barnabus believes that by uniting all the Dominants, he will be able to eradicate all the issues from society and create a unified world. A conflict can arise between him and Clive on destroying Mother Crystals.
David Menkin works as the voice artist for Barnabus Tharmr and has also worked in other video games like Lego Star Wars.
That is all from our side on Final Fantasy 16 Characters. Players can choose any of them to explore their life in FF16 further. They are all powerful and hold powers of Eikons which can be very helpful for players to win against their adversaries. We hope you guys like this, and if we have missed anything about this guide, you can add it in the comment sections.
Some other guides on Final Fantasy 16 are listed below;
Good job! Please give your positive feedback ☺️
How could we improve this post? Please Help us. 🤔