In the Final Fantasy series, players can utilize unique objects called Final Fantasy 16 Orchestrion Rolls to play music tracks throughout the game. Each Orchestrion Roll stands for a different tune, such as a combat theme, background music, or an emotive composition. Players can personalize their environment with the recognizable music from the Final Fantasy franchise by using these rolls, which feature tunes from different Final Fantasy games.
---
Key Takeaways
Players can acquire and utilize Orchestrion Rolls, which are in-game musical objects, in Final Fantasy 16.
Players can acquire Orchestrion Rolls in Final Fantasy 16 by purchasing or earning them through the game's quests.
The hub region, The Hideaway, houses the orchestrion machine, where players can utilize these rolls.
The Hideaway's music changes when you use an Orchestrion Roll, creating a unique and immersive environment.
Orchestrion Rolls are, unfortunately, only usable inside the Hideaway and cannot be consumed outside the hub region.
You can find 24 by exploring and progressing through the main story in Final Fantasy 16 through different methods.
Players can listen to a range of melodies, from calming sounds to victorious anthems, thanks to the wide range of Orchestrion Rolls that are open to them.
---
Orchestrion Rolls Locations
Final Fantasy 16 contains 24 rolls throughout its entire run, but getting them all needs a variety of approaches. As players go through the game's story, they will automatically unlock specific rolls, while they must purchase others through in-game shops. This guide will help you discover all of those Orchestrion Rolls.
In some cases, players must explore the game's world to find treasure boxes that contain specific rolls, adding an element of exploration to obtain them. Gaining all 24 rolls gives players a sense of success and lets them personalize their in-game environments with various musical tracks. The in-game exploration is also made more challenging and exciting as a result.
To simplify, there are generally four ways to get these Orchestrion Rolls.
By playing through the story.
Hidden in treasure chests throughout the game
You can buy some from the shop (tho you need to be in specific story sections to unlock specific rolls in the shop)
You can unlock some rolls by collecting Renowns at Patron's Whisper.
Below, we'll discuss all of these separate ways in detail.
Through Story
As you progress through Final Fantasy 16's story to find Final Fantasy 16 Orchestrion Rolls, you'll automatically unlock many of these rolls. It motivates players to explore the game more thoroughly, learn its secrets, and appreciate the benefits that await them along the way.
| | |
| --- | --- |
| Hide, Hideaway | Automatically and immediately unlocked along with the Orchestrion feature as the story advances. |
| Our Terms | After the second story mode skips, it automatically unlocks due to the development of the plot. |
| Sorrow's Faded Form | "Home, Sweet Home" primary storyline challenge completion unlocks this. |
| Twilight | You must complete "Fire in the Sky" successfully to unlock this. |
| Good Bones | You must complete "Like Father, Like Daughter" to unlock this roll. |
| Where the Heart Is | You can unlock this musical roll when you use that jukebox-looking Orchestrion device for the first. Players can find that device in the Hideaway. |
Hidden Treasure Chests
Players can find four Orchestrion Rolls within the open zone portions of Final Fantasy 16. Conveniently, FF16 also features four unique open zones, "Kingdoms." This suggests that one treasure chest contains an Orchestrion Roll in each larger explorable location of Final Fantasy 16.
Although the open areas in FF16 change and evolve throughout the game, the protagonist, Clive, can still access them anytime during his journey. As a result, players can return to these locations whenever they like, starting when the zones open and right before they embark on the game's final mission.
This gives players plenty of chances to find and acquire these treasure chests containing the highly desired Orchestrion Rolls. Here are the aforementioned four Orchestrion Rolls that you get only through hidden treasure chests in detail.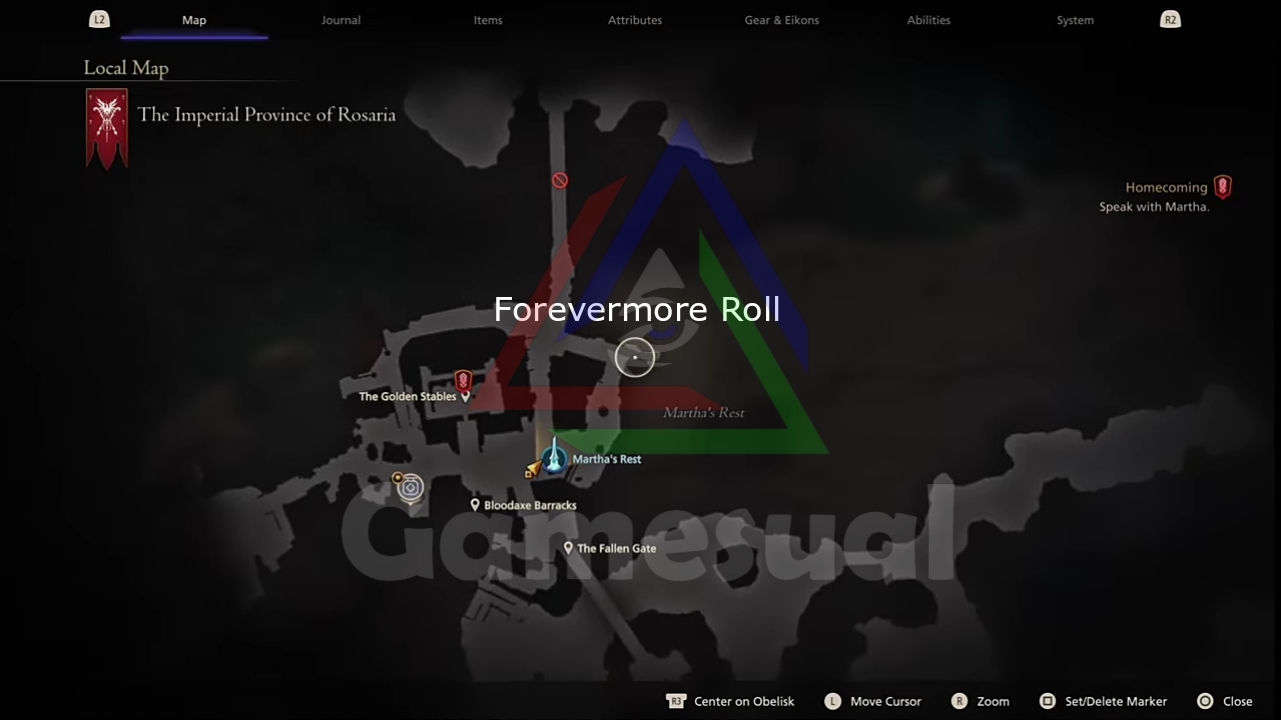 Rosaria is the first kingdom you'll encounter during your adventures in Final Fantasy 16 world. A chest is concealed in Martha's Rest, a village in Rosaria that serves as a refuge. Simply teleport to the quick travel obelisk in Martha's Rest and go northeast across the community to reach it.
In the area of the town that is the farthest to the northeast, look for a small alleyway. You'll find the chest there, hidden away in the darkness. It includes the Forevermore music in this hiding place and some priceless crafting supplies. When you are exploring, don't overlook this undiscovered treasure!
Histoire Orchestrion Roll Location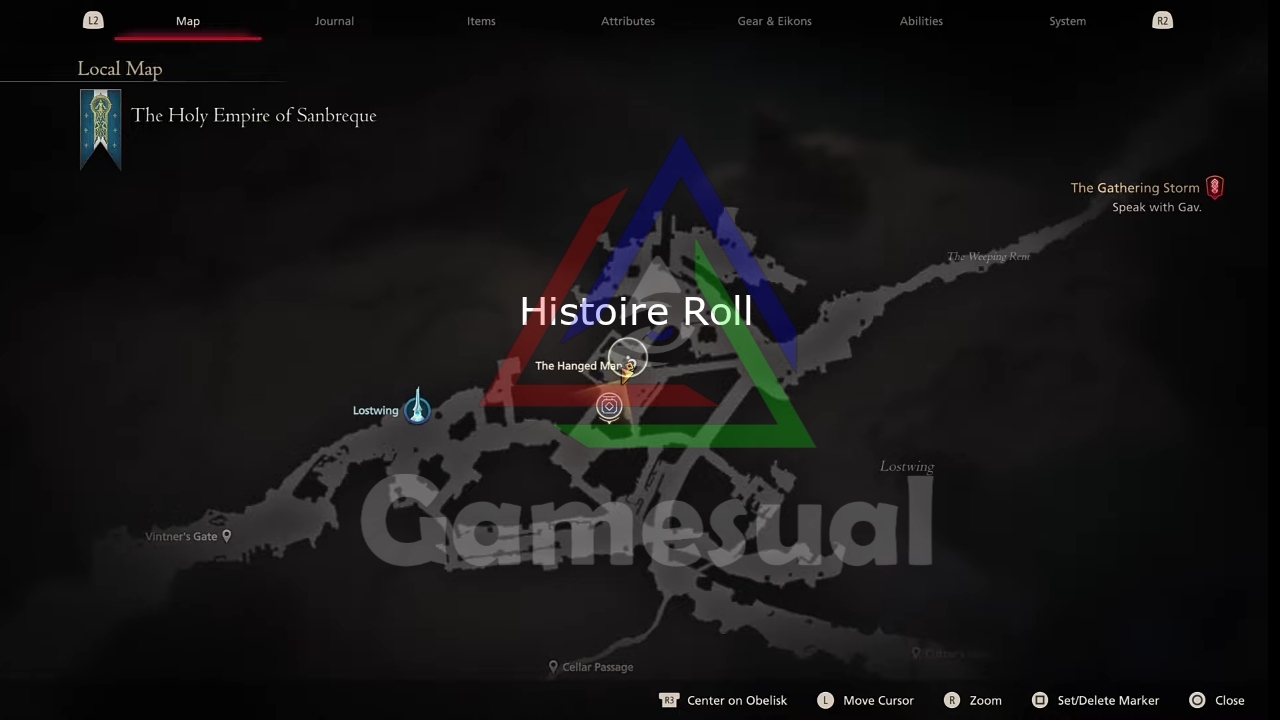 You must go to The Hanged Man pub in Lostwing to find the Kingdom of Sanbreque. You must climb the stairs within The Hanged Man, then keep a lookout for ladders. Then, you should climb ladders and stairs to get to the pub's rafters, where this chest is hidden. This is an early place in Final Fantasy 16 that initially begins harmlessly before turning dangerous.
Despite the dangers, the treasure chest containing the Orchestrion Roll always remains available, enabling players to get it later.
Indomitable Orchestrion Roll Location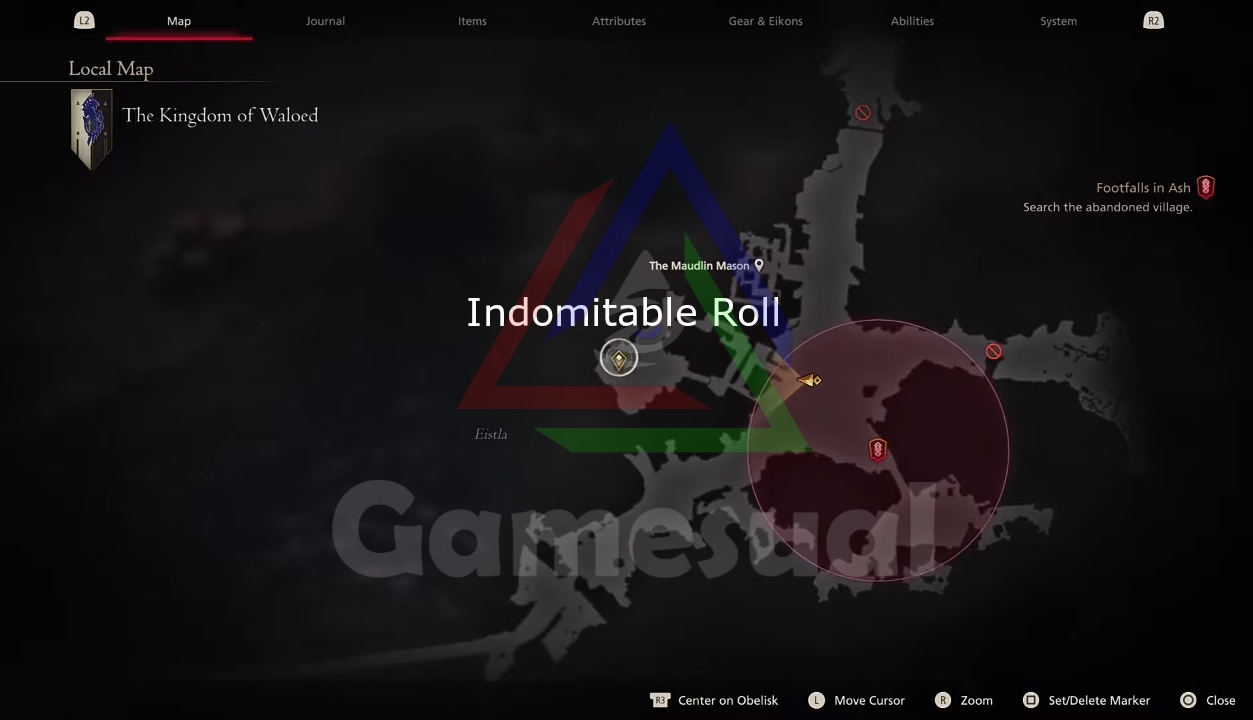 In Final Fantasy 16, the final destination is Waloed, a kingdom known for its hostile and dangerous nature. Compared to the other kingdoms, Waloed poses more significant challenges and threats to the players. It is a hostile kingdom with no friendly or populated cities, but there is still an Orchestrion Scroll, so you must travel there.
You should go to the town of Eistla to get the Roll. Fortunately, it has its quick travel obelisk, making things simpler. Head to the higher area in the western half of the town, just below the new tavern, The Maudlin Mason, from the fast-travel Obelisk.
You can find the chest containing the Orchestrion roll beneath a structure resembling a shed in a more open section of the map that connects to different passages.
Sand And Stone Orchestrion Roll Location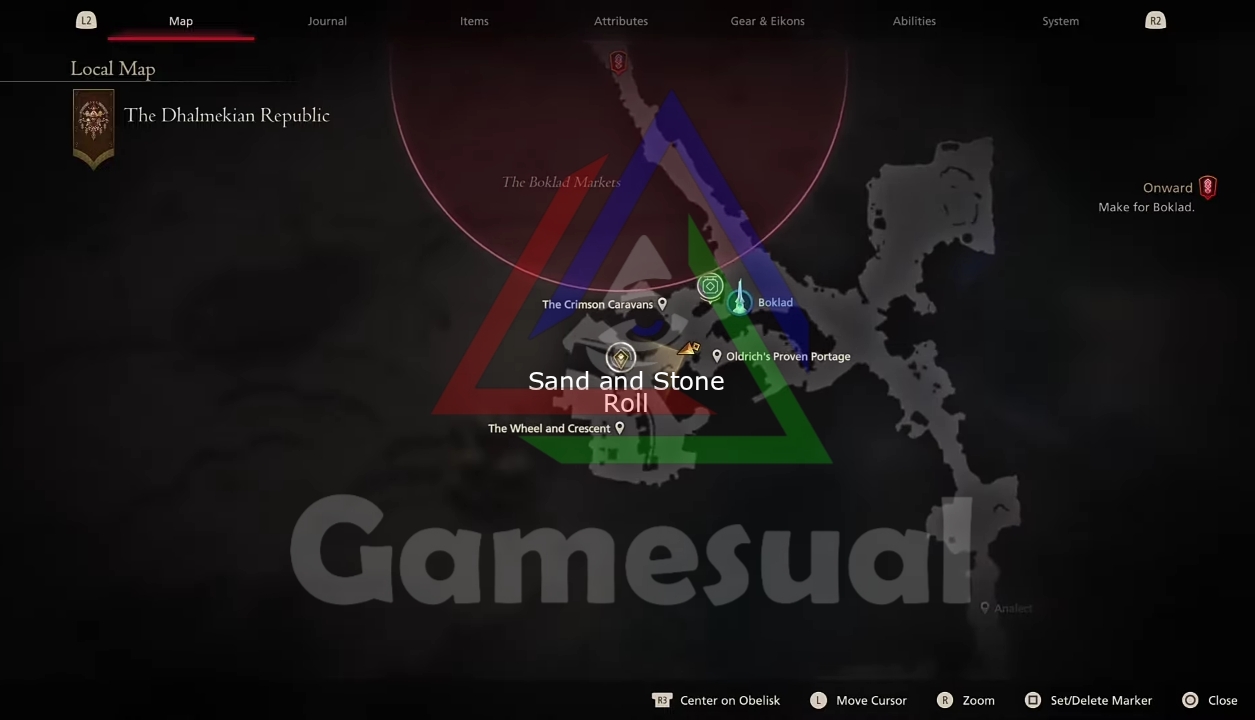 You can find this Roll in the Dhalmekian Republic. This is another hazardous and perilous environment, ruled by Hugo Kupka, Dominant of Eikon, Titan. You must first travel to the town of Boklad before continuing to the Republic of Dhalmekia, which you can reach after some time exploring the Dhalmekian provinces.
A narrow alleyway may be found in Boklad's western section. It is also situated north of "The Wheel and Crescent." It is also located to the left of the Crimson Caravans. The treasure chest containing the musical roll is hidden in the darkness of this alley. There are also many other chests in a similar fashion.
Shops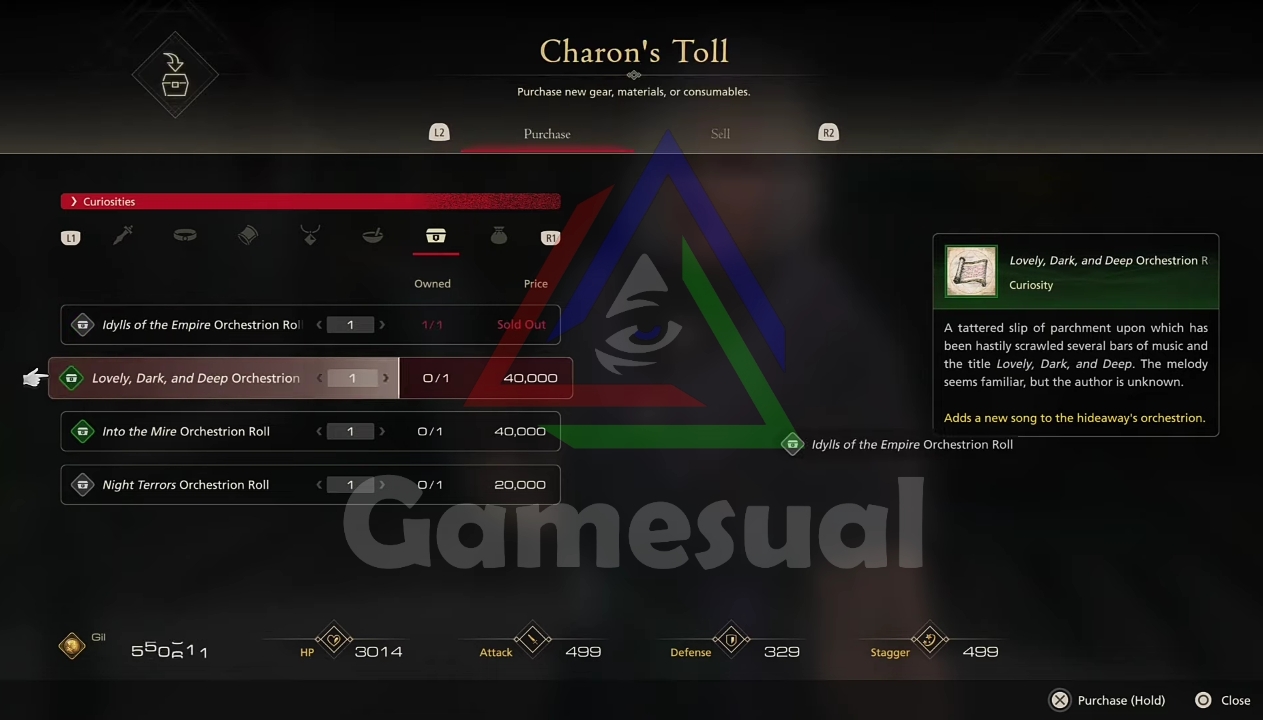 You can acquire most of the optional Orchestrion Rolls in Final Fantasy 16's hideaway by visiting various shops and spending your hard-earned gil there. While various stores may close as the game's plot develops, the Charon's Toll store in the hideout always has its inventory available.
Don't worry if you're looking for a specific scroll from the list, but it's no longer accessible at the main shop because it vanished. You won't miss out on getting it if you go to Charon. Enjoy not worrying about missing these musical gems, as you can easily acquire them!
| | | |
| --- | --- | --- |
| Name | Location | Cost |
| The Founder's Footsteps | In Martha's Rest – Rosaria. | 20,000 Gil |
| The Lion and the Hare | In Dravozd – Dhalmekia. It also requires completing Blacksmith's Blues III. | 40,000 Gil |
| Lovely, Dark, and Deep | In Eastpool – Rosaria. Players can later find it at Charon's Toll. | 40,000 Gil |
| Before the Storm | In Northreach – Sanbreque. | 50,000 Gil |
| Into the Mire | In Moore – Sanbreque. Players can later find it at Charon's Toll. | 40,000 Gil |
| Betrayal | In Bokland – Dhalmekia. | 40,000 Gil |
| On the Shoulders of Giants | In Tabor – Dhalmekia. | 20,000 Gil |
| Night Terrors | In Amber – Rosaria. Players can later find it at Charon's Toll. | 20,000 Gil |
| Idylls of the Empire | In Lostwing – Sanbreque. Players can later find it at Charon's Toll. | 40,000 Gil |
| The Thousand Tables | In Dalimal Inn – Dhalmekia. | 40,000 Gil |
Collecting Renowns And Patron's Whisper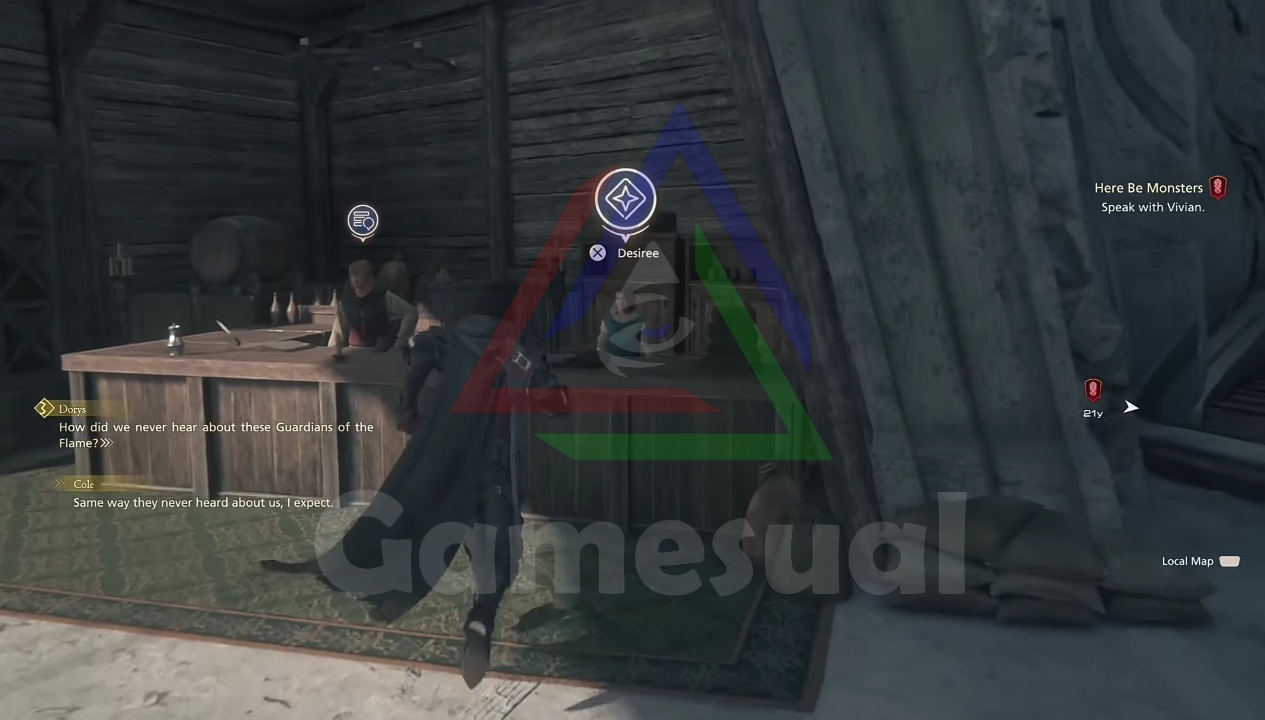 To access the Orchestrion musical Rolls, go to Patron's Whisper. This is a station that Desiree maintains. Desiree is another merchant in the Hideaway that will help you throughout your journey. Her station is located near the Hunt Board. It is hard to miss once you're there.
You can occasionally get gifts at this place by gaining Renown and enhancing Clive's reputation as a brave hero. You can gain renown quickly and effectively by fulfilling quests and taking part in hunts. By participating in these events, you can raise your Renown and gain access to more Orchestrion Rolls and more of the game's musical features.
Here are the Orchestrion Rolls that you get by this method.
| | |
| --- | --- |
| Name | Cost |
| A Rose is a Rose | 135 Renown |
| To Sail Forbidden Seas | 2850 Renown |
| No Risk, No Reward | 1120 Renown |
How To Use Orchestrion Rolls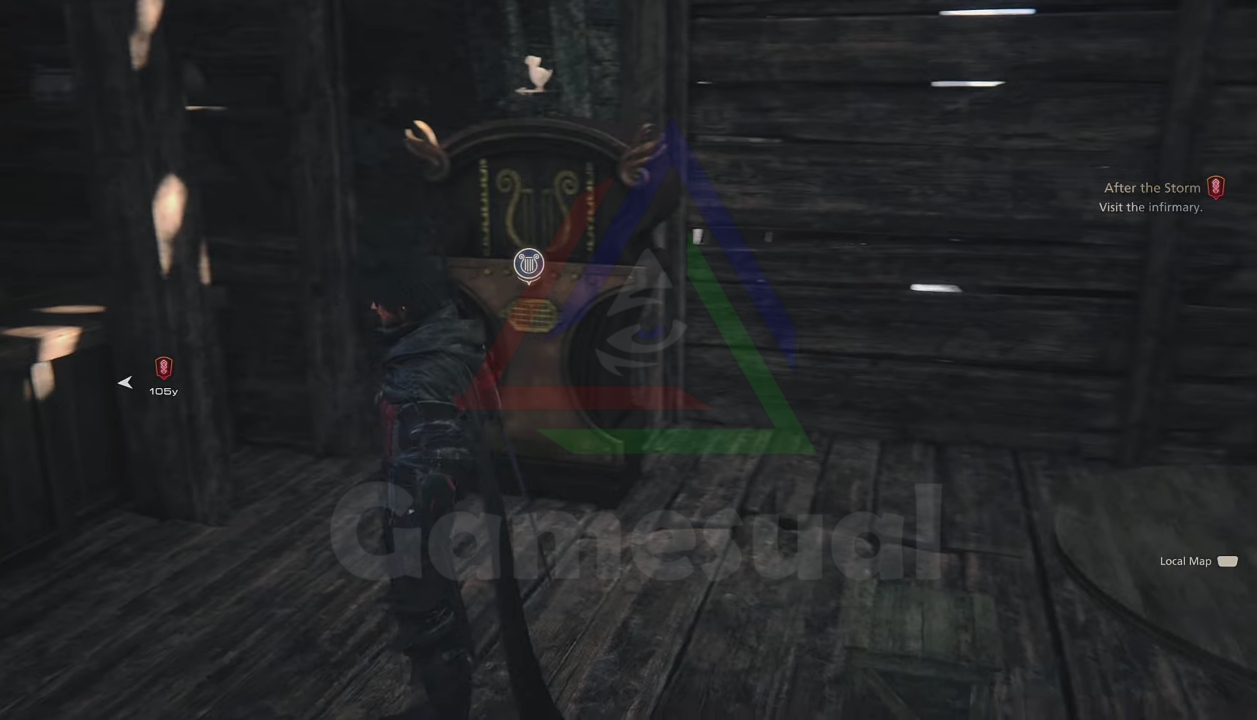 Go to the Hideaway. Here, next to the bar, you'll see a jukebox-looking machine. That is the orchestration machine. You can insert all of the Orchestrion Rolls you got through your struggles and exploration there.
Any rolls you collect will be available in the machine immediately. Change the Hideaway's music by selecting a roll to give the hub area a different feel. Keep in mind that you can only use the rolls inside the Hideaway.
Despite the limitation, the orchestration rolls are worth it since you spend a lot of time in the Hideaway. You can choose from a range of rolls. They help you relax and enjoy calming music or to be motivated by triumphant songs. Enjoy the magical music to make the most of your Final Fantasy 16 experience.
In conclusion, this wraps up the information regarding Final Fantasy 16 Orchestrion Rolls. This guide also includes their locations and how to make use of them. Visit our other articles for information, including guides and news for Final Fantasy 16 and many other games.
Good job! Please give your positive feedback ☺️
How could we improve this post? Please Help us. 🤔