If you've been playing High on Life for a while, you have probably gotten used to the many side quests and challenges that come along the way. Whether it be watching an entire Tammy and the T-Rex movie in High on Life or defeating Nipulon, this game doesn't let you get bored. However, these challenges come in handy as they are a great way to build your skills in the game and obtain extra resources and score. The Skate-Park Score challenge in High on Life is tough to complete.
---
Key Takeaways
The Skate-Park Score challenge in High on Life is one of the more complex challenges in the game, requiring time and patience.
Obtain the Skate-Park Warp Disc worth eight warp crystals from Blorto. Warp to the location from Zephyr Paradise (Upper Valley).
3 NPCs will challenge you to obtain a score of over 42069 in the Skate-Park. Accept the challenge to begin.
You will need to have unlocked Knifey and JetPack to complete the challenge.
There is no skateboard; you must use various tricks to attain the required score. Everything can help you gain points, whether it be jumping or swinging.
The challenge is a minute long. The only technique you need to remember is Swing, Spin 360, Jetpack, and repeat. Whatever you do, do not stop in between.
Aim to increase your score multipliers by swinging and grappling. Spinning 360 degrees will significantly increase your score.
Use Knifey's tether ability to swing in the air. Once in the air, use the Jetpack's hover mode to conserve fuel.
Coming in contact with the ramps and railings will increase your score.
Hit the ground when the time is about to run out to ensure that all your score is counted in.
You might not win this the first time around, so be sure to practice combos in the air to ensure success.
---
The Skate-Park Score Challenge
One of the many challenges of High on Life is the Skate-Park challenge. This is pretty much harder than the others and is guaranteed to give players a hard time. There is a very high chance that you will not be able to complete this the first time. But don't worry; here is a complete guide to help unlock this challenge, including various tips and tricks to increase your score.
Obtain The Skate-Park Warp Disc
To complete this challenge, you need to have warp crystals. If you're a newbie, check out our guide on High on Life warp crystals and how to farm them.
Note: You can only attempt to get warp crystals after defeating 9-torg (the first bounty).
Once you have familiarized yourself with warp crystals, you'll need to collect 8 of them to get the Skate-Park warp disc. Warp discs are required to open portals and get to various locations within the game. Buy the warped disc from Blorto's shop in Blim City. Check out our guide on how to use warp discs in High on Life.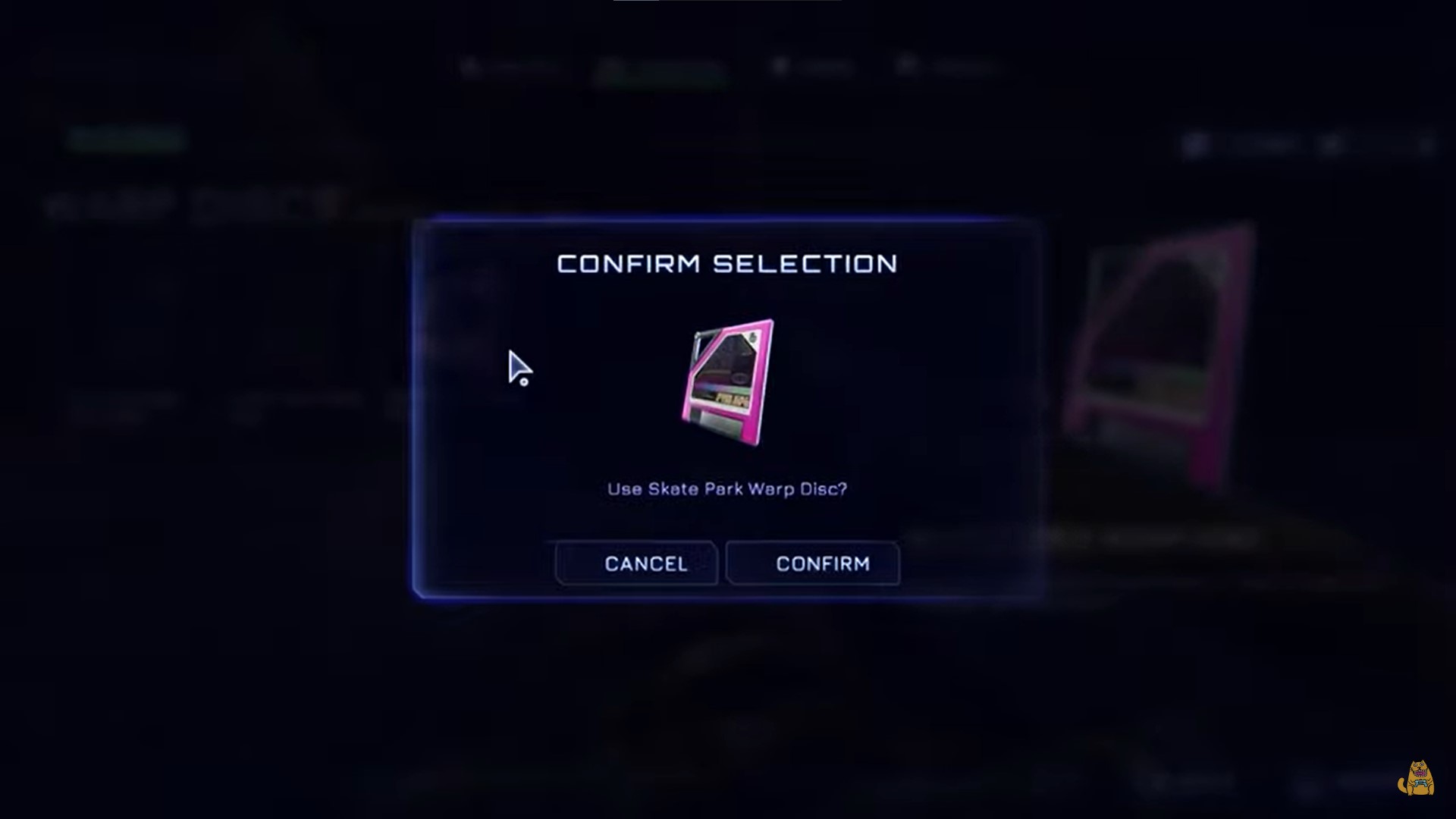 Warp To The Skate-Park
After successfully obtaining the warp disc, you will need to use it to access the portal to the Skate-Park. For this, head to Zephyr Paradise (Upper Valley). Maneuver to find a blue warp portal on top of the mountain. Reach the portal and interact to deploy the disc and warp to Skate-Park.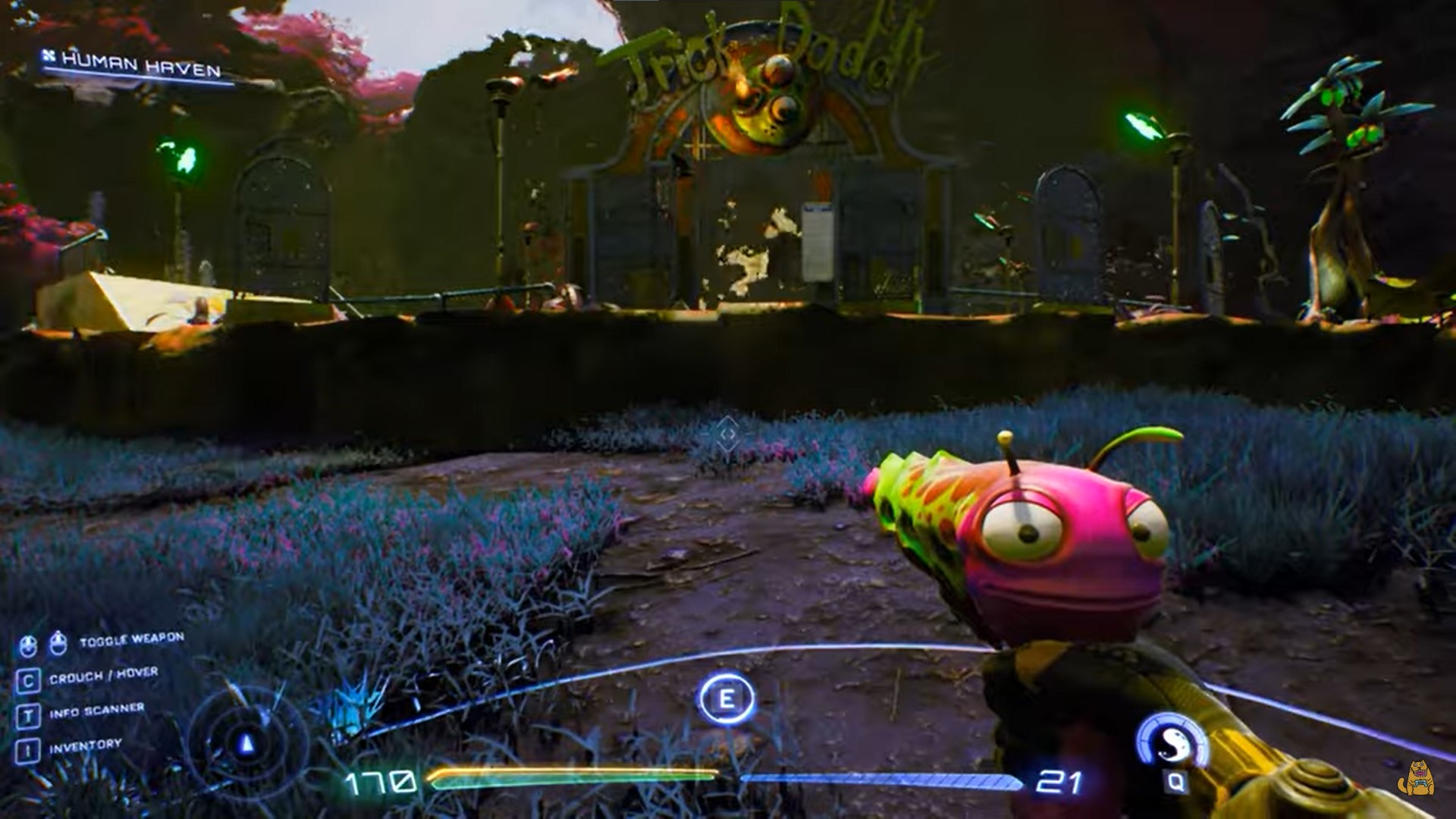 Interact With The Teenagers
To start the challenge, you will need to interact with three teenagers sitting on the skating rink who will challenge you to score 42069 points by skating. A dialogue box will show up, where you have to accept to begin the challenge.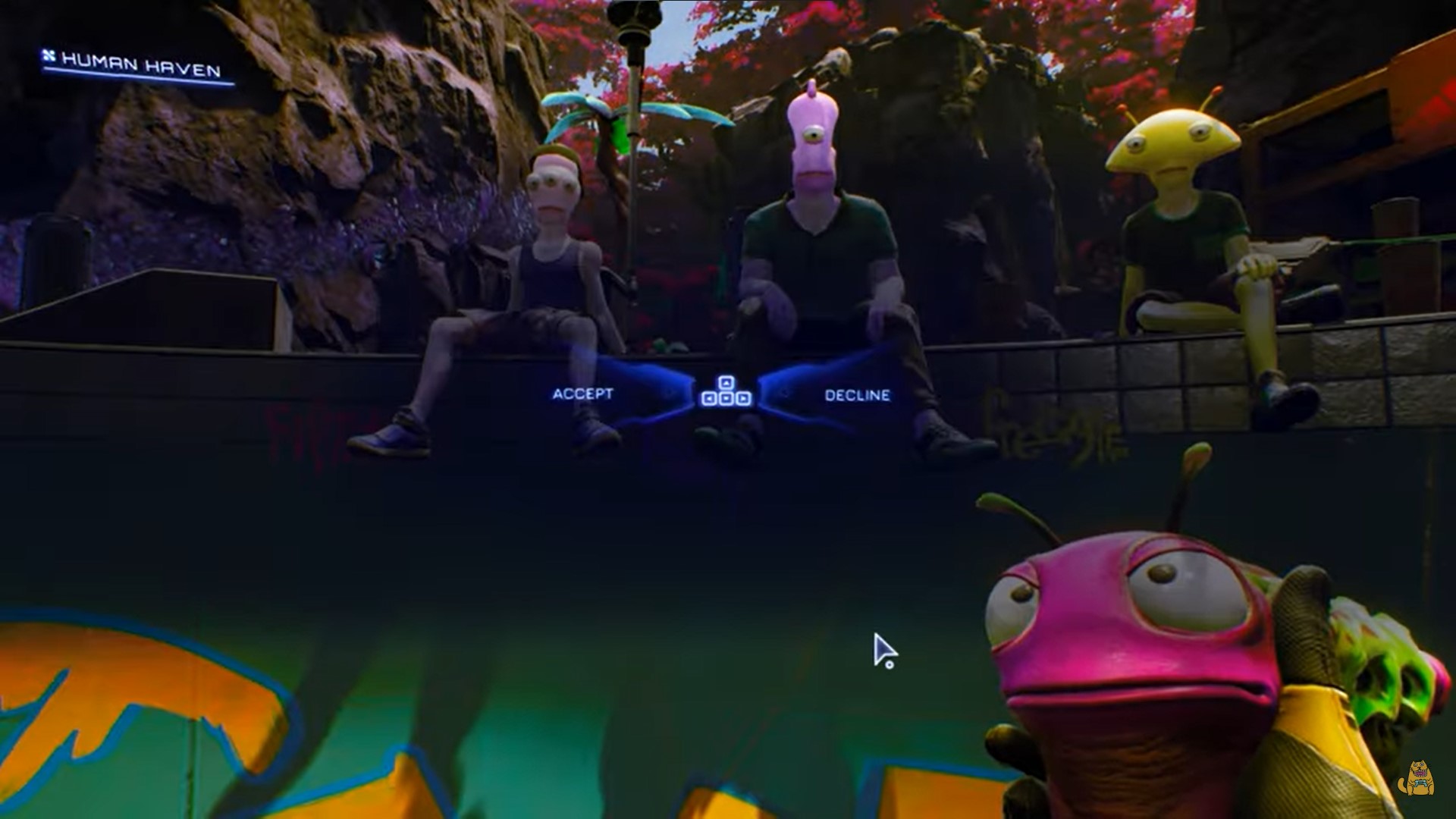 A catch to this challenge makes it difficult to complete in the first run.
YOU DO NOT ACTUALLY HAVE A SKATEBOARD.
So essentially, all you're doing is jumping and serving a few tricks to up your score till you reach 42069.
Please note that some of these tricks require you to have unlocked Knifey and Jetpack. So be sure to have completed these achievements before attempting this one.
Complete The score
The challenge is complex and requires trial and error. Literally doing anything will help increase your score during this challenge, but since you're on a clock, here are some tricks to maximize your score during the given time.
The basic principles you should keep in mind are Swing, Spin 360, JetPack, and Repeat.
Each combo will earn you points and is given various names like 'Baby Got Front' and 'Feels like Tether Weather.' Each point is multiplied by a score multiplier. Aim to increase your multiplier to get maximum points, and whatever you do, do NOT stop for even a second in between.
Swing Using Knifey
Use Knifey's tether ability to swing. Using Knifey will ensure smooth swinging without touching the ground. Tethering and hanging constantly will help increase your score multiplier, which in turn will automatically bump up your score.
Net Points With The Jetpack
Once you've used Knifey to sling around and successfully gained enough score multipliers, use your Jetpack to get combo points. It's best to use the jetpack while in full swing. Once you've swung using Knifey, use the Jetpack to go up and remain in the air. Make sure to dodge boosts in the air to increase the multiplier, and only use boosts in-between swings.
To conserve fuel, use the hover mode on the jetpack when in the air. Use the jetpack jump and repeatedly dash to gain maximum points.
Interact With Ramps And Railings
Coming in contact with the ramps and railings will score you points. Use Knifey to spin around and hit a few railings and ramps in your way. Spinning is an overlooked technique but can gain you a lot of extra points. So, when you are in the air, spin 360 to increase your score.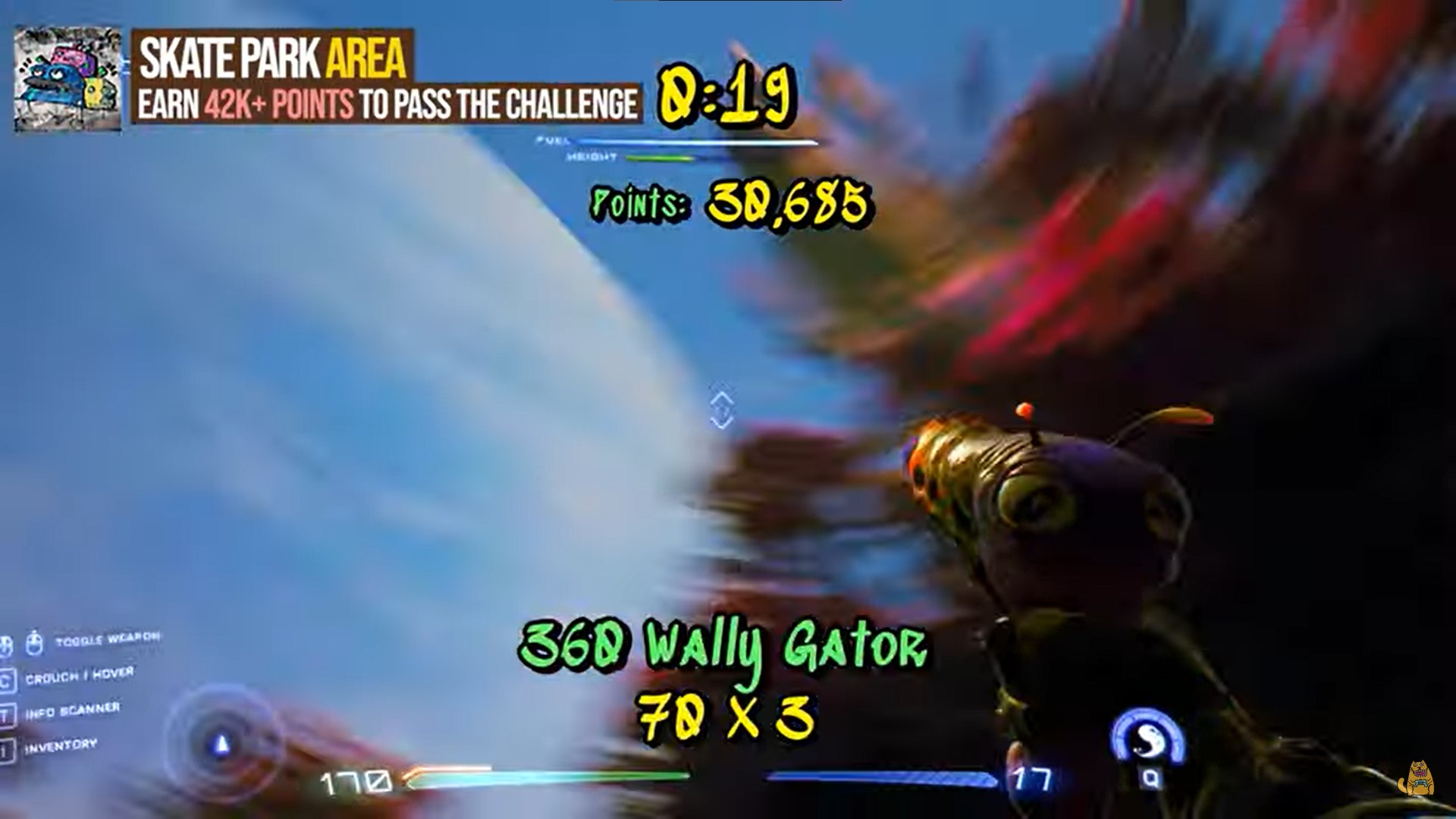 Grapple Bugs
Also, take note of all the grapple bugs, as they will help you to swing around and increase your multiplier. As soon as the timer starts, grapple on one of the bugs and keep repeating. Grappling is more effective than jumping as it increases your multiplier three times more. Grapple as much as you can while repeating all the other swinging combos.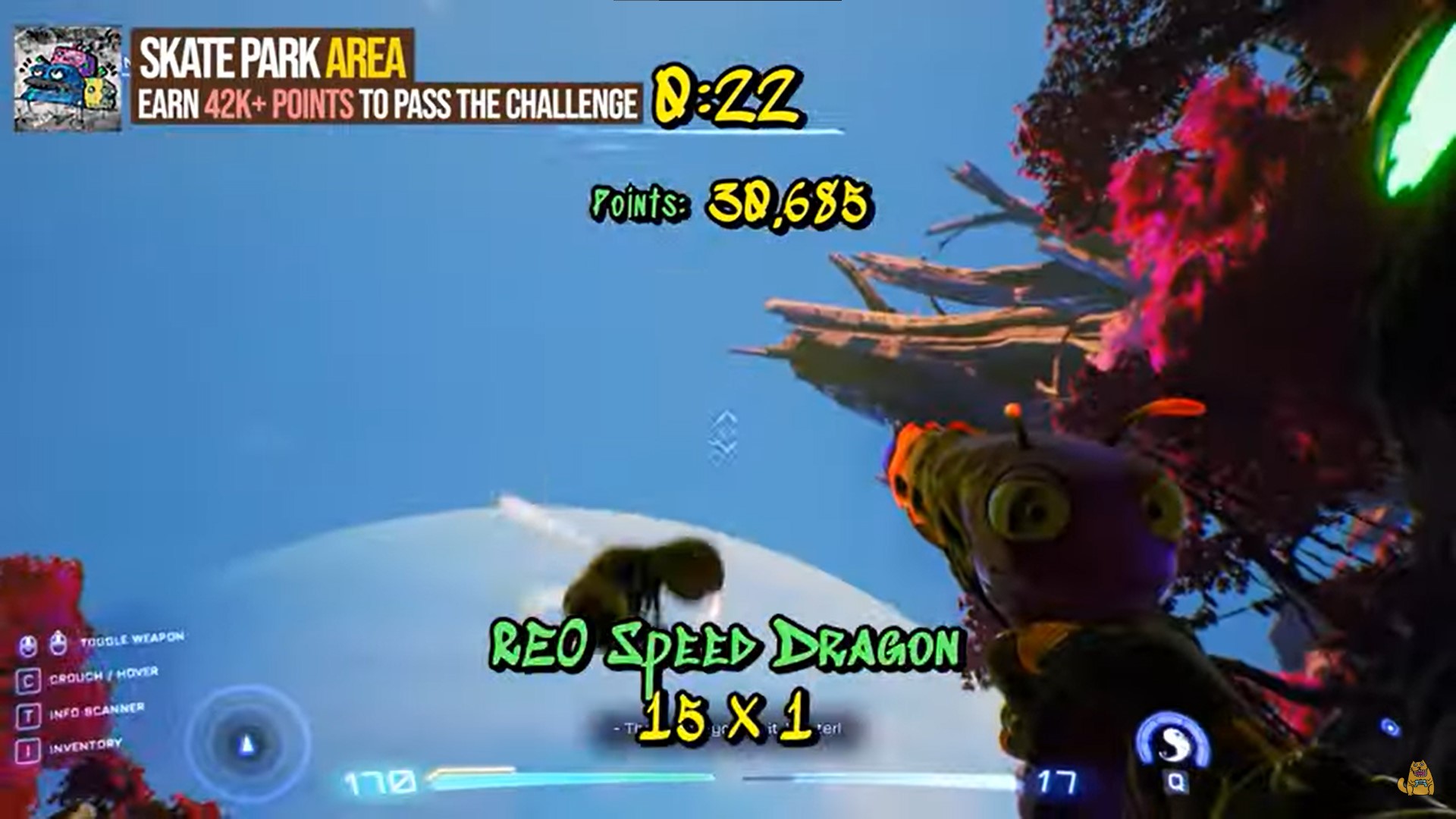 More Pointers
Avoid touching the ground as much as possible and repeat combos using your jetpack in the air to gain points. You'll want to hover and float in various directions to increase your score multiplier and score, and you'll be over the required score in no time. When the timer is about to run out, touch the ground to ensure that all your points get counted before the timer ends.
After the timer runs out, if your score is above 42069, you will be rewarded a Luglox Chest, which contains a significant sum of Pesos, the High on Life currency. You can learn more about these rewarding chests in our detailed High on Life Luglox locations guide.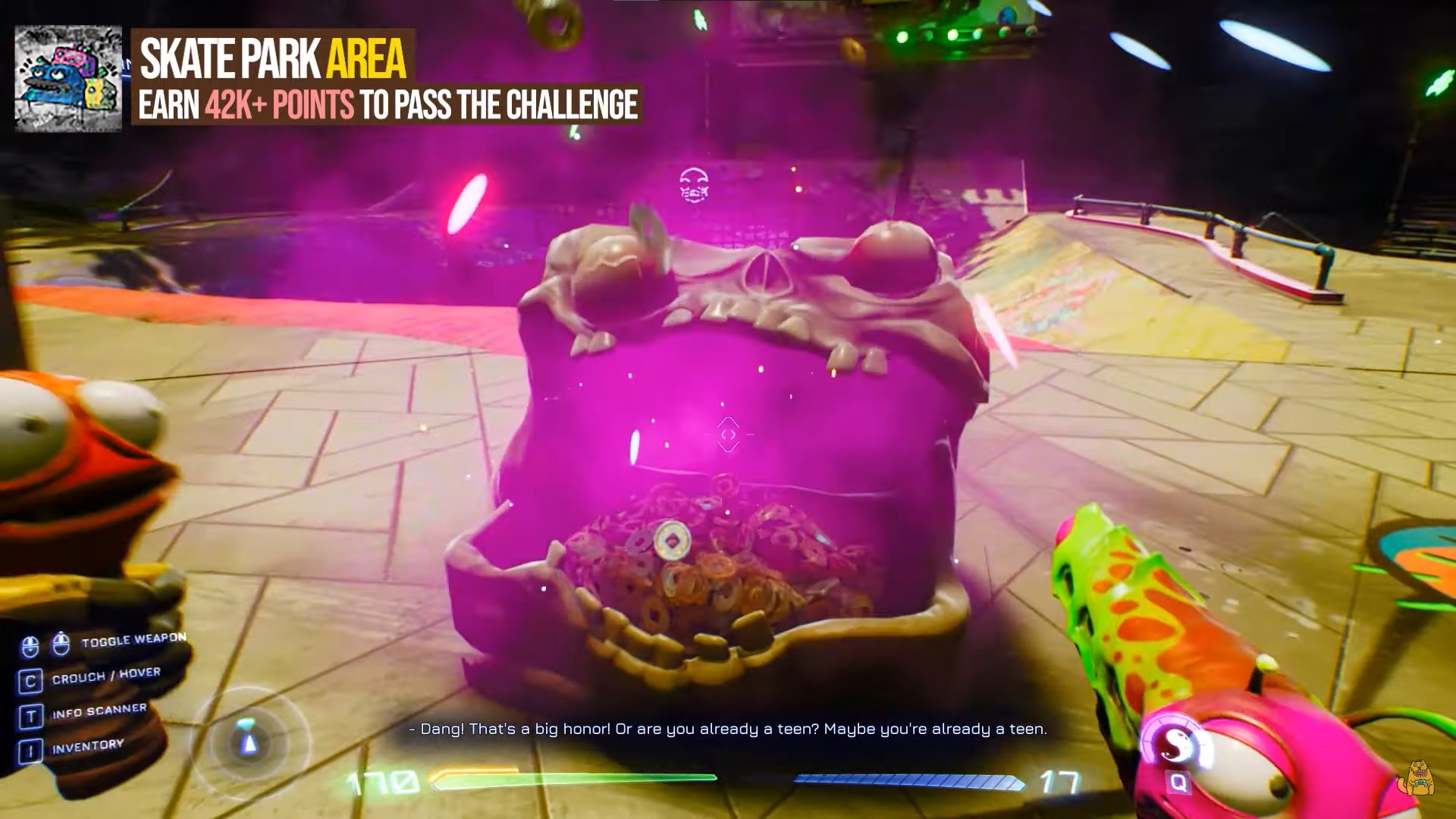 Closing Remarks
As mentioned before, completing this challenge is not easy and requires commitment and hard work. If you do not meet this challenge on the first try, do not fret; there is no way to ensure success ultimately, but practicing the combos repeatedly will help you reach the required score.
Similar Read: High On Life Secrets.
Good job! Please give your positive feedback ☺️
How could we improve this post? Please Help us. 🤔