In this article, we will be elaborating on every character's voice actor in the game while also covering their previous roles in other games and shows. Voice actors are very crucial to the video game as they bring an immersive experience to a game. The same goes for High on Life, which includes many famous voice actors ranging from Justin Roiland, J.B. Smoove, Laura Silverman, and Betsy Sodaro. So without further ado, let's get into it.
---
Key Takeaways
There are two types of characters in this game one is the weapon type and the other non-weapon type.
Weapon-based characters are more prominent in the series.
Most Voice Actors have voiced more than one character in this game
Moreover, they possess a rich experience in fields such as voice acting, writing, producing, directing, and performing.
Surprisingly they have also worked in Rick and Morty series and are reoccurring in the team.
---
High On Life Voice Actors For Weapons
Kenny (Default Gun in High on Life)
Found in the G3 Cartel invasion, Kenny is a default pistol-type weapon. The pistols in these games have quirky characters as a personality. Often these guns talk to the main character "Hunter" and give slapstick humor-type conversations. Kenny was found under a dead alien in the invasion and his ability "glob shot" launches the enemies into the air to do further damage if shot when airborne.
Justin Roiland As Kenny
Originating from America, Justin Roiland is a talented person who is a jack of all trades as well as a master of all. He has been a voice actor, director, producer, and writer for many well-known shows and games. Moreover, one of his greatest works is co-creating and voice acting in "Rick and Morty."
Being a producer and director, he enjoys great power in High on Life roles thus he often voices the character he created. He has a very elaborate portfolio of voice acting including Rick and Morty, Invader Zim, Space Jam, etc. Surprisingly he is creator of High on life as well.
Past Roles
Blendin Blandin from Gravity Falls.
Korvo and Eddie from Solar Opposites.
"Noob Noob" from The Vindicator.
Earl of Lemongrab from Adventure Time.
Foodie 3000 from Invader ZIM.
Voiced Rick and Morty announcer from Dota 2.
Gus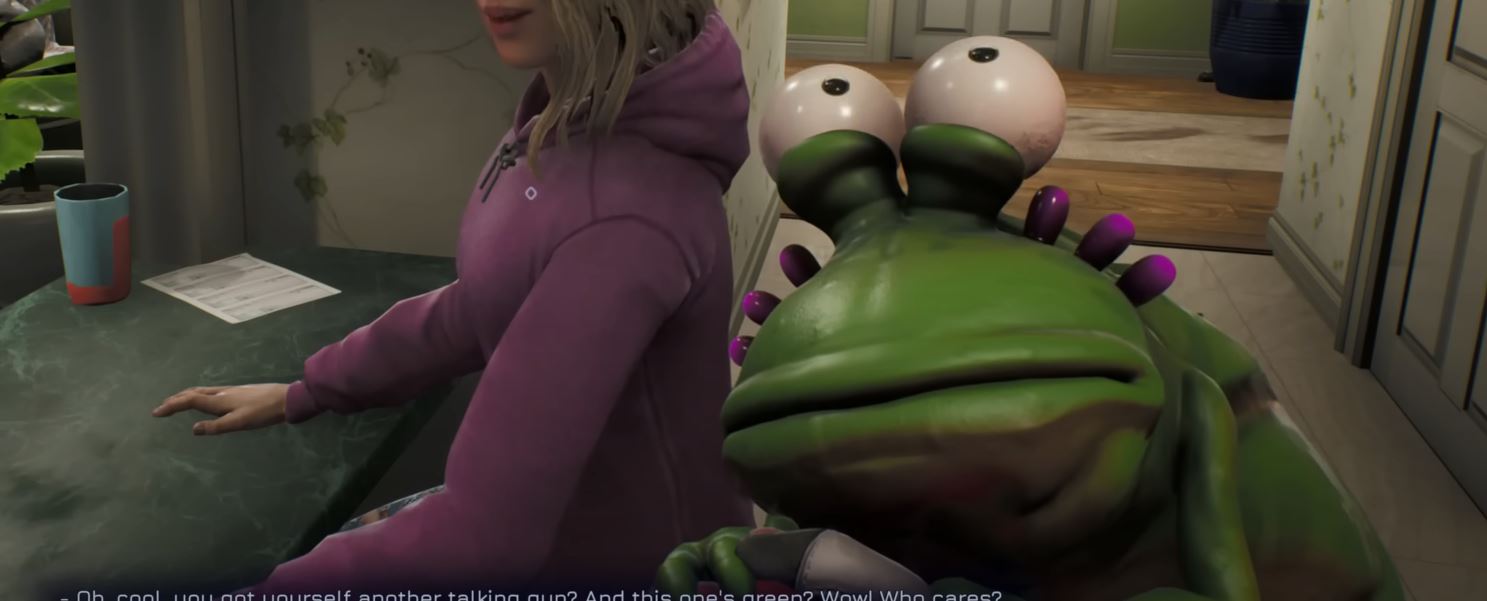 Upon completing the bounty on Krubis or 9-Torg, you will be rewarded the shotgun-type weapon named Gus. Gus is a character/weapon which is chill and friendly. He is a living shotgun whose quirk is shooting his bone discs and making them platforms, which we could parkour on.
On the other side, the gun also deals considerable damage, helping players during combat. Gus can also suck the enemies on distances and be used to make them fall off ledges.
JB Smoove As Gus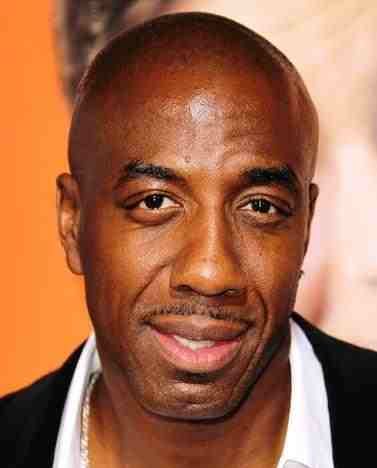 JB Smoove is an African American voice actor, writer, and producer. He originated from North Carolina and was born on 16 December 1965. JB Smoove is famous for voice acting as well as acting in different popular shows such as Spider-Man Far From Home and Teen Titans Go.
He has also indulged in stand-up comedy and produced "J.B Smoove That's how I dooz It." Overall he's a very talented person in the industry and has shown his capabilities in multiple roles.
Past Roles
Black Manta from Teen Titans Go
Frank the Plant from Harley Quinn
Mr. Dell from Spider-Man Far From home
The Fig from Pivoting
Carl from The Last OG
Sweezy
Sweezy is a rapid-fire pistol obtained by doing the bounty on Douglas. Sweezy's personality is grumpy and very bossy. Moreover, she likes being called the best of the Gatlians.
Her ability to slow down time by using a time bubble makes her very useful to have in your inventory. Sweezy also has charged and rapid shots, which is useful in fighting against enemies with covers. She is also necessary for the High on Life secret ending that allows players to explore the deep lore of the game.
Betsy Sodaro As Sweezy
Betsy Sodaro is an American voice actor and has a relatively short portfolio compared to the previous people. However, she still has a very rich acting ability, and her portfolio is quite admirable. Betsy Sodaro is known for The to-do list, Hubie list, and Don't worry, he won't get too far on foot. She has also indulged in acting in different movies as well such as "Ghost" and "Mr. Mayor."
Past Roles
Serpent Sister from Puss in Boots: The last wish
Bex from Duncanville
Kim from Big Nate
Skadi from Summer Camp Island
Creature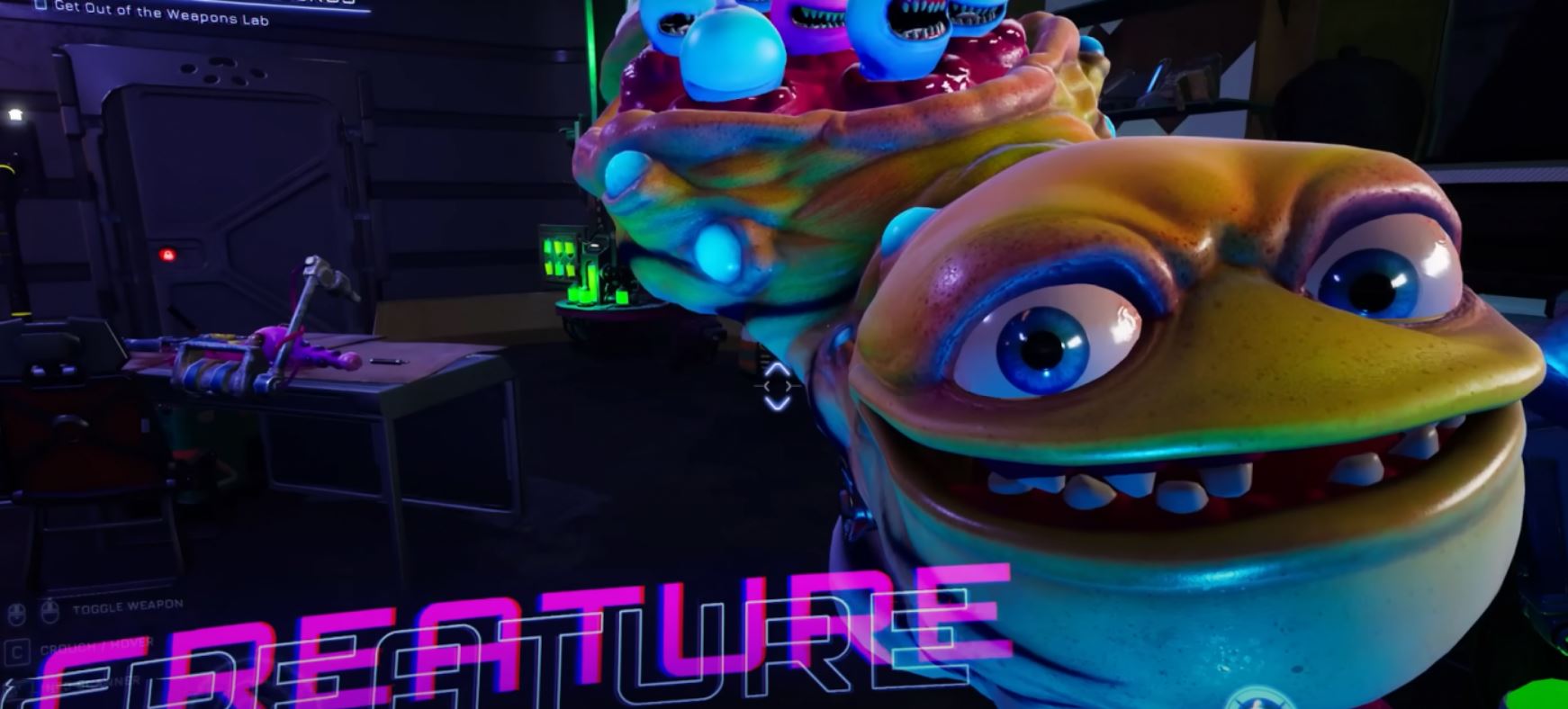 Creature is a projectile-type gun found by a much more tedious path than the previous guns discussed. During the Skrendel Bros Bounty, Creature is found by killing all the guards on the first lab and exploring Jonathan Skrendel's Office.
Creature's personality is chaotic. As he was a victim of various experiments, these experiments gave him adverse effects such as memory loss, and he could give birth to little aliens, which explode very shortly.
Tim Robbinson As Creature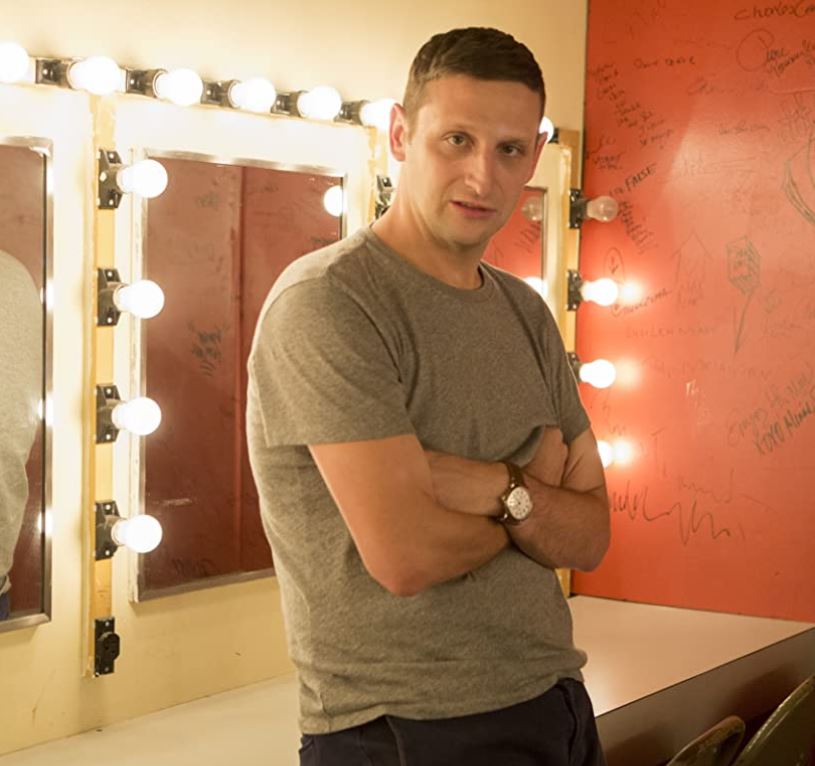 Originating from Detroit and born on May 23, 1981, Tim Robbinson is a very talented writer, actor, and producer who has ventured through the industry thoroughly. He was one of the writers and performers of Saturday Night Live. Even more, he had his TV show named "I Think You Should Leave with Tim Robinson" produced, written, and acted by himself. However, his best-known work is for co-creating and co-writing the series Detroiters.
Past Roles
Gum from Middlemost Post.
Ugly Sonic from Chip 'n Dale: Rescue Rangers.
Gregly from Big City Greens.
Uncle Pete from Euthanasia
Knifey
Knifey is a melee-type weapon. As the name suggests, he is a talking knife. He has a very insane personality and an infinite bloodlust to kill anyone he sees.
If given a chance, Knifey would kill Hunter; however, he is unable to do so thus he partners with him to feed his bloodlust. His origins are unknown, except that he was with Gene Zaroonthian and later ended up in the hands of the Torg family.
Knifey is obtainable by talking to the fisherman in the "slums." The fisherman will then point the hunter toward a 9-Torg. In the laundromat pointed out by the fisherman, you will find enemies that you must defeat. After fending off the enemies, you will enter the laundromat, where you will find Knifey.
Micheal Cusack As Knifley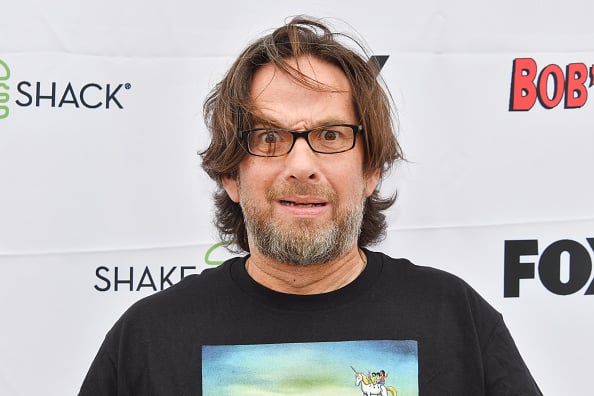 Like previously discussed, talented voice actor Micheal Cusack is another famous actor, writer, and director. Micheal Cusack is an Australian animator well known for creating the show Yolo: Crystal Fantasy and Koala man.
He also has an excellent talent for animation, as he has worked on creating Smiling Friends, which is available on Adult Swim. He has worked extensively on voice acting as he has voice acted in Bushworld Adventures, which is an alternate reality Rick and Morty from Australia.
Past Roles
The panicked man from Emojitown
Aladin from The Cyanide & Happiness show
End Goblin from Fruit Salad
Cobie from Gemusetoo Machu Picchu
High On Life Voice Actors For Non-Weapons Characters
Gene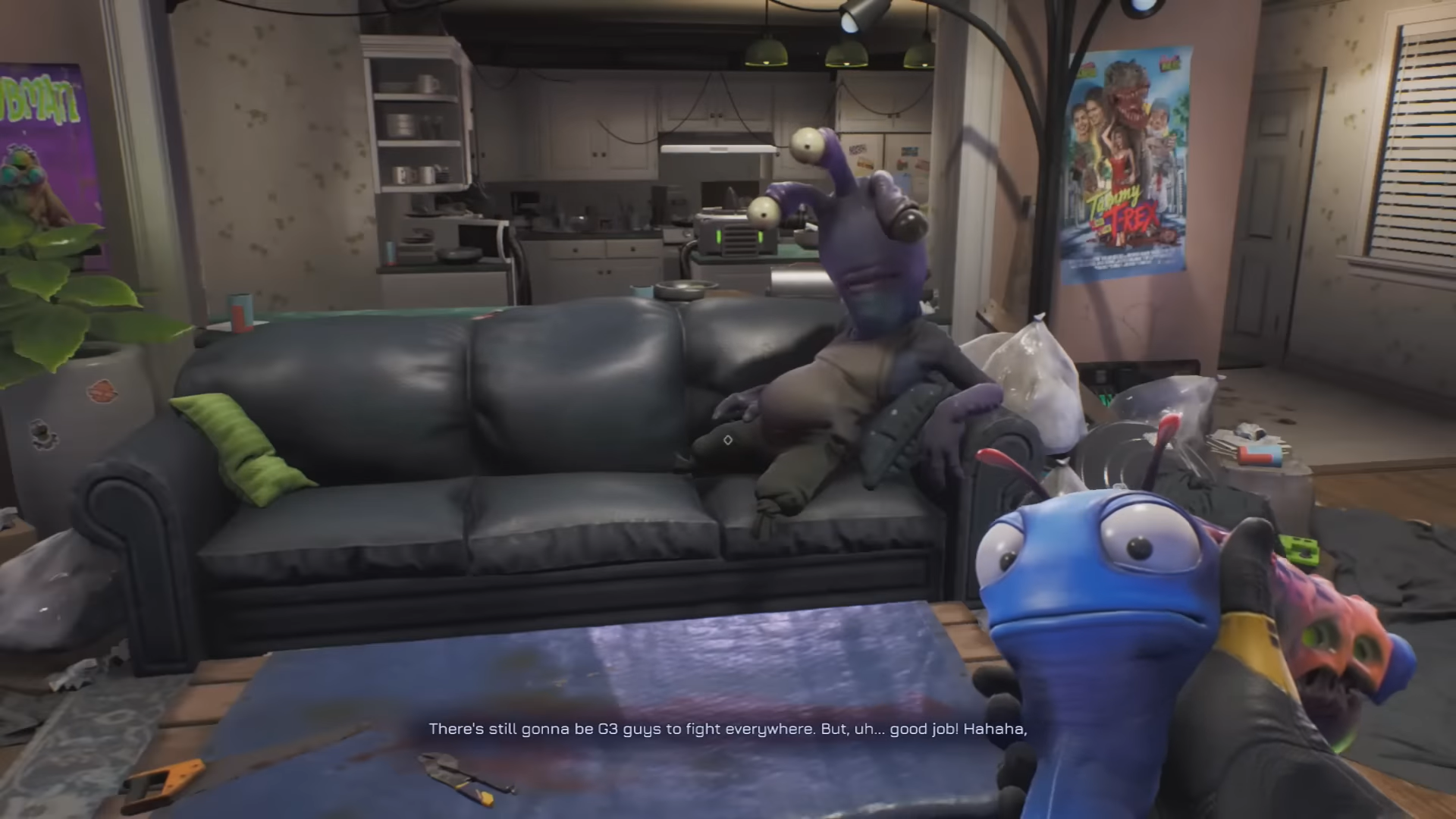 Gene is a non-weapon character in High on Life. He is a Zaroothian and an ally to the main character. Gene helps the main character of High on Life to take down the G3-Cartel. According to Kenny, Gene is also a famous Bounty hunter in Blim City.
Gene Zaroothian becomes an informant and a battlesuit provider; however, soon, he starts living with Hunter's sister and provides missions to the main character despite the option of him leaving the game. For those wondering how to kick him out, you can consider the detailed High on Life Gene stay or leave a detailed guide explaining all aspects of the character. Gene Zaroothian is found by searching in Blim City and following Kenny's order, as he is essential to beating the G3-Cartel.
David Herman As Gene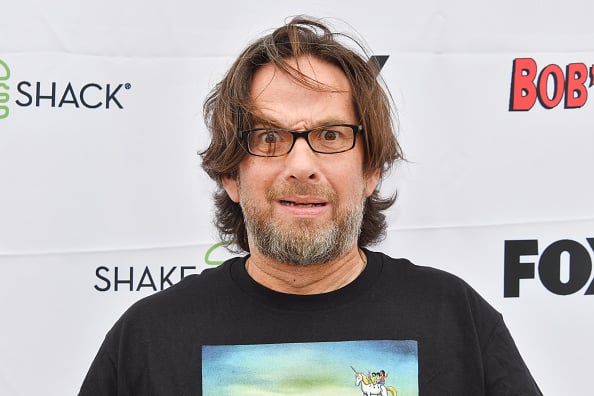 David Herman is another famous comedian with an extraordinary portfolio in voice acting as he studied at LaGuardia High School for performing arts. Since then, he has acted on popular shows such as O.K KO, Scooby-Doo, and Bojack Horseman. His voice acting skills were so convincing that he got a supporting role in a cult classic named Office Space by writer/ director Mike Judge. Since the big break in the role, David Herman has been voice acting in multiple significant roles for famous shows.
Past Roles
Scruffy, Larry, and Mayor C from Futurama
Zac from The American dad
Mr frond from Bob's Burger
Mr. Gar and Brandon from OK K.O
Jack from Scooby Doo: Return to Zombie land
Lizzie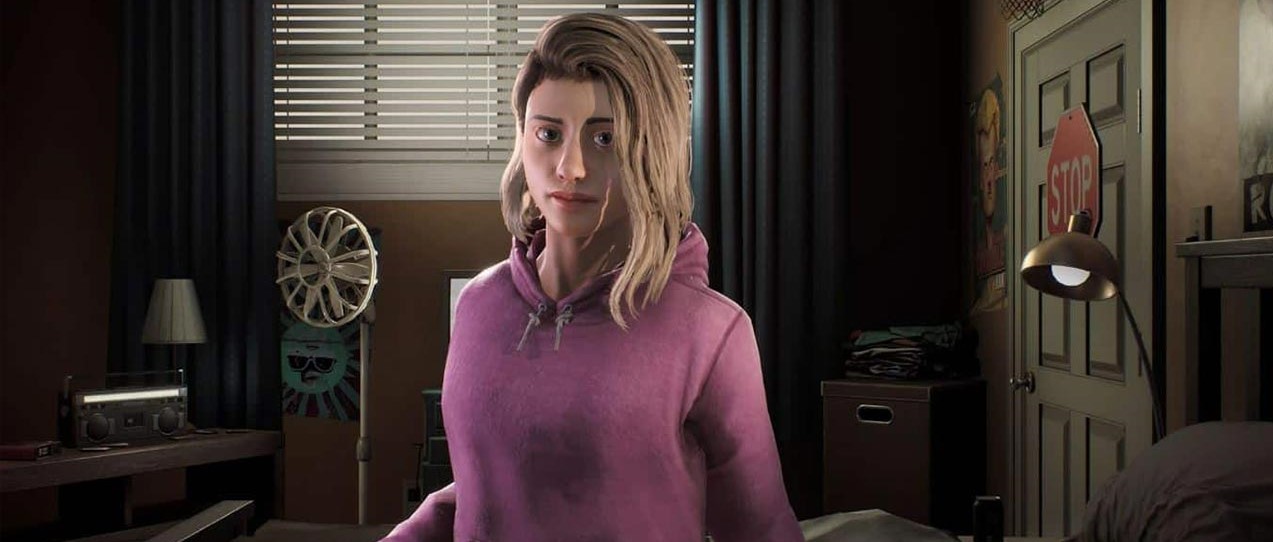 Lizzie is one of the side characters of High on Life. She is the main character's sister and has been with the High on Life main character since the incision of the earth by the G3-Cartel.
Lizzie and the main character's parents left for a week for vacation. However, the earth was invaded during the vacation, and they worked hard to survive the invasion. Lizzie is shown as a supportive sister to the lead and soon lives with Gene as roommates.
Laura Silverman As Lizzie
Laura Silverman is an American actress and writer. She is the voice behind many recognizable characters, such as Kries's assistant from the Big Hero 6 series and Andy from Bob's Burger. Laura is the sister of Sarah Silverman, a well-known comedian, which is why Laura's writing works similar to comedies like Shitty Boyfriend, Dr. Katz, Professional Therapist, and Home Movies. This reason made her bs a candidate for High on Life voice actors.
Past Roles
Andy from Bob's Burger
Ethel Rainicorn from Adventure Time
Amy from Family Guy
The Policewoman from Nerdland
Closing Remarks
High on life has a group of talented voice actors who worked in the industry extensively and have been included in important roles. However, one character does not have his VA disclosed because of his one line, "Lezduit."
High on Life's creator has done an outstanding job in finding voice actors as he has been in the industry for a long time, and the cast has shown proof of this by showcasing their exceptional quality vocals in this game.
That is about it for our guide on High on Life voice actors. Share any thoughts on the cast in the comments section below.
Similar Read: High on Life Luglox Locations.
Good job! Please give your positive feedback ☺️
How could we improve this post? Please Help us. 🤔