Remnant 2 is a game filled with lots of hidden elements, items, and quests here and there around its vast, different open worlds. One of these hidden items is the plain ribbon. Initially, it is a simple amulet, but there's still a hidden detail behind it. This guide will help you discover its hidden uses in the game that the developers, Gunfire Games, don't tell you about.
---
Key Takeaways
According to player reports, the Plain Ribbon is exclusive to the two versions of the Lossom world region in the game and can sometimes spawn at random and sometimes not spawn at all.
While having plain in its name, it's far from that. It's an amulet but can be transformed into further better versions and even into quest items.
The world of Lossom, with two different timelines, cannot stop players from getting all versions of the plain ribbon, thanks to the cooperative feature of the game.
---
Remnant 2 plain ribbon is an item exclusive to the Lossom world region and can't be found elsewhere. Despite having plain in its name, the plain ribbon has quite a symbolic presence in the world of Lossom. It is sacred for the people of Lossom and has different uses for it as well.
One of these uses is that one of its variants is used in the contractual-based marriage between two people. It is responsible for bonding the two souls together. It's kind of like trading rings in marriage, but here there's only one ring, and that's just a ribbon.
Another use of this ribbon is that mages and sorcerers use it as an item of protection. This one is said to be a gift from the gods for the people to protect themselves using it.
Plain Ribbon Location
Remnant 2 Plain Ribbon is found in Lossom, but its specific location can vary sometimes, and sometimes it doesn't even spawn at all in your world, according to some players.
The first location of the plain ribbon is in the Glided chambers, Inside the Overgrown Ruins area. This will be in the One True King quest route.
The second location of the plain ribbon is in the Great Hall, which is the Nightweaver questline.
We can't point out on the map the exact location of the Plain Ribbon for you as the game has an algorithm of randomizing the world layout, but one thing that has been found common in its locations is that it's always near an elevator.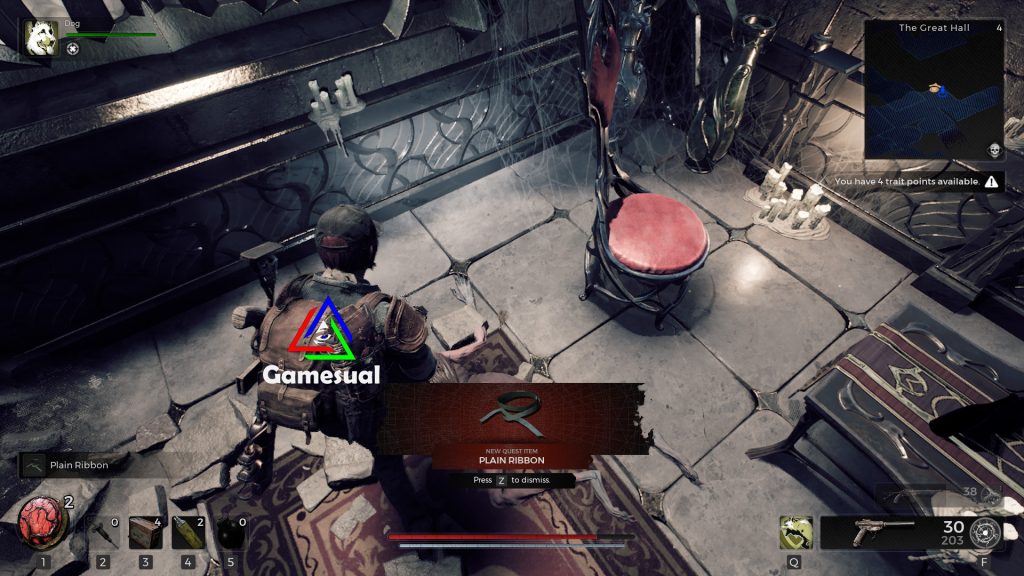 Where To Use The Plain Ribbon
The plain ribbon is a useful amulet that can be worn to receive a 25% skill damage increase. Its main purpose is to act as an amulet, but it's not just an amulet; but can work as a quest item and be upgraded into better versions of itself through certain tasks.
The plain Ribbon can be upgraded to further variations by putting in the hands of a peculiar-looking statue of Fae. The world of Lossom is full of statues and not creepy creatures, but these statues are one of a kind. On your travels, you will see two Fae statues holding hands together and can be interacted with.
Players can put their plain ribbons in the hands of statues to create a better version of the statue, depending on which timeline you used it in.
If you didn't know, the world of Lossom has two separate timelines or questlines from the get-go of when you enter. They happen on random, just like its random generation algorithm, so you will get a certain type of plain ribbon upgrade depending on what questline you are in.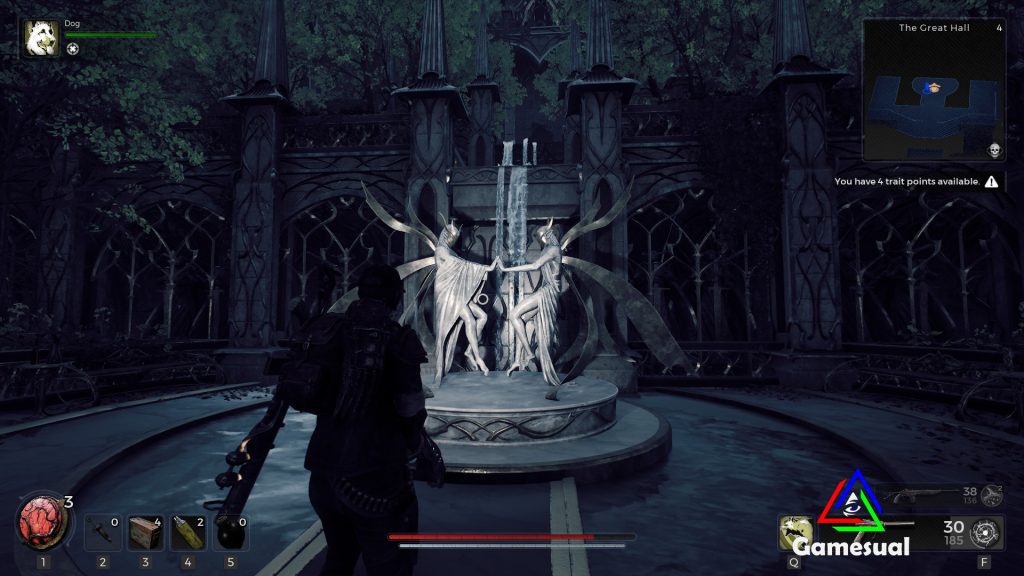 Types of Plain Ribbon
Silver Ribbon
The Silver Ribbon can be acquired by placing the plain ribbon on the two statues holding hands in the dark version of Lossom. These statues are located in the Great Halls in the hunting grounds region or Overgrown ruins. As told before, there's an algorithm for randomizing the map, including buildings, area items, etc., random spawn.
The Silver Ribbon amulet gives players a 25% increase in skill damage, just like the plain ribbon. Still additionally, it also adds a haste effect for 15 seconds whenever you activate a skill. If you didn't know the Haste effect, here's what it does. The haste effect increases your action speed by 7%; these actions include fire rate, reload, movement, aiming down the sight, etc.
Gold Ribbon
The Gold Ribbon is reported by some players to be obtained when used on the statues in the non-dark version of Lossom. But that's not the only way to obtain as it can be obtained by defeating Faelin or Faerin.
The Gold Ribbon includes a 25 % increase in skill damage, just like the Silver Ribbon, but the plus side of this ribbon is that it grants haste whenever a mode is used.
Once you acquire the golden ribbon, it can be used for more purposes than being an amulet. This ribbon is a quest item to complete "The Golden Key" quest. Once you place it there, it will open the council chamber's doors.
Nimue's Ribbon
Nimue's Ribbon is one of the most powerful of all ribbons. It grants a whopping 50% increase in heal effect from the relic and can also grant haste effect for 25 secs whenever a relic is activated.
This ribbon can be acquired when you give Nimue both the Gold and Silver Ribbon to upgrade it. Nimue can only be found in the Nightweaver questline, though. Once you clear the asylum the first time, you will be transported to Nimue's retreat, where you can interact with Nimue.
For a little more simplistic overview, you can use this table:
Ribbon
Stats
How To Get
Silver
25% damage boost when a skill is used

Haste effect for 15 seconds when a skill is used.

The Great Hall fae Statues during dark Lossom
Golden
25% damage boost when a mod is used

Haste effect for 15 seconds when a mod is used.
From defeating Faelin or Faerin
Nimue
50% increas in Heal effect when using relic

Haste effect for 25 seconds when a relic is used.
By providing Nimue both the golden and silver ribbons.
That's all on Remnant 2 Plain Ribbon; if you have any queries or want to give advice or something we missed in the guide, do pay us a visit in the comments section.
Similar reads:
Good job! Please give your positive feedback ☺️
How could we improve this post? Please Help us. 🤔