Remnant 2 provides players with different modes like puzzle solving and defeating bosses. Therefore, players must strengthen their characters and provide upgraded builds and traits. To do this, players must know how to Respec and enhance their builds in Remnant 2.
However, to Respec, players must earn points by playing the game and completing various missions. In Remnant 2, Respec can increase the power and stamina of the character. It is the most crucial aspect of the game because there will come a time when players need to adjust their character builds to fight powerful bosses, so players can always Respec their trait points to get unique powers and abilities.
---
Key Takeaways
Remnant 2 allows you to Respec your character's traits and perks, but there are specific steps you must follow that are listed below.
It is possible for players to feel the need to change their build at some point, so Respec can assist them in making that decision.
However, to Respec in Remnant 2, players must find an Orb of Undoing from Wallace at Ward 13.
By using Respec feature, players can experience new fighting styles and combos. Also, players can create new builds by redistributing the trait points and can avoid making mistakes.
---
Respec can provide players with new character builds, more abilities, and powers. It is usually done when players want to try different builds that suit their character. Therefore, players can reassign their character's skill points and traits for other builds and customize a new character according to their preferences. By doing this, players can avoid mistakes they made while creating their primary builds.
Respeccing trait points can increase a player's strength and stamina to fight against powerful bosses. Therefore, players can Respec using an Orb of Undoing, which players can find from an NPC named Wallace in Ward 13.
Reasons Behind Respeccing Trait Points
Below are some reasons players need to Respec their trait points in Remnant 2.
Experiencing New Builds
In Remnant 2, Respec can allow players to experience different Fighting combos so that players can use those combinations at the right moment to achieve success. However, Respec will enable players to customize their character's skills, abilities, and stats to suit their playstyle. It also allows them to create a unique and more immersive experience.
However, Remnant 2 also provides players with various Archetypes. By doing Respec, players can change their Archetypes to try different stats to explore the game to its fullest.
Adaptation To The Gameplay
Players can change their stats and abilities by using Respec feature to customize their playstyle and adjust them according to the game environment. For instance, players encounter a powerful boss in the game against whom they cannot win, so players can use Respec to change and enhance their stats to get success over them.
How To Respec Trait Points
To Respec trait points in Remnant 2, players need a material called Orb of Undoing. However, players can find that material from an NPC named Wallace, whom players have already met while upgrading their Archetypes.
Upon seeing him, players can interact with him and ask him to craft a material called Orb of Undoing. That material can help players to reset their trait points to create new and more powerful builds.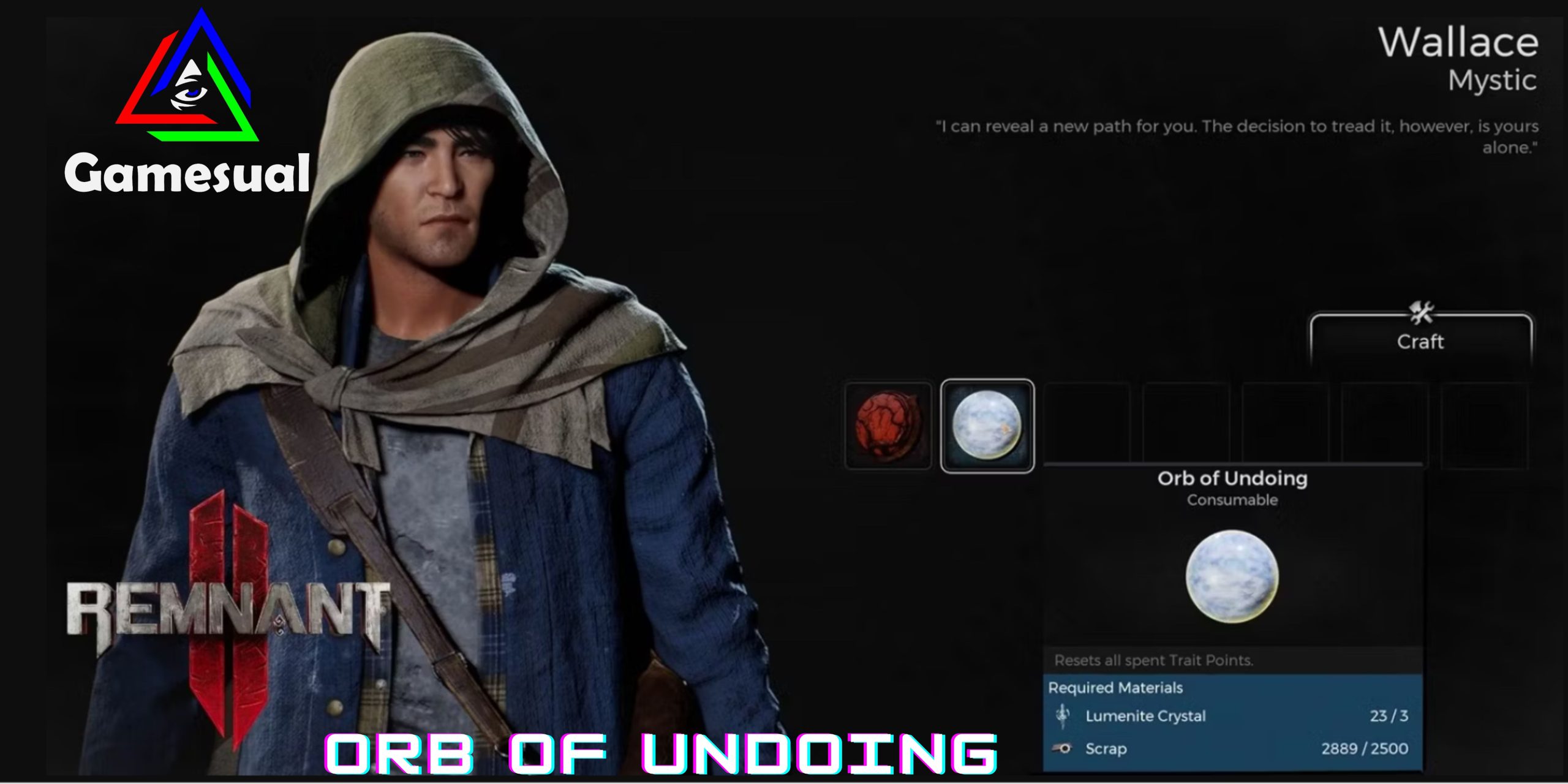 Also, Wallace will charge players for crafting Orb of Undoing.
| | | |
| --- | --- | --- |
| Items used for Crafting | Quantity | How to find those Items |
| Scra Points | 2600 | Players can farm Scrap points by Selling Items, Killing Enemies, and opening Chest Crates. |
| Lumenite Crystals | 3x | Players can find Lumenite Crystals by fighting Bosses in Remnant 2. |
Wallace's Location
Finding Wallace is not so tricky. Players need to reach Ward 13 and find a bridge to the right side of the Ward. However, Ward 13 is the game's central hub, and the bridge is the main connecting point between the other areas of the game world. Also, the bridge is the only place players can access various merchants and NPCs.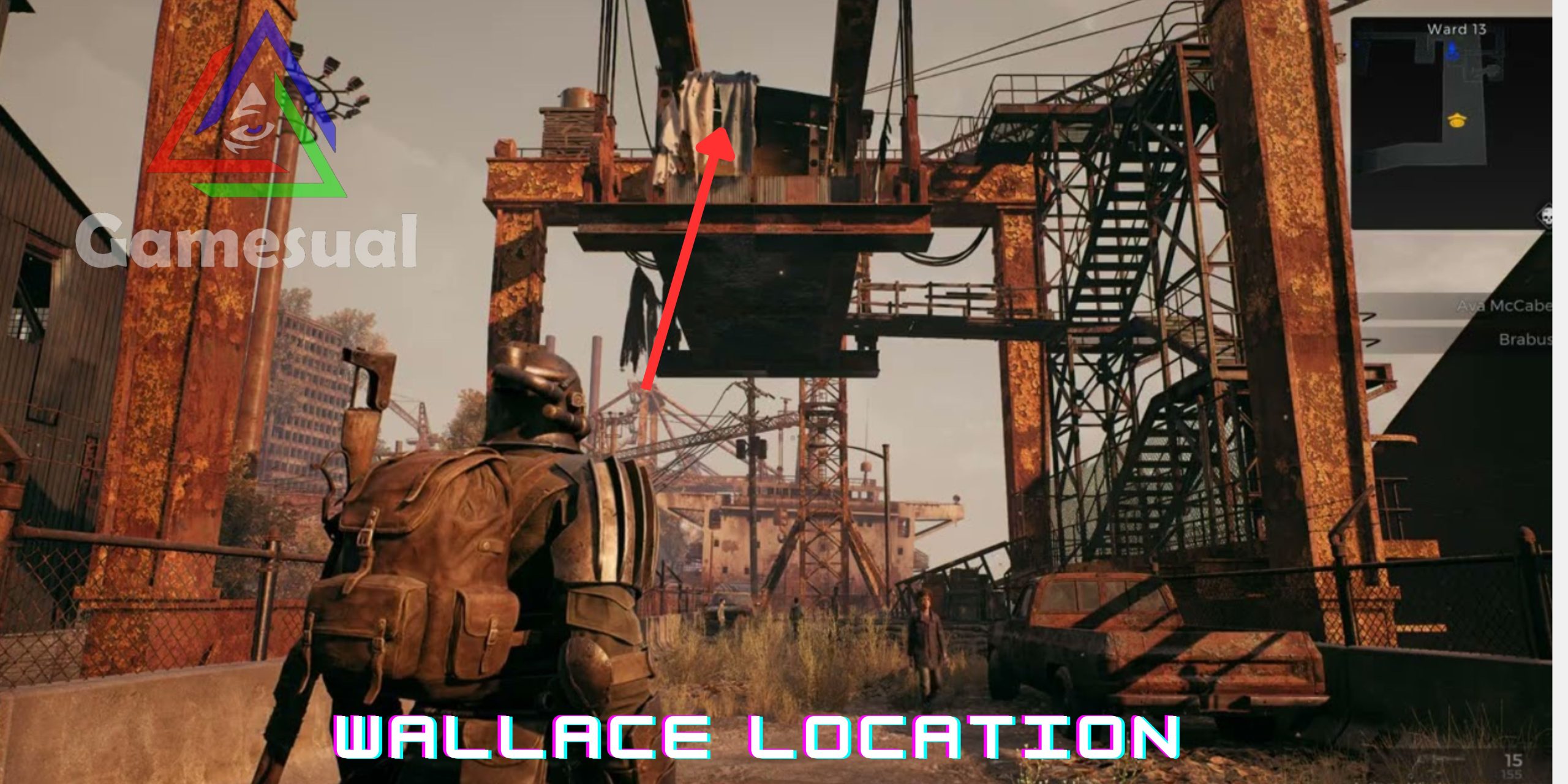 Upon reaching the bridge, players must climb the stairs to reach the tower's top floor. There they will find a small entrance on their left side, leading to a room where they can discover Wallace sitting on an oversized chair.
As an NPC, he will show you an order list in which you will find orders of archetypes and a material Orb of Undoing. Therefore players must buy that material from Wallace to Respec their trait points.
The Orb of Undoing is a consumable item. This plays a crucial role in resetting existing trait points and Respec to produce new ones. So when players choose that material from that Wallace's list, they will be provided with a menu where players have to select the Respec option. Once they have chosen the Respec option, their current trait points will be reset to zero.
Once their trait points have been reset, players can create a new and robust build by choosing unique skills and trait points. Thus to finalize their latest build, players need to select Confirm Respec option. Therefore, the new build will be ready, and players can choose to test its traits. Also, leveling up in the game will unlock other traits of the respective build.
Can Players use Respec Twice?
However, players shouldn't use the process of Respec repeatedly because this process is very time-consuming and can cost players many points. This way, players can waste their hard-earned points and crystals in Respeccing again. As the Respeccing process is not free, players should know which build they must choose.
Moreover, players must buy Orb of Undoing whenever they want Respec because one material can only Respec one character. But if players don't like their latest build, they can change it, but they will lose the skill points they earned by using that build. Also, there is no restriction on Respeccing again. It's up to the players if they want to Respec again to change their build or make it more powerful.
That is all from our side on Remnant 2 Respec. However, Respec's process is crucial because it can change your character's build and fix the mistakes players have made while creating their old builds. And if we have missed anything about this guide, tell us in the comments section.
Furthermore, our other Guides have been mentioned to provide a comprehensive and detailed walkthrough of the game, so be sure to look at them.
Good job! Please give your positive feedback ☺️
How could we improve this post? Please Help us. 🤔