We have heard rumors about the new Amy Hennig's new Marvel game for weeks, but now it appears it will be a game about Captain America and Black Panther. Even more interesting is that this will be set during World War 2. If this is true that it is set here with these characters, then I have a lot to talk about for the game.
What Do We Know About The Game?
We know very little about this game in any capacity. The only two confirmed things are that a game is developing, and Amy Hennig is connected. Beyond this, everything else will combine reliable source leaks and some reasonable speculation. I will keep the speculation as close to what we know as possible and not make any leaps in logic.
Where Did This Info Come From?
It comes from the Twitter user MCU Status. They have had good information on other Marvel-related projects in the past, so the information they have put forward is worth considering.
It is also worth noting that the info that we have gotten is not too outlandish. This realistic approach strengthens its credibility and likelihood of being at least partially true. So, let's go forward and go over what we have gotten.
What Will This Game Be About?
The game will be set during world war two and will have two main characters in the form of Captain America and Black Panther. The game leak also mentions that they will be fighting hydra soldiers.
This character selection is an exciting combination as Captain America and Black Panther have had interesting adventures in comic books, which can lend themselves to a video game. However, the setting and art accompanying this leak limit it to one particular comic story as an inspiration.
It's not a bad thing, but it leaves us with some things we will have to discuss if this is true.
We have heard the new Marvel video game from Skydance Media will be a WW2 set adventure featuring Captain America and Black Panther. The duo will face off against the forces of Hydra. pic.twitter.com/nHizdcLm3S

— MCU Status (@MCUStatus) September 8, 2022
What Comic Will This Be Based On?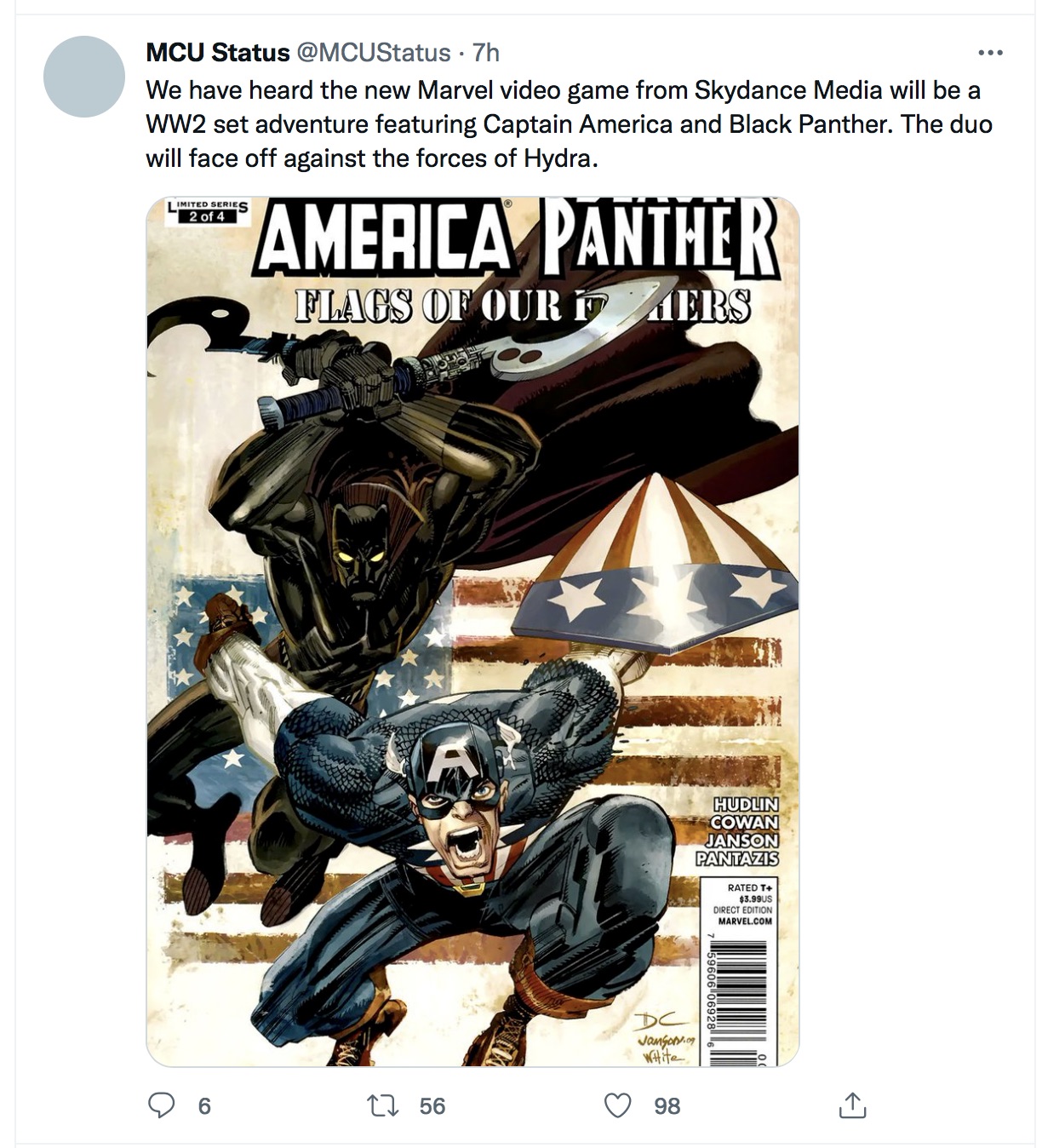 Image from here.
The most likely comic for this game to draw inspiration is Captain America and Black Panther Flags Of Our Fathers. This story was originally published under the Marvel Knights imprint and was set within world war 2. The story follows the efforts of the Nazis as they try and steal Vibranium from Wakanda. They are stopped by a combination of Black Panther, Captain America, and the howling commandoes.
One of the biggest reasons this setting was an interesting choice is that this black panther would not be the one that most people would be familiar with. It is king Azzuri. This Black Panther is the current Black Panther T'challa's grandfather. So right off the bat, this may be a little awkward for people who don't know much about Marvel's extended history.
Another thing that will be interesting to see is whether or not they choose to keep the enemies exclusively hydra or will acknowledge the Nazis as enemies as well. In many Marvel properties, they try to separate hydra and the other factions in world war two as much as possible. In this comic, though, there was no separation, and the two were linked.
What Will The Game Be Rated?
The reason why this question has to be asked is that this was a Marvel Knights imprint. Whereas most Marvel games or superhero games would be anywhere from E to T depending on the heroes and subject matter involved, this one could be rated M. There are a few reasons for this.
One is that Marvel Knights was Marvel's adult-orientated imprint. It was not meant for kids or teenagers and was strictly marketed toward adults. As such, this comic contains things like the fact that Black Panther outright kills people in this comic and even decapitates a few.
Captain and the howling commandos don't have small body counts either here. Also, one of the enemies is a cannibal super-soldier.
Even more than that, this comic focused on various subjects that would be difficult to discuss seriously without an M rating. At the time, things like race relations in the United States and the fact that soldiers were ordered to perform black ops probably violated several laws.
It is also worth noting that that conversation and Captain America's refusal to comply with a lousy order created Bucky. A teenager is recruited in the Captain America comics because it was easier to get him to commit morally gray acts than to argue with the Captain about it.
It's not all bad, though, as Black Panther and Captain America trust each setup event that would make the future Black Panther the hero we all know and love.  A game about Captain America and Black Panther could go deeper into this relationship.
I would like to point out that they could skip the vast majority of this, but if they did, they would be cutting out the parts that made this comic famous. Without them, it would be hollow and a waste of production resources.
When Will It Release, And On Which Platforms?
We don't have a fixed idea on any of this for the game, but we can make an educated guess. The leaks for this particular game have been more specific and possibly accurate. It makes sense that the game is further along in development.
If we consider that, it seems the game is three to five years away. It could be more, but it has been in development for a while, and we will probably get a confirmation in the next year.
The same goes for its possible console releases. There is no sense of exclusivity when it comes to Marvel games, so this could be available on all consoles like the Avengers game. It could also end up being an exclusive the way the Playstation Spider-man games are. So we will be sure to keep an eye out for when it is released.
We will keep an eye on this game about Captain America and Black Panther in the future and let you know about more leaks and releases as they come out.
while you are here, why not check out our review on Stray.
Source: Resetera
Good job! Please give your positive feedback ☺️
How could we improve this post? Please Help us. 🤔