GTA 6 has been in the back of fans' minds since they beat the game in the first few weeks after it came out. Of course, as time has gone by, that has continually gone from the back of the mind, and now fans are clamoring for the awaited sequel.
Recent leaks and persistent rumors have made fans believe GTA 6 release is imminent this year. While this is not impossible, there is more to it than there appears to be regarding the game's release.
---
Summary
Many fans think that GTA 6 is going to be released this year.
The game is allegedly entering the polishing phase of its development cycle, which has caused this belief to spread.
The game could be entering its polishing phase, but this phase of a game's life can take months, depending on the game.
---
GTA 6 is one of the most anticipated games, and everyone is looking for any indication of the game's release. More often than not, this search yields leaks that may or may not be reliable. These leaks and a few other pieces of info have come together, and many think the game will be out this year. The original tweet for this originally came from GameSpot on Twitter.
New reports claim that GTA 6 developer Rockstar is polishing the game ahead of its imminent launch. pic.twitter.com/RmaVv66a5U

— GameSpot (@GameSpot) February 5, 2023
Most of this belief stems from recent screenshots showing a rough yet fully functional version of the game. This may seem impressive, and while it is a good design for the game, it does not indicate that the title is ready to be polished.
We don't know how many systems and requirements will be in the final build. This can mean that trying to guess the development cycle can be challenging and downright impossible at times.
The other fact that has led many to believe this could happen is when these rumors started. It has been roughly five years since the release of Red Dead Redemption 2, and that game was released five years after GTA V. The timing between the release of those two games and now the same time frame between RDR 2 and GTA VI has led many to believe that it will be out this year.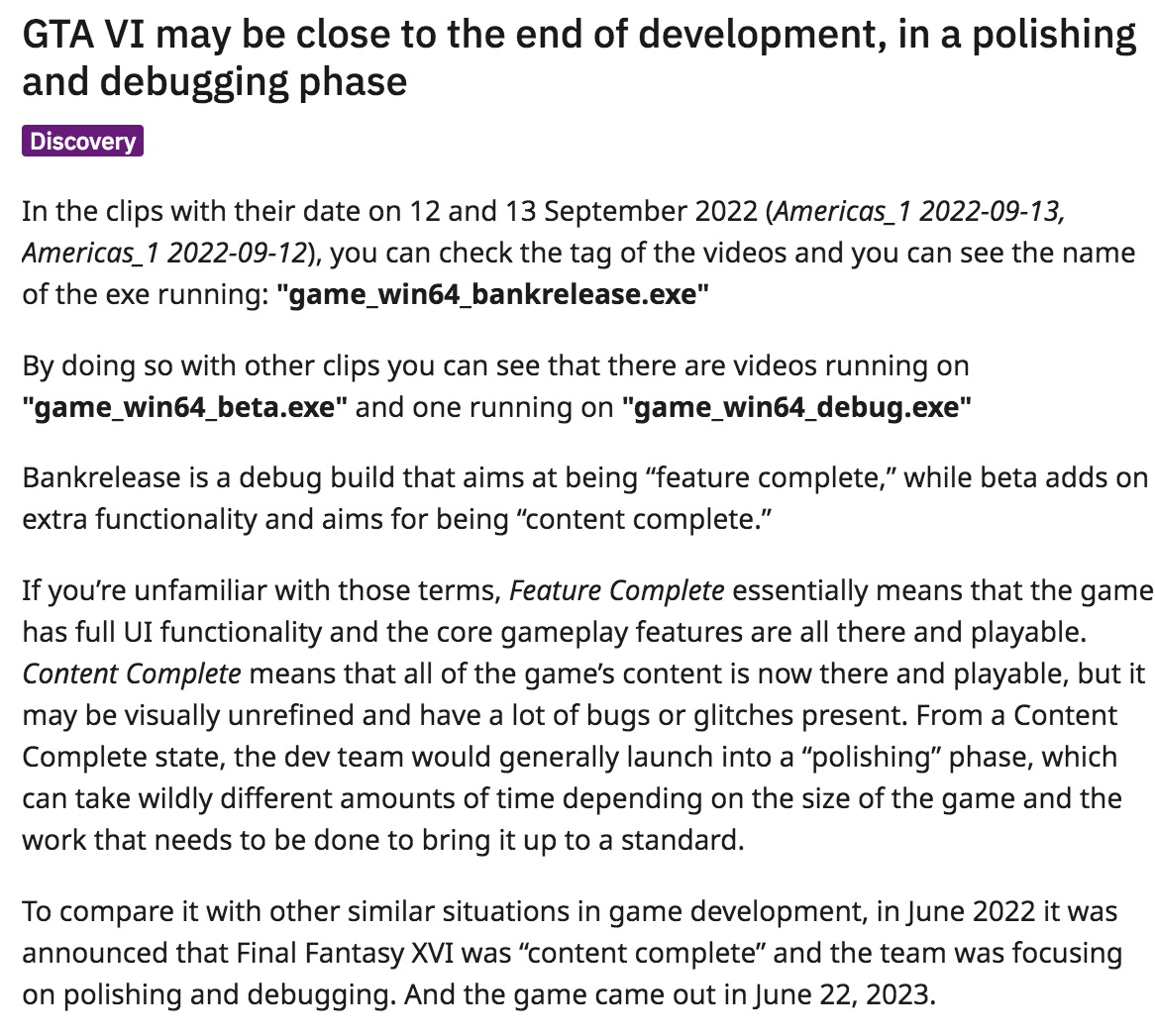 Image from Reddit.
While these beliefs have strong logic, much evidence suggests they won't come out this year. The first is that game releases have been getting longer, sometimes taking six to seven years for a new title.
This is because of the increased load of features and necessities in a modern game ranging from graphics to open worlds. This is likely the case of GTA VI, as it has been stated to be even more off an upgrade from the 5th entry.
This line of thinking is extended because of how long it takes to polish a game. The actual game build can take years, and polishing can take longer. Because of this, it can be very difficult to guess how long a game will take.
So while the rumor of it coming out this year could be possible, it is a long way from certain. We will keep an eye on it and inform you about the GTA VI.
That is all we have on fans who believe GTA 6 release is imminent this year.
Similar Read: Live Service Games Were Supposed To Be The future, Now They're Dying Out.
Good job! Please give your positive feedback ☺️
How could we improve this post? Please Help us. 🤔