Call of Duty Modern Warfare 2 had a massive success following its early access single-player campaign launch. It was in Steam's top sales, and top concurrent players list the past week. It is because early access was for the single player and only for people who had preordered the game. Even after a really successful launch, the MW2 community on Reddit has collected and found a considerable amount of bugs & glitches, missing content, technical issues, etc. These Call of Duty Modern Warfare 2 bugs indicate that the game was still a rushed release.
---
Summary
Call of Duty Modern Warfare 2 bugs are crashing the game on certain events.
UI & Menu bugs make you unable to customize stuff like load-outs and give you issues inviting your friends.
In-game issues are hindering player performance in the game. Fair fights turn into one-sided massacres because of game glitches and bugs.
Game performance issues include desync and lag issues causing player performance to degrade.
The campaign is also unsafe from Modern Warfare 2 bugs, as players have reported save file and achievement issues.
---
Modern Warfare 2 bugs show how unfinished the game still is. The bugs haven't shown up on the surface level for most players. But the issues are still there. Thanks to the Modern Warfare 2 community's collective effort on Reddit, we can now recognize and report crashes, UI & Menu bugs, in-game bugs, technical issues, etc.
Most of the bugs are just from the multiplayer as the single-player campaign doesn't have many annoying bugs. The most notable one is the crashes, where the game crashes on specific events or even randomly.
Crashing issues found so far are:
general crashes & instability (all platforms)
Crashes when in a squad.
Attachment tuning crashes for some players.
Spec Ops: Low Profile crashes upon completion (Reported from PC and PS5)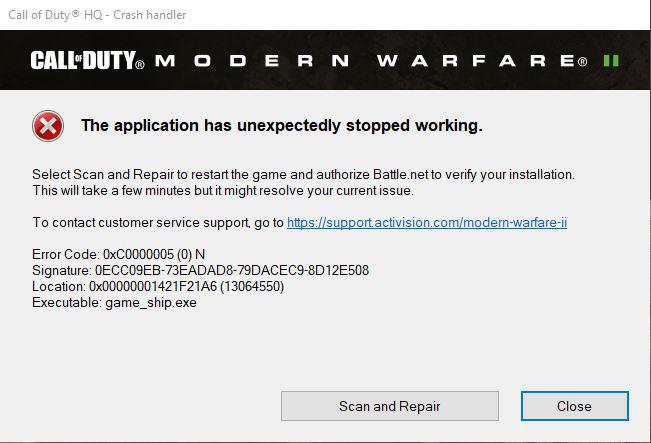 The second issue is with the UI & Menu bugs that hinder players from being able to customize load-outs, importing old settings, interactive buttons not working, glitched operators, etc. These bugs prevent players from customizing their stuff and inviting friends to play in a session.
The third issue is in-game issues, and their list is horrifyingly long. It has resulted in the worst experience for players anticipating the game.
Here is the list of bugs that have happened with multiple players:
Client-side smoke effects make fair gunfights impossible
Pinging sometimes won't work (PC)
Riot shield can make you invincible
Spawn system: general improvements are needed, a lot of the time people spawn behind players and get an easy kill
Pinging enemies during the death screen gives you wallhacks
Broken ADS animation when certain gun/attachment combinations are equipped
If you mount a sniper bipod on the edge of a surface while holding forward, you get launched and can get outside/on top of the map
When creating a loadout with an M4 blueprint, some players don't have a primary at all and are stuck using their secondary weapon for the entire match (example)
Xbox: VTOL, SAE, Stealth bomber (maybe more killstreaks) stuck on the tablet screen.
When throwing a drill charge on a riot shield, if the player swaps weapons before it goes off, they receive no damage
When muting players / all players, they won't stay muted
Muting oneself also doesn't keep one muted
Toggling Hybrid Sights turns the reticle off
Performance issues have also been a pain to deal with for some people to get that optimal FPS experience. Performance issues mainly comprise lags, desync, bullet not delivering, etc. These considerably affect the gaming experience and can turn fair fights into a one-sided massacre.
second-long-lag in-lobby
Stuttering/desync and lag during gameplay.
Netcode (or other issues): getting 5+ hit markers without killing an enemy but dying in less than three shots
Bullets go through enemies/dummies in the firing range, hinting at a bigger problem concerning hit registration.
Here is a small example of desync.
The above issues are not just with the multiplayer but unfortunately, singleplayer isn't safe from bugs and glitches either. Many players have reported that their progress is deleted, and the whole save file is wiped clean. The second issue of single-player is the achievements, which does not seem to be unlocking properly for many and aren't addressed even though the player has completed the challenges.
I think it's safe to say that Modern Warfare 2 has too many bugs/issues and released too early.

Here's a mega thread for all of the Modern Warfare 2 bugs, issues and missing content: https://t.co/ZWLtKAFATB#ModernWarfare #ModernWarefare2 #MW2 pic.twitter.com/GnEmNCd1bO

— Rebs Gaming (@Mr_Rebs_) October 31, 2022
These are all the significant issues with the game currently, and some might already have been solved. The game's release is a huge success and for the better, as it has been a long time since players had higher expectations from Call of Duty for both single-player campaigns and the multiplayer experience.
Still, Modern Warfare 2 bugs haven't hindered the game's success and barely grazed it, mainly the single-player. It is expected that developers will soon patch up all the bugs to enhance the gameplay experience of players.
What do you think about the game tell us what issues you have encountered in the game so far. Do share your thoughts and issues in the comments section below.
Related Article: Call of Duty MWII's Crossplay Settings Allow Cheaters to Raid Sessions.
Good job! Please give your positive feedback ☺️
How could we improve this post? Please Help us. 🤔