We have been keeping a close eye on Assassin's Creed Mirage over the last few weeks, and now we have another update. Two separate leaks have given us both the time of the games campaign as well as a look at some new art. As official releases for this title are few and far between, let's look at these and what else we know.
What Is The Length Of The Campaign?
The currently reported length of the campaign came from a user on Reddit who traced it back to a twitter leak. According to the leak, the campaign will run anywhere from 17 to 20 hours.
This length does put it behind the last two Assassin's Creed entries. Valhalla had 60 primary objectives and campaign hours, and Odyssey clocked in at 42 hours. Meaning that this is less than half of one of them.
The main reason for this is probably due to the removal of RPG elements from the game's predecessor. This game is about the same length as Assassins Creed 2, which came out in 2009. So while removing this content could be the cause, it is slightly concerning that it has lost so much playtime.
It should also be pointed out that this will most likely not be all of the content in the game. There will probably be other fun things that won't be part of the campaign. This campaign-length spoiler is not the only leak we have for a Mirage, though, as we have a look at some more art for the entry and what it tells us.
What Is The Leaked Art?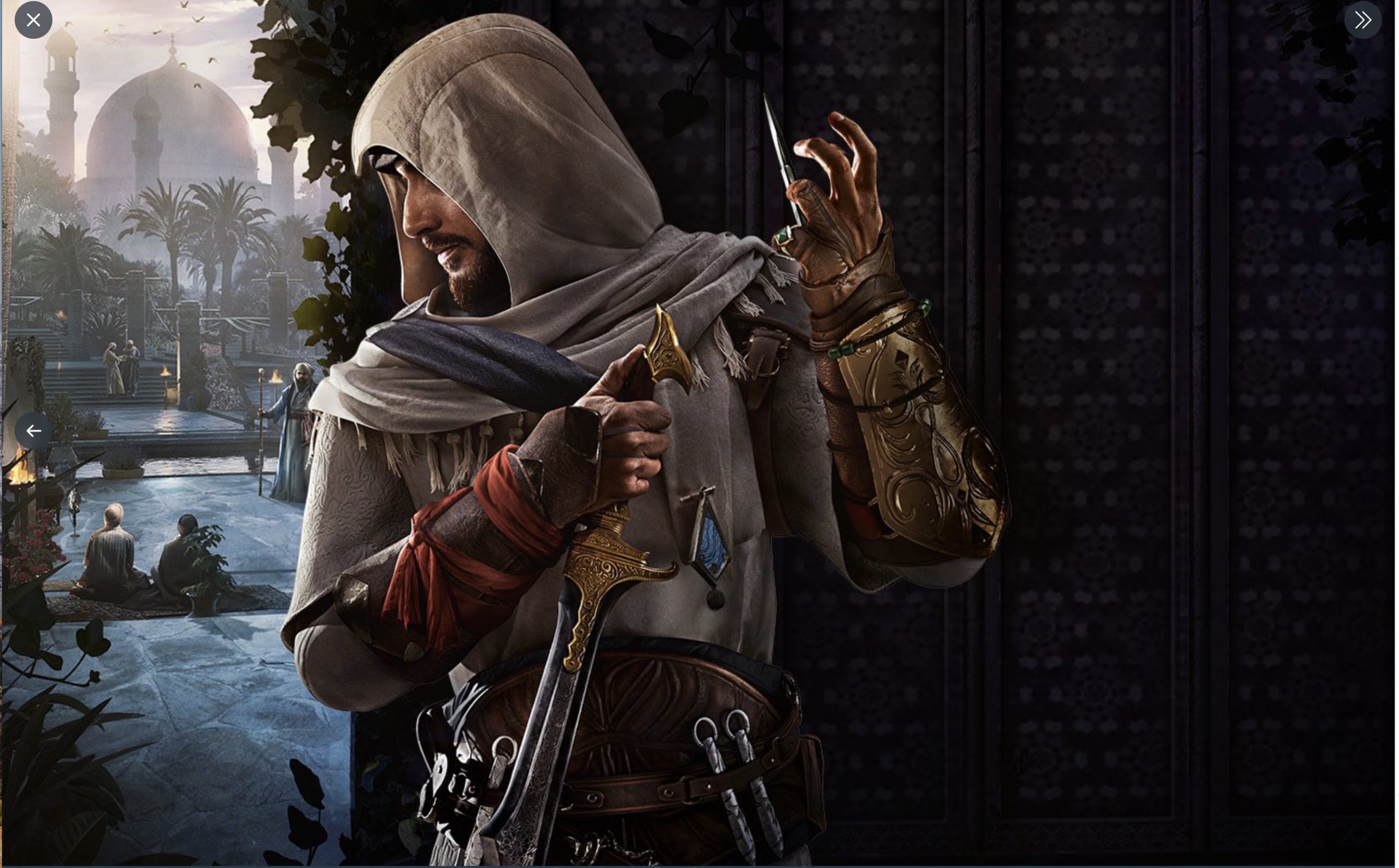 The leaked art was also found on Twitter and then reposted on Reddit. It is technically two images, but they are the same. But one is a closeup, and the other is a bit farther out. But what does this image tells us about the game and what we will find in it?
The image is Basim clutching a dagger and pressing himself against a wall. He is looking out a door in a courtyard with a few people. From the context, it appears to be showing off some kind of mission that we may see in the game. But of course, like with a lot of Assassin Creed artwork, there is a lot more to unpack than just the cover.
Here we especially get a good look at the equipment and attire that Basim will be using throughout the game. Most notably, he has the standard Assassin's hidden blade at this time, as well as the light robes and armor combination. There is a mystery item in the form of two rods or tubes hanging from his belt, perhaps some kind of new weapon or item.
Other than this, we just get a better look at the general ascetics and style of the game. As more comes out, I am sure we will be learning more about most aspects of the game.
A Voice Actress Has Been Leaked For The Game.
Another that has been a leak but seems very like due to the source's credibility is the inclusion of Shohreh Aghdashloo as a voice actress. The studio has not confirmed her participation yet, but she has been posting about a new job on Twitter. In her tweet, she was seen in a recording booth. This leak is in combination with info from other sources that say she is working on the game. To see the original leak see this thread on Reddit.
As for who she will play, it is not confirmed yet, but most people suspect that she will be a mentor character based on another leak. This leak had the name down as Roshan the Mentor. In what capacity she will mentor Basim and affect his story is currently unknown, but she could be the one that teaches him all about being an Assassin.
Shohreh Aghdashloo has a lot of credits as both an actress and a voice actress. She has most prominently been seen as the character Chrisjen Avasarala. She has also voiced the character Admiral Shala'Raan vas Tonbay from the mass effect series and the Greyson from arcane. These are just a few spotlighted roles among many from her considerable career.
What Else Do We Know About Assassin's Creed Mirage?
We don't know much about Assassins Creed Mirage, but it is the one we know the most about compared to the other AC games we know are coming out. The reason for this is a few leaks and some on-the-nose speculation that has given us a good look at the game. Do keep in mind that some of this will be speculation, but I will keep close to the facts.
We know that the game's setting will be in Baghdad in the year 870. Because of this, it will effectively serve as a prequel to Assassins Creed Valhalla. It will specifically follow the origins of the character Basim. I assume that this will follow everything from his time before being an assassin to him being an absolute master. There haven't been a lot of other stories or plot beats that have been revealed thus far. There is some more technical information that we know.
The biggest is something that I mentioned earlier, the removal of RPG elements from the game as a whole. This removal of elements means that, among other things, you will not be able to choose the gender of your character. This change also means the removal of the dialogue boxes and other story-centric factors. We don't know that all story choices are linear, but there may only be one or two if there are any.
How Does This Connect To The New Assassins Creed Games And Assassins Creed Infinity?
The current implication is that Assassin's Creed Mirage will not have a direct connection because of its limited function. It connects as a story within the universe, but as far as we know, it only directly ties into Valhalla. This limited tie-in is also allegedly because it was originally meant as a DLC for Valhalla, but it decided to expand the story and concept into its entry.
This limitation does not lend itself well to interfacing with the announced Project Red or Project Hexe. Project red will take place in Japan, which does not lend itself well to interfacing with the greater Assassins Creed world for most of its timeline. The second project Hexe is said to be set in the 16th century and will occur during the witch hunts. The fact that these are so separated speaks volumes.
What might be more likely is that this game will integrate with Assassins Creed Infinity. This linking makes sense as they say that most, if not all, assassins creed games going forward will integrate with this service to streamline them and make them easier to play. Keeping in mind that we still do not know what the interface for Infinity will be and how that may work.
Check out our article on the upcoming New Assassins Creed games set to be announced.
We will keep you posted on more developments for Assassins Creed Mirage.
Good job! Please give your positive feedback ☺️
How could we improve this post? Please Help us. 🤔