Recently, we have gotten an exciting rumor that Microsoft has begun to roll out a new update for the Xbox DRM software. This update can significantly impact your experience with the Xbox and for many. This update has been a significant relief and possibly a sign of change. So what is the update, and how does it affect the Xbox DRM?
---
Summary
Xbox is probably updating its DRM.
The update will allow players to use their on-game discs without connecting to the internet.
---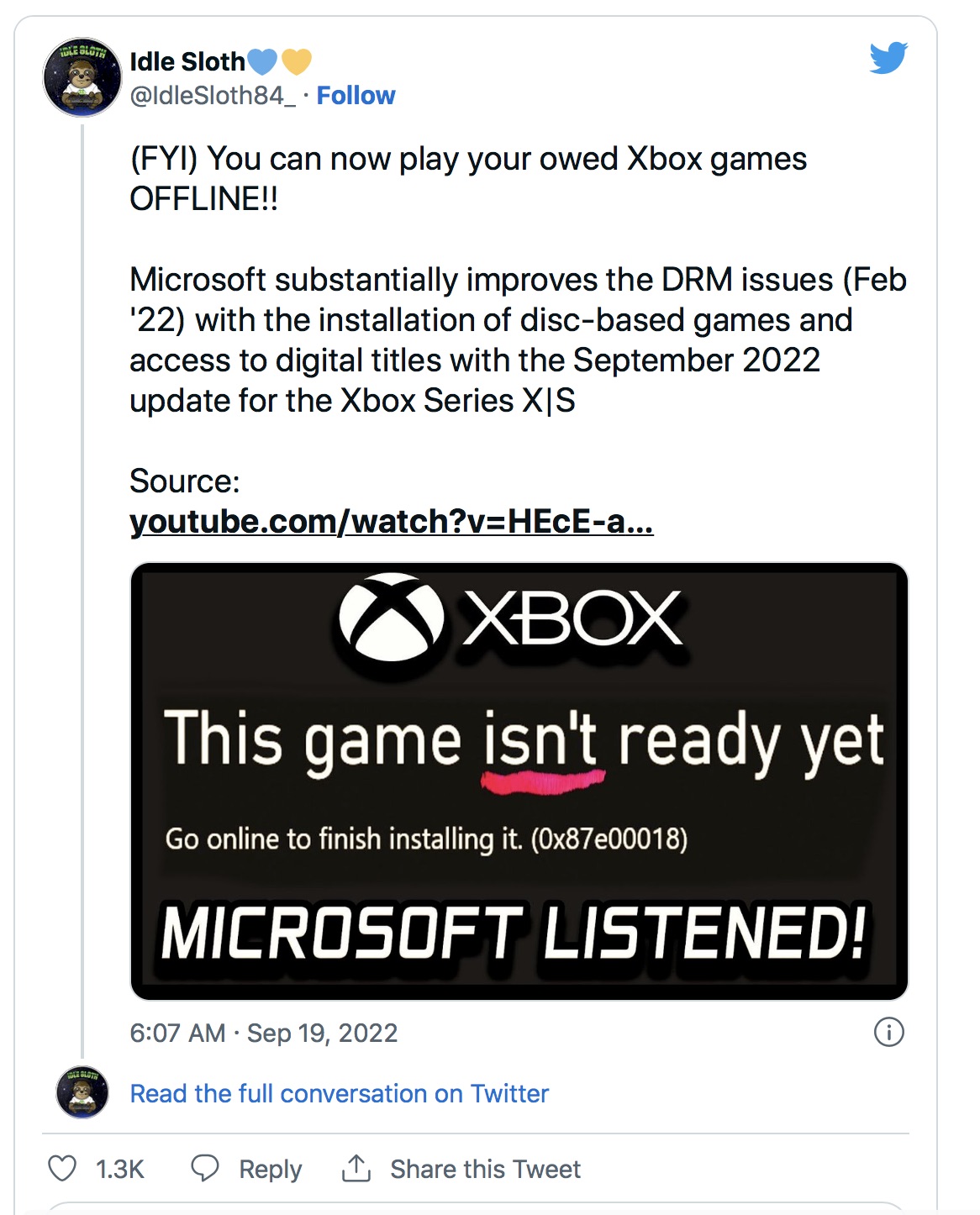 This rumor comes to us from a Reseterra user called Theorry, who collected a few different tweets to back it up. These tweets show two different users who tested this after the update hit their console with a positive result. The first set of tweets is from @IdleSloth84, who remarked on how happy they were to find that the update had fixed even part of the problem.
The second tweet in the post is from the user @SmugKaiSupreme, who says that they never had a problem, in particular, playing 360 games on there but checked anyway. After checking, they said it works for physical Xbox 360 games.
These are small sample sizes, but interaction in the comments tells us two things. The first is that this is a fairly common problem for Xbox users. The second is that others are starting to see the benefits of these improvements and look forward to them being implemented.
The new Xbox DRM updates are allegedly designed to let you run Xbox one games on the console without connecting to the internet. This update would be a significant improvement as previously, if you had wanted to play one of these games, you would have needed to connect to the internet first. It was cumbersome for various reasons and incredibly frustrating to most.
The chiefest of these is that if you had any slow or limited internet, it hampered your ability to play. There were other problems with this software, and some persist; we will cover those in this article.
The Xbox DRM stands for digital rights management and is the primary way the system decides what programs can be used. This type of software is not inherently wrong, but starting with the Xbox one, some terrible changes were made to this system. The chiefest was how downloadable disc games could be accessed after installation.
The primary way that this was a problem was that it would require the owner to connect to the internet to play installed games for verification. The only exception was Xbox series games that were entirely on disc.
You need to connect to the internet for every other type, from downloaded Xbox one games to 360 and regular Xbox games. The only good news was that you would only need to do this once.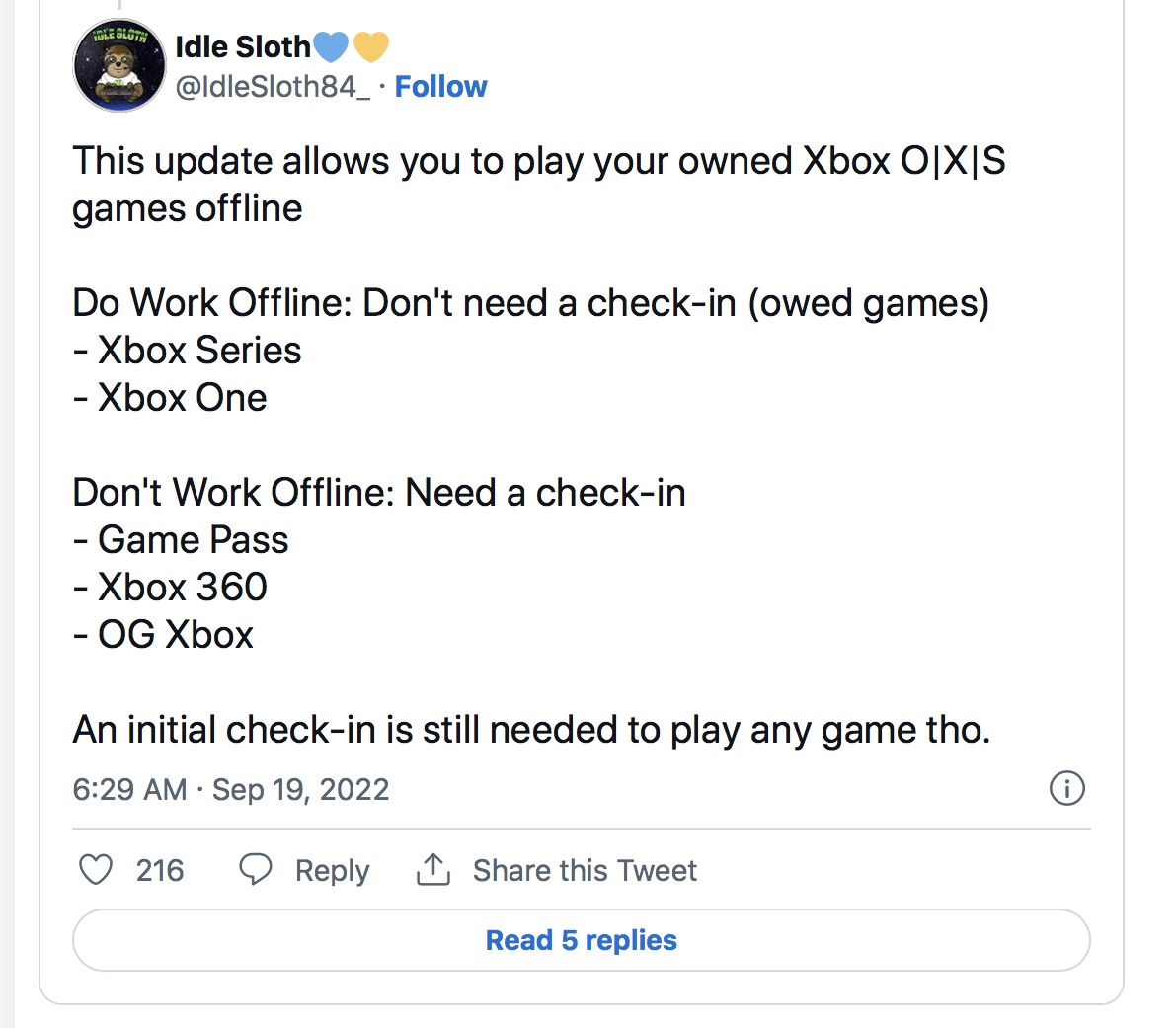 The most significant benefit this can have for you is that if you live in an area that doesn't have a good internet connection or can't afford one, this will make games easier to play. It isn't a drastic alteration as it only affects Xbox one games on the disc. It is a good sign that they are paying attention to the feedback for this and are steadily improving. I hope we will receive more of these in the future so more people can access Xbox games.
We will keep an eye on these updates in the future and let you know if there are any more leaks and rumors.
While you are here, why not check out our guide on GTA 5 How to dance on PS4.
Source: Resetera
Good job! Please give your positive feedback ☺️
How could we improve this post? Please Help us. 🤔