The Famitsu Hardware Sales for the last week of October are now available to the public, and the Nintendo Switch sales are not looking great. With the Holiday Season almost upon us, PlayStation 5 continues to crush Nintendo Switch sales in Japan. As per the report, the Nintendo Switch sales are dethroned by PlayStation 5 in the last week of(October 10th, 2022, to October 30th, 2022)
---
The Rundown
The latest figures from Famitsu Hardware Sales are here, and we just got to see PlayStation 5 crushing Nintendo Switch in Japan.
Meanwhile, it is not major news for a console to beat sales in a week, but it is worth noting that this occurrence is not the first time with Nintendo Switch.
Especially considering these are the sales figures of a console like Nintendo Switch, trendy in Japan and with Holiday Season coming, there are indeed some major concerns that may have plateaued the performance of sales for the console.
---
It may not be significant as these are just estimated sales figures for Japan. But that is not the first time Nintendo Switch faces down performance in the Japanese market. The platform is well-known for the downward trend in sales for the past few years. A console like Nintendo Switch is famous in Japan and worldwide, but such an instantaneous crush is not something players can expect.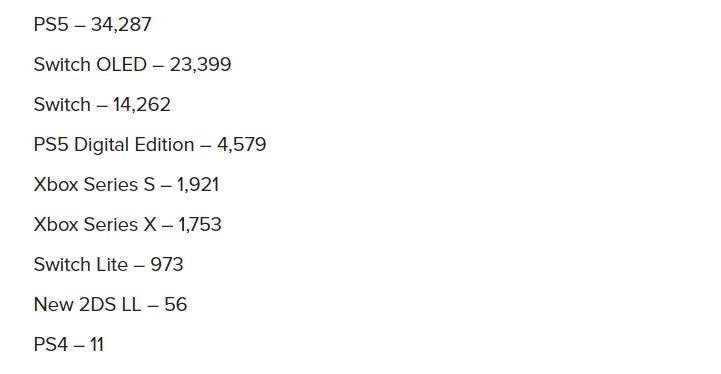 It might be about when the world experienced the sudden rise and fall of the mighty Nintendo Switch. Although PlayStation 5 has already dethroned Nintendo Switch recently, things are taking a dark turn for Nintendo as the Holiday Season is already upon us and the Japanese market seems to be opting for better hardware already.
Before we conclude, let's discuss why these figures are surprising. Firstly, PlayStation 5 sales are bumped up, with the exclusive title coming like God of War Ragnarok, Marvel's Midnight Sun, and more.
On the other side, if we look at Nintendo Switch, it already had an exclusive and much-awaited release of the year for Splatoon 3. Meanwhile, the downward trend of sales for Nintendo Switch in Japan is a rare occurrence.
Another point of the down performance of Nintendo Switch is its performance for the first-party titles. Gone are the days when Nintendo Switch ruled the industry to revive the golden gaming era. Now players can easily notice issues with the hardware limitations. These include low frame rates and lacking graphics performance.
Considering these aspects of the console, there is undoubtedly some trouble down the road for Nintendo Switch. Primarily since PlayStation now focuses on more of a western audience. On the other side, the Nintendo Switch being the top console in Japan, the day of PlayStation 5 topping sales, has brought much attention.
Moreover, since PlayStation 5 supply is becoming more available, it may also have plateaued the performance of the Nintendo Switch. But once again, it concerns for a console intensely famous in Japan.
Hopefully, the Nintendo Switch will take back the streets again since a new Pokemon Scarlet and Pokemon Violet are set for release in November 18th, 2022.
What are your thoughts on Japan's Nintendo Switch performance for the last week? Share with us in the comments section below.
Now that you are here, why not read: State of Decay 3 Is Looking For Better Graphics.
Good job! Please give your positive feedback ☺️
How could we improve this post? Please Help us. 🤔