Regarding game franchises, JRPGs tend to come in two different styles. One is that they have, at best, two entries and tend to behave more like cult classics than entire franchises. The second is a massive franchise with at least three main games, a prequel, and a spinoff for fans to either love or complain about. Fortunately for Persona fans, it is the latter, not the former, and there is even more good news for them because Persona 6 and the Persona 3 remake could be coming soon.
---
Summary
Persona 6 and Persona 3 have been said to be further developed than people realized.
At least one of the titles was supposed to have been shown already to the general public.
The leaker says that the games aim for a summer release.
---
Persona is a long-standing franchise with fans who are always hungry for new content. The good news for these fans is that according to a leak on Resetera, both Persona 6 and Persona 3 Remake is far along in development. When they say far along, they mean so far that we might see these games drop this year.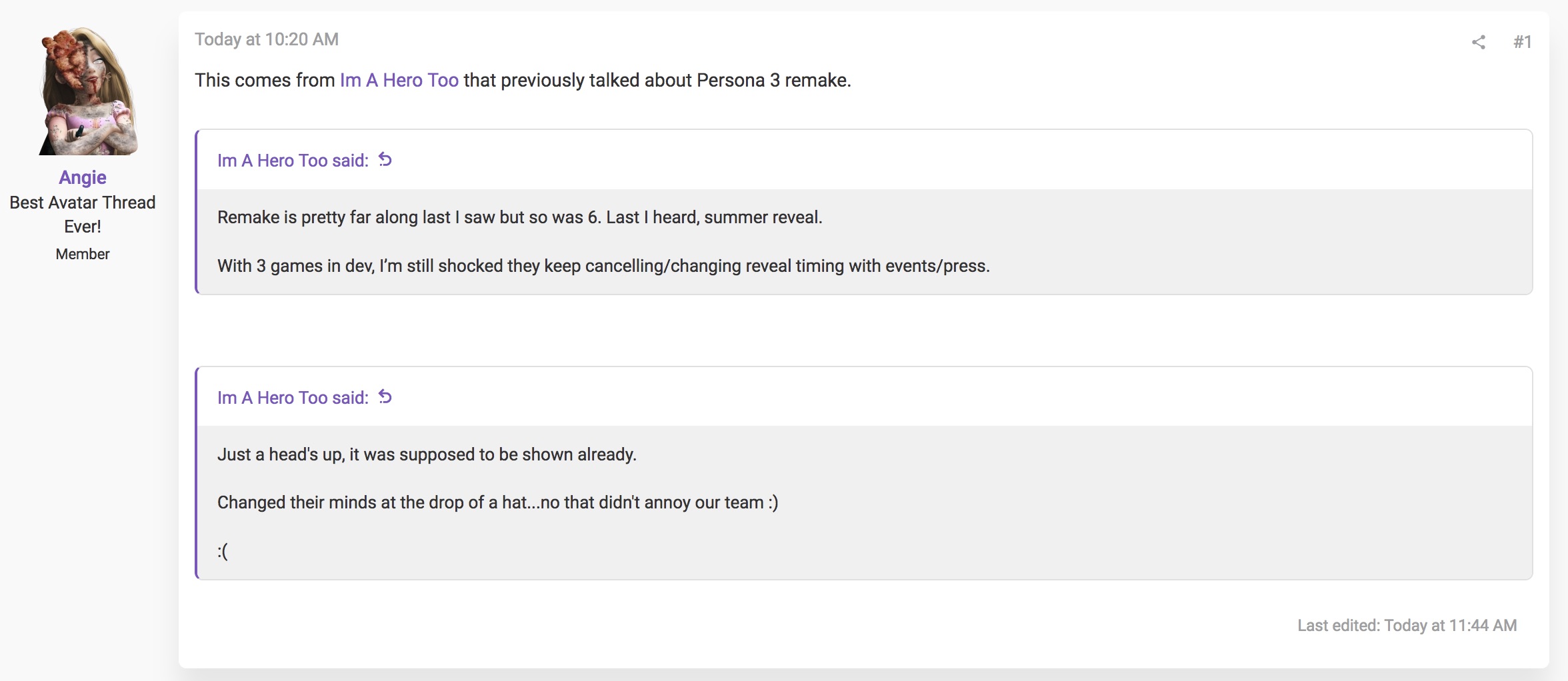 These leaks come to us from the Resetera poster Im A Hero Too, and they seem to have some intimate knowledge of the development of these games. Most notably, they have said that both entries are far along in development, and we could see them released soon. They say that at least one of the titles should have been showcased already.
The poster also said that at least one would be dropping this summer to go along with the reveal of the games. If they are as far along as they claim, this could happen very well, but there is one hindrance. The refusal by the studio to showcase the game and put advertising into it suggests that this might not be the case.
So it will be interesting to see what the actual release date of the game is going to be and when we will even get to take a look at it. It is not like there isn't fanfare around the series, as it is one of the most popular JRPG franchises. But with this popularity, it does leave many to wonder what these entries will be about.
We know that Persona as a series follows strict guidelines for how each game works, but that might change with these entries. Persona 3 is a change to this as it was one of the first top-rated entries and had a few popular entries.
Persona 6 might be a different type of game together because the dev team from the first three games has moved on. This leaves the franchise in an exciting position as it can evolve into something new.
Whatever happens with the new entries, we will be excited to see what comes out of this great series. That is all we know about Persona 6, and the Persona 3 remake could be coming soon. What are your thoughts on the subject matter? Share with us in the comments section below.
While you are here, why not check out our article on how the Microsoft Layoffs Could Affect Halo And Fallout.
Good job! Please give your positive feedback ☺️
How could we improve this post? Please Help us. 🤔