In November 2014, Super Evil Megacorp released Vainglory, a free-to-play multiplayer online battle arena (MOBA) game, across iOS devices and across Android in July 2015. Being the first multiplayer online battle arena (MOBA) game on mobile devices, it generally received favourable reviews from both players and critics. Vainglory was acclaimed for its graphics, characters, and level design but criticised for its lack of team communication features. However, despite the mixed reviews, the game was still one of the seven recipients of the Apple Design Awards in 2015.
In February 2019, a desktop version was released on Steam for Windows and macOS players, which also introduced cross-platform playability to the game, allowing players on PC to compete against players on mobile devices. In April 2020, however, Rogue Games, formerly both the temporary publisher and developer of the game, announced that it would no longer continue development for Vainglory and intended for it to be shut down indefinitely, which also caused NetEase, the publisher of the game in China, to close the game in China, in July 2020.
After that, Super Evil Megacorp went on to release Catalyst Black, a next-generation mobile battleground shooter, across Android and iOS devices in May after several years of development. Since then, not much has been announced by the company on what it may currently be working on. However, it seems like we might finally know this for certain now, as Super Evil Megacorp could have an unannounced narrative-driven AAA project (a new franchise) with an open-world experience and "closed combat spaces" currently in pre-production for mobile.
Earlier today, we came across a few recent job listings on the Super Evil Megacorp website, one of which is for the Senior Narrative Director position, the description for which reads, "As the Senior Narrative Director, you will be a major force in shaping the narrative & storytelling for a brand new IP for an AAA project still in its early stages. You'll take a leadership role in telling the story of a brand new world, and implementing it over the course of the project." From this, it's obvious that the unannounced project is, in fact, a new AAA franchise that the company currently has under development and one with narrative experience to it. Additionally, the unannounced project seems to be in its early stages of development as well.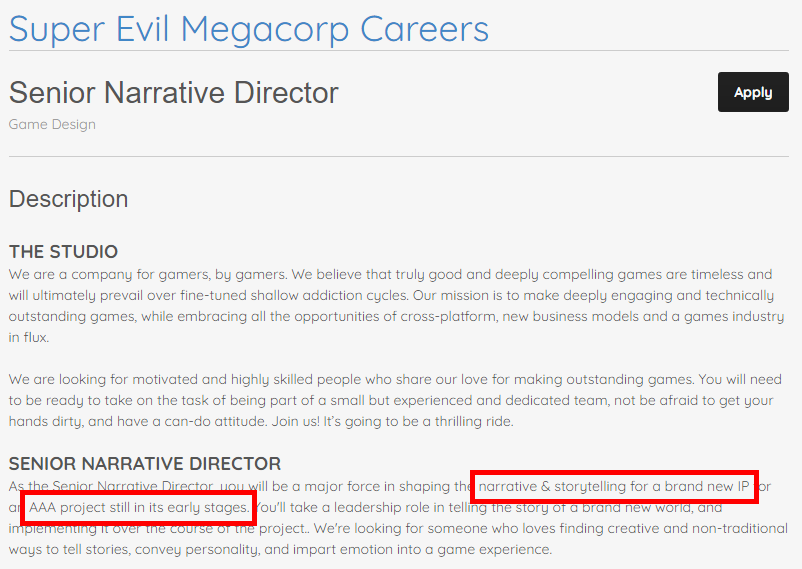 Another job listing on the Super Evil Megacorp website is for the Senior Level Designer position, the description for which reads, "Super Evil Megacorp is looking for a Senior Level Designer to break ground on a brand new AAA project currently in pre-production. In this role, you will spearhead shaping the new world and its encounter spaces, design fantastic traversal playgrounds, craft interesting combat layouts, and surprise players with delightful moments of discovery. We're looking for someone who loves the craft of shaping space, attention, and tension in games. You'll be working alongside our passionate team of artists & gameplay designers to bridge the visual & combat vision of the game and bring the space to life." Hence, this further corroborates that the unannounced project is currently in pre-production while also suggesting that the franchise will feature combat and "discovery" aspects to it, which means that it may be an open-world experience.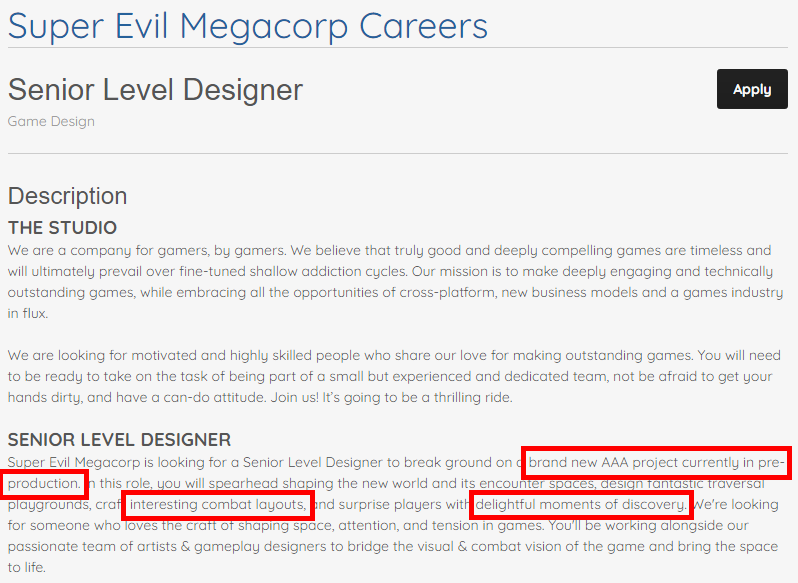 Furthermore, one of the responsibilities that the candidate will have states, "Collaborate with combat designers to carve interesting arena geometry that complements the unique combat philosophies of the title," suggesting that the unannounced project may be another multiplayer online battle arena (MOBA) game, similar to Vainglory. However, this is not completely certain. In addition, another one of the responsibilities mentions, "Work with the tech team to advance the internal tooling for level creation and encounter development," which means that the unannounced project could feature different levels for players to traverse through.

Additionally, one of the experiences/qualities required from the candidate states, "5+ year experience with creating a mix of open world as well as closed combat spaces," which corroborates that the unannounced project is, in fact, an open-world one. Since neither Vainglory nor Catalyst Black features an open-world experience, this unannounced project will definitely be an unexplored domain for Super Evil Megacorp.

Lastly, another job listing on the Super Evil Megacorp website is for the Lead Animator position, the description for which reads, "As the Lead Animator, you will help bring our games to life through sound and proven animation principles. You will help create high quality animations for our undisclosed IPs that are currently in development. You must channel the personality of the characters that are in the center of our gameplay. We believe strongly in injecting life to our characters as we want our players to deeply identify with them." Based on this, it seems like this unannounced project isn't the only one that the company currently has under development, and there may be more unannounced franchises that are still in pre-production.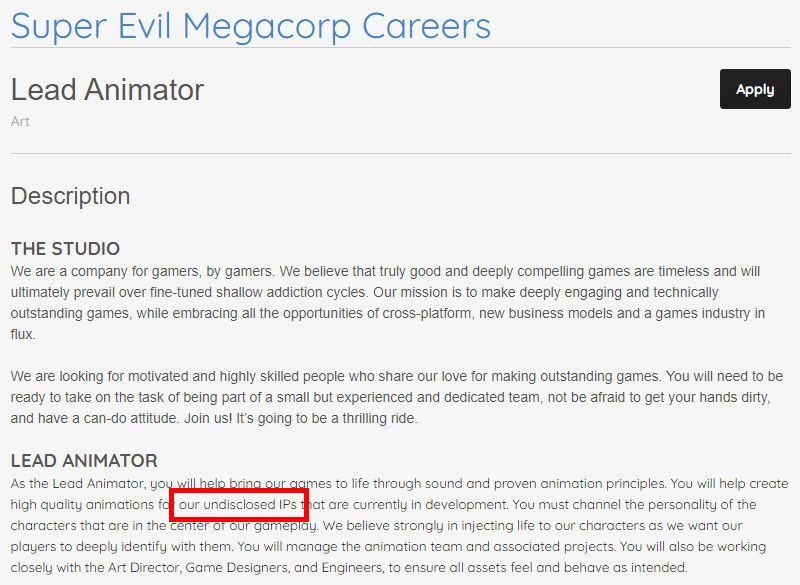 Furthermore, one of the qualifications required from the candidate states, "Shipped 1 or more mobile or AAA game(s) as a lead on the animation team," which suggests that the unannounced project(s) may be released on mobile devices, as is customary of games developed and published by Super Evil Megacorp. However, this isn't to say that the unannounced project won't be released on other platforms, as Vainglory also eventually made its way onto PC after initially being a mobile exclusive for a few years.

Unfortunately, these are all the details we have on this unannounced AAA franchise from Super Evil Megacorp at the moment. Since the project is still in its pre-production stages of development, more details about it will likely be unveiled soon by the company itself. While Vainglory did receive generally favourable reviews from players and critics, Catalyst Black still showed a rather promising reception, having a 4.2/5 rating on Google Play and a 4.5/5 rating on the App Store. Hence, the expectations from this unannounced project by Super Evil Megacorp are rather high.
What do you think about this? Do tell us your opinions in the comments below!
Similar Reads: The Quarry Developer Hiring For Unannounced AAA Multiplayer IP
Good job! Please give your positive feedback ☺️
How could we improve this post? Please Help us. 🤔